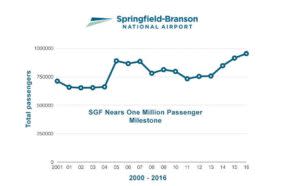 A record number of passengers - more than 950,000 - flew in and out of the city using Springfield-Branson National Airport in 2016.
That's up 4.3% from 2015, the previous record year.
The airport saw growth in 2016 in other important measurements including the number of scheduled flights were up 10%, available airline seats were up 12% and take offs and landings were up 13%.
Officials are predicting 2017 will be another brisk year and the addition of flights to Destin/Fort Walton Beach could help the airport set another record.
Passenger growth encourages airlines to add and improve air service. In the past 14 months American Airlines has added Springfield flights to Charlotte, Allegiant converted its seasonal Los Angeles flights to year-round service and Allegiant announced new seasonal service to Destin/Fort Walton Beach beginning in May.