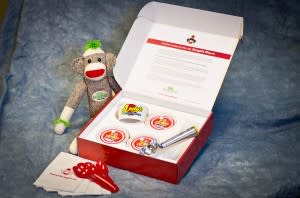 There's a new guy in town and he has a lot of appeal.
Sammie Springfield is the city's suave, debonair and award-winning spokesmonkey, a sock monkey who entices meeting and event planners to consider Springfield for their events.
His first foray into marketing began with a campaign organized by the Convention & Visitors Bureau. About 400 meeting planners were sent a book featuring Sammie enjoying the sites, hotels and meeting facilities in the city. A couple weeks later, the same planners received their very own sock monkey with a Springfield logo on its chest. A website (www.sammiespringfield.com) and advertising campaign targeting meeting planners also were part of the campaign.
Sammie will continue his spokesmonkey career this year by helping deliver Andy's Frozen Custard to meeting planners during sales blitzes organized by the CVB. Along with custard, a custom box, ice cream scoop, spoons and napkins, Sammie and staff from the CVB, University Plaza, Ramada Plaza and DoubleTree hotels will deliver information about Springfield's meeting venues and amenities. The custard box also comes with an invitation for meeting planners to visit Springfield for free tour of the city to showcase the venues and facilities available for hosting meetings and events.
Besides successfully helping bring events to the city, Sammie has racked up awards. His accolades include awards from Hospitality Sales & Marketing Association International, American Advertising Federation, the Missouri Division of Tourism, American Chamber of Commerce Executives and the Printing and Imaging Association of MidAmerica.
The CVB is a nonprofit organization dedicated to boosting the local economy by promoting travel and tourism to Springfield. For more information, contact the CVB at 417-881-5300 or 800-678-8767.