Over at the Springfield Art Museum, (1111 E. Brookside Dr., Springfield), artists known all over the world share gallery space with national, regional and community artists, and, best of all, visitors can see it all for free.  
"When you come to the art museum, you'll see artwork from around the world from artists that you might learn about in an art history class or read about in a magazine," Director Nick Nelson says. "But then you also see art from your community, too. The museum provides this wonderful connection between local and global and across the history of art." 
Spend some time viewing a George Caleb Bingham portrait, wonder at a Julie Blackmon photograph, or admire the masterpiece paintings from artists across the nation during the museum's annual Watercolor USA exhibit. You can also attend activities ranging from classes and lectures to plays and concerts, Nelson says. There's even a drop-in family art lab. 
The art museum has long been part of Springfield's heartbeat, and now it's about to get a major upgrade. A $25 million renovation is underway, and it's already strengthening the connections between the community and Springfield's oldest cultural institution, founded in 1928. 
With nearly $13 million raised by last fall, part of the museum's renovation includes a pedestrian and bike path linking the museum to Phelps Grove Park and the Fassnight Creek Greenway Trail. Also included are lighting and parking improvements, landscaped trails and walkways, and added green space around the museum's Works Progress Administration–era amphitheater. 
Glass facades will help connect the museum to the world outside its walls. Transparent facades, Nelson says, "will break down barriers between outside and inside, connecting people to the grounds and also allowing people to see what goes on inside the museum." 
Natural light can damage art, so pieces won't be visible, but passersby will be able to glimpse public spaces, including a new education wing. That wing will include classroom and studio space, Nelson says, and more public space to gather to enjoy each other's company while enjoying art and nature. "We're really excited about the future of the museum," Nelson says. 
For more information about 2023 exhibits or events, call 417-837-5700 or visit sgfmuseum.org.
On Display… Soon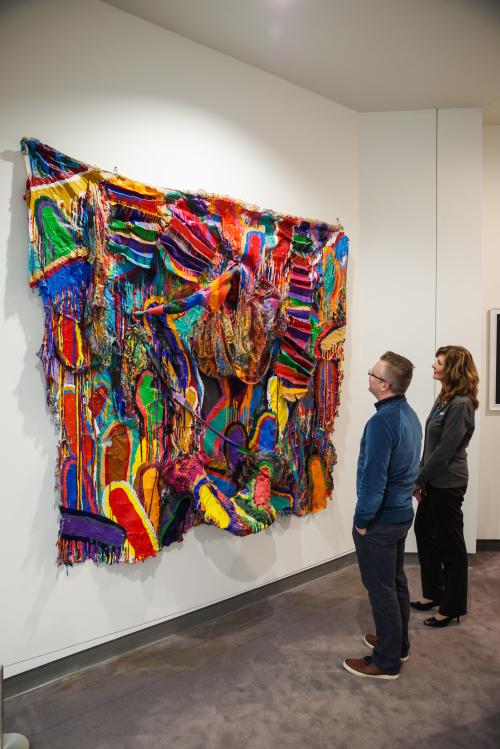 January 21-July 9, 2023
This focus exhibition examines ways that artists portray movement or motion within their work. 
April 8-July 30, 2023
This group exhibition focuses on the enamel process through an examination of the vessel form. Enameling is a technique where powdered glass is fused to a surface through firing.
April 28-30, 2023
Art In Bloom is our signature event celebrating fine art, flowers, and fashion. Art In Bloom recognizes the artistic efforts of floral and fashion designers through juried prizes and awards. Featured designers interpret works of art on view in our galleries in their chosen medium.
June 10-September 3, 2023
This is the 62nd exhibition of Watercolor USA, a national, annual juried exhibition recognizing contemporary American watermedia painting. The event is open to artists (ages 18+) from all 50 states and U.S. territories and judged for a variety of prizes and possible purchase by the Museum.