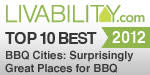 Springfield has been named one of the Top 10 Best BBQ Cities by Livability.com, a national website that highlights more than 500 of America's best places to live and visit.
Much has been written about the smoking, saucing and rubbing going on in places like Memphis, Austin, Chicago and Kansas City – those cities by which all other barbecue is measured. So for their list of the best places for BBQ, Livability.com editors purposely strayed from the herd, instead concentrating on those small to mid-sized cities with a large and loyal local BBQ fan base.
"Part of what we do at Livability.com is uncover those hidden gems in cities and help them shine. So when a list of the best BBQ cities was proposed, it was decided that we wouldn't take the easy route of listing the usual suspects. Instead we'd go mining for those gems that the rest of the country might not yet have discovered," said John Hood, spokesman for Livability.com.
Springfield made the list because of the number of BBQ restaurants, joints and shacks in the city as well as the quality of those establishments based on customer reviews.
Top 10 Best BBQ Cities – Surprisingly Great Places for BBQ 1. Lexington, NC 2. Tuscaloosa, AL 3. Greenville, SC 4. Hattiesburg, MS 5. Tyler, TX 6. Springfield, MO 7. Bethesda, MD 8. Fayetteville, AR 9. Gainesville, FL 10. Cumming, GA