Welcome to the New Issues & Info!
Your Issues & Info newsletter has a new look. Instead of a pdf file you have to download, you'll find the same great content – statistics, staff news, upcoming conventions and events, recently booked conventions and events, meeting dates, etc. – posted online at IssuesandInfo.com.
You will also see information posted throughout the month from the Springfield Convention & Visitors Bureau staff. They'll tell you about projects they're working on and other important news that will enhance your understanding of the local travel and conventions industry and help you make the most of your relationship with the CVB. Best of all, the information will be posted as it occurs instead of only once per month.
You can subscribe to the newsletter in your favorite RSS reader, on Twitter, on Facebook or click here to receive news by e-mail when it's posted. If you prefer instead to receive your CVB news once per month, we will continue sending you an e-mail each month with a round up of what's been posted.
If you have questions, comments or suggestions, feel free to tell us below or contact Susan Wade, public relations manager, at 881-5300, Ext. 101, or swade@springfieldmo.org. We're looking forward to hearing from you.
Seven Companies Respond for Competitive Assessment Study
The deadline for request for proposals for a competitive assessment study of Springfield's lodging and convention industry was Sept. 15 and seven companies responded.
A committee of local citizens and industry leaders will now select the company they will recommend to conduct the study with final approval from the Convention & Visitors Bureau, John Q. Hammons Hotels & Resorts and the Springfield City Council. The three entities will split the cost of the study.
The proposals ranged in price from $39,000, including travel expenses, to $80,000, plus travel expenses.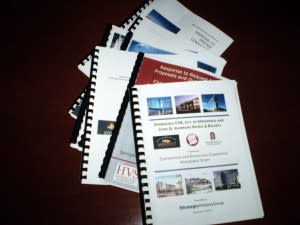 The purpose of the study is to accomplish multiple goals including:
A comparison of Springfield with other cities that have convention – and expo-type events. It will identify facilities and other amenities Springfield needs in order to remain competitive in attracting such events.
Determine the best use for the lot adjacent to the Expo Center.
Recommend strategies to improve revenues at the Expo Center.
The City, CVB and Hammons agreed to conduct the study after a second delay in construction of a hotel adjacent to the Expo Center. Part of the agreement includes that the city will delay repurchasing from Hammons the lot next to the Expo Center. Hammons purchased the land from the city in 2008 with an agreement to begin building a hotel within 60 days of closing. That deadline was extended to April 1, 2010. When construction had not begun by the second deadline, the City began proceedings to repurchase the land for $1 as stipulated in the agreement.
Once the competitive assessment study is completed, the city will reexamine the property agreement with Hammons and determine a course of action.
U.S. Travel Association Launches Power of Travel Coalition, Encourages Participation
The U.S. Travel has launched the Power of Travel Coalition, a grassroots initiative designed to establish the value of travel to millions of jobs, thousands of local communities, and the national economy.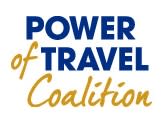 By getting involved in the coalition, you can help ensure that the industry gets the support it needs from elected officials to continue to grow and strengthen. The coalition will amplify the voices of millions of travel employees from every district in the U.S. who want to protect their jobs and their industry. When the time comes for your voice to be heard on an important issue, the coalition will send you the tools you need to speak to your elected officials. The message is simple: Travel is powerful, and it works for America.
The more voices added to the coalition, the more influence it will have in Washington and around the country. Help grow the coalition by recruiting your peers and colleagues. You can download one of our recruitment toolkits to get you started.
Thank you for your continued support. By joining together, we can make sure every politician and opinion leader in America not only understands but also believes in the power of travel.
CVB Board Reviews New Meeting Planners Guide, Proposals for Study
The Convention & Visitors Bureau board of directors reviewed a new Meeting Planners Guide during its regular meeting Sept. 16. The new guide, an interactive program with detailed information about the city's meeting facilities, replaces the bureau's current printed binder that is published every two years. The guide will be distributed to meeting planners on a flash drive. The change allows the bureau to reduce printing and paper usage and allows for immediate updates.
The board also heard a report on the Competitive Assessment Study and approved the purchase of hardware and software to replace aging computer systems at the CVB.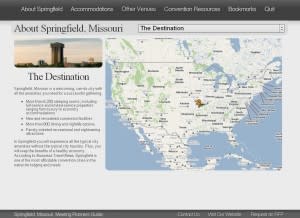 CVB Notes:
New Name: The Tourist Information Center at 3315 E. Battlefield Road has been renamed The Jim D. Morris Tourist Information Center. Signs were installed in August. The name change is in recognition of Mr. Morris' contribution that will allow the bureau to build a new information center at U.S. 65 and Chestnut Expressway. That project has been delayed because of the economy.
MSAE Funfest: CVB Sales Manager Diane Gillespie and representatives from area hotels participated in the Missouri Society of Association Executives Funfest Sept. 20 in Jefferson City.
Economic Development Conference: CVB Sales Manager Diane Gillespie attended the Missouri Governors Conference on Economic Development Sept. 15-17 in Kansas City. The conference will be in Springfield in 2011.
U.S. Olympic Sports Link: Lance Kettering, CVB sports sales manager and executive director of the Greater Springfield Area Sports Commission, represented Springfield at the U.S. Olympic Sports Link Sept. 21-25 in Colorado Springs.
TEAMS Trade Show: Lance Kettering, CVB sports sales manager and executive director of the Greater Springfield Area Sports Commission, will represent Springfield at the TEAMS Sports Travel Trade Show Oct. 18-22 in Charlotte, NC.
CenStates TTRA: Patty Becraft, CVB director of administration and operations; Laura Whisler, marketing director; and Sean Dixon, interactive media manager; attended the CenStates Travel & Tourism Research Association annual conference Sept. 22-23 in Springfield. Becraft is president of the organization.
Governor's Conference on Tourism: CVB staff members will attend the annual Governor's Conference on Tourism Oct. 12-15 in St. Louis. Rumor has it a person from Springfield will be inducted into the Missouri Travel and Tourism Hall of Fame!
Convention Services: Carrie Chavez, CVB Convention Services Coordinator, provided assistance in August to ten groups totaling 2,080 delegates. The bureau provides a variety of free services, such as information tables, information packets, press release distribution, etc., to groups convening in Springfield.
Travel Connections Mixer: Mark your calendar for the CVB's Travel Connections Mixer from 5-7 p.m. Oct. 21 at the CVB offices in the Jordan Valley Car Park, 815 E. St. Louis St. Please RSVP by calling 881-5300 or send an e-mail to lwiesehan@springfieldmo.org if you are planning to attend. Food will be provided by Touch and Drinks by Ozarks Coca-Cola, Brew-Co and 7Cs.
Upcoming Conventions and Events
Please make these groups feel welcome with messages on your marquee!
| Date | Event | Attendance |
| --- | --- | --- |
| Oct. 5-7 | Society of American Foresters | 150 |
| Oct. 5-9 | Council of Geographic Names Authorities | 150 |
| Oct. 8-9 | Kickapoo Booster Club Men's Soccer Shoot Out | 300 |
| Oct. 13-17 | Fraternal Order of Eagles | 500 |
| Oct. 15-17 | Missouri Physical Therapy Assoc. | 100 |
| Oct. 13-17 | Fraternal Order of Eagles | 500 |
| Oct. 16-17 | Incredible Pizza Fall Classic | 4,000 |
| Oct. 19-23 | Missouri Local Government Employees Retirement System | 400 |
| Oct. 21-24 | MSHSAA Softball Championship | 400 |
| Oct. 23-26 | Missouri Baptist Convention | 2,000 |
| Oct. 30-Nov. 7 | Bass Pro Shops Outdoor Fitness Festival | 2,500 |
| Nov. 3-7 | Homeschool Fall National Championships | 1,900 |
| Nov. 5-7 | Midwest Affiliate of College and University Residence Halls | 500 |
| Dec. 2-3 | Missouri Tourism Commission | 60 |
Groups Booked Recently by the CVB
| Date | Event | Room Nights |
| --- | --- | --- |
| Oct. 2010 | Society of American Foresters | 100 |
| Sep. 2010 | Missouri Department of Higher Education | 10 |
| Oct. 2010 | Trinity Motivation | 695 |
| Oct. 2010 | Kickapoo Booster Club | 145 |
| Oct. 2010 | Missouri Physical Therapy Assoc. | 60 |
| Jan. 2011, 2012 | Missouri Dairy Forum | 60 |
| Jun. 2011, 2012 | Missouri Assoc. of Convention & Visitors Bureaus | 105 |
| Jun. 2011 | Classic Chevy | 200 |
October Meetings
Oct. 20, 11:45 a.m., Springfield Hotel & Lodging Association at Ozarks Technical Community College
Oct. 21, 8 a.m., CVB Board of Directors at the CVB Offices
Oct. 21, 5 p.m., CVB Travel Connections at the CVB Offices (Please RSVP by calling 881-5300 if planning to attend.)
Oct. 27, 11 a.m., Attractions Council at the CVB Offices
Oct. 27, 12:30 p.m., CVB PR Advisory Committee at the CVB Offices
A big THANK YOU to volunteers who worked 1,040 hours for the CVB in August.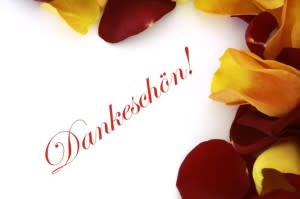 Springfield Travel Statistics
| | Aug. 2010 | YTD 2010 | YTD 2009 |
| --- | --- | --- | --- |
| Information Centers Visits | 4,663 | 30,188 | 37,759 |
| Tourist Inquiries | 4,299 | 71,359 | 58,043 |
| Website Visitor Sessions | 42,149 | 430,226 | *See Below |
| Total Contacts | 51,111 | 531,773 | *See Below |
| Airport Passengers | 84,152 | 458,796 | 475,431 |
*The CVB is using a new analytics program to track website traffic. Because of differences in how the new program works compared to the old program, statistical comparisons with previous years are not possible.
Springfield Hotel Statistics
| | July 2010 | YTD 2010 | YTD 2009 |
| --- | --- | --- | --- |
| Room Supply | 187,798 | 1,291,480 | 1,293,293 |
| Room Demand | 107,575 | 649,835 | 666,929 |
| Percent of Occupancy | 57.3% | 50.3% | 51.6% |
| Average Daily Rate | $65.72 | $65.98 | $67.35 |
| Revenue Per Available Room | $37.64 | $33.20 | $34.73 |
| Room Sales | $7,069,387 | $42,874,396 | $44,917,632 |