About nine months after the nostalgic Kindall Store's reopening, visitors have worn a path to the door in search of something they won't find on its shelves. It's not gas and groceries – they don't sell them these days – nor is it necessarily the local goods they have for sale. 
Instead, it's an experience nestled in the tucked-away, nearly-no-more-community of Olga.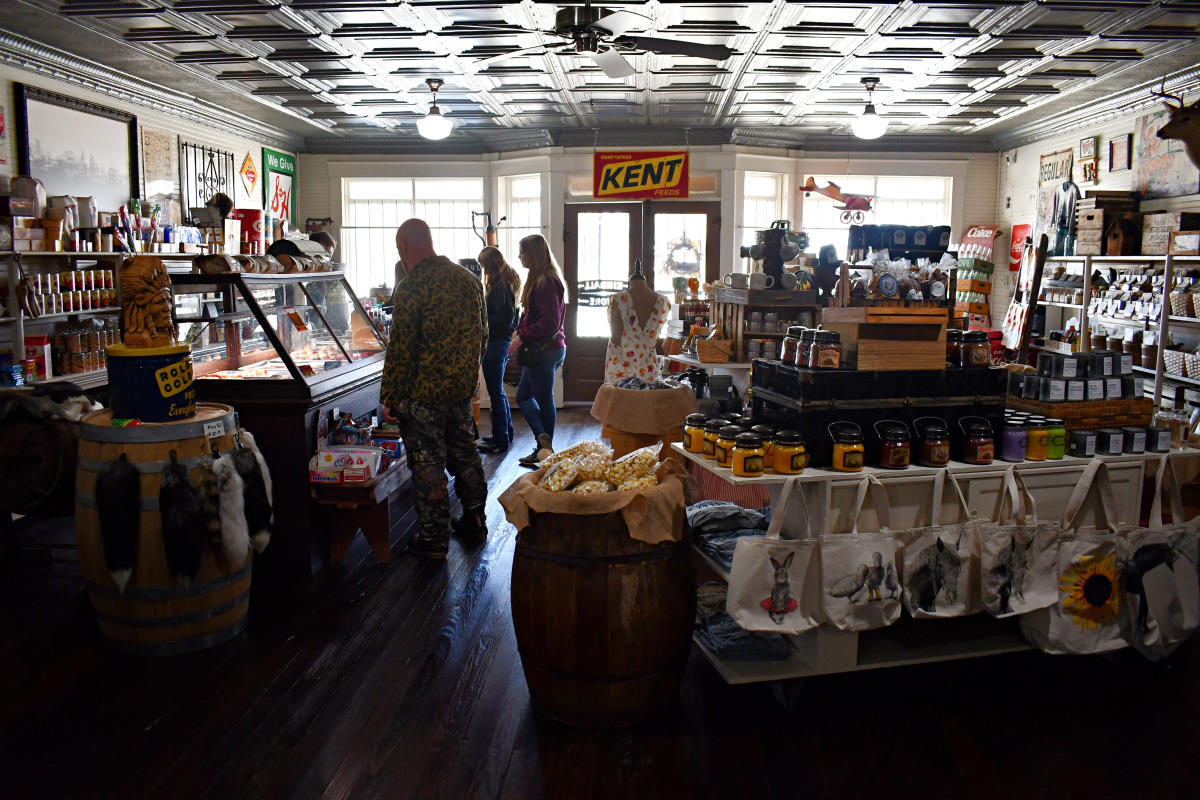 The Kindall Store came back to life in 2023.
"Something I think is interesting about the store since we've opened is how many people have said, 'I feel like I've gone home, or gone back to Grandma,'" says Renee Vines, who revived the store with her husband, Rick. "'That's what I feel like, and that's what it smells like in here.'" 
"We've had so many people tell us that and older people that have teared up and said, 'I haven't had this feeling in a long time.'"
History of the Kindall Store
The store's sense of nostalgia is real. It was built in 1924, the Vineses say, and was a typical general store for folks in the Olga community. Today, other remnants of that tiny settlement are gone, but the store building – located about six miles south of Fordland on Route Z – has remained.
The store was long led by Corda (pronounced Cordie) Tella Kindall, whose family was long in the business of rural stores. Corda was the store's longtime leader, only closing it when health challenges forced the reality in the early '90s.
It remained closed until after the turn of the 21st century, when it reopened to sell general goods and groceries. After passing through a couple of hands, it closed again – and gave the Vines the opportunity to bring it back in a new way. 
Rick Vines has deep local connections. He grew up in the area, and has his own memories of shopping at the store. 
"She was always here," Rick Vines told Ozarks Alive in 2022 of Corda Kindall. "As a kid I loved her because she was so nice.
"I wish I'd asked more questions when I was young, but I didn't." 
Reopening the store 
That legacy led to the couple's development of the store a little differently from a typical general store. Instead of dry goods and groceries, when they opened in April 2023 they offered things like speciality soaps, candles and honey. Among many other items, there are red-checkered tablecloths, bottles of cold soda pop – found in a vintage cooler – locally flavored popcorn and homemade potholders.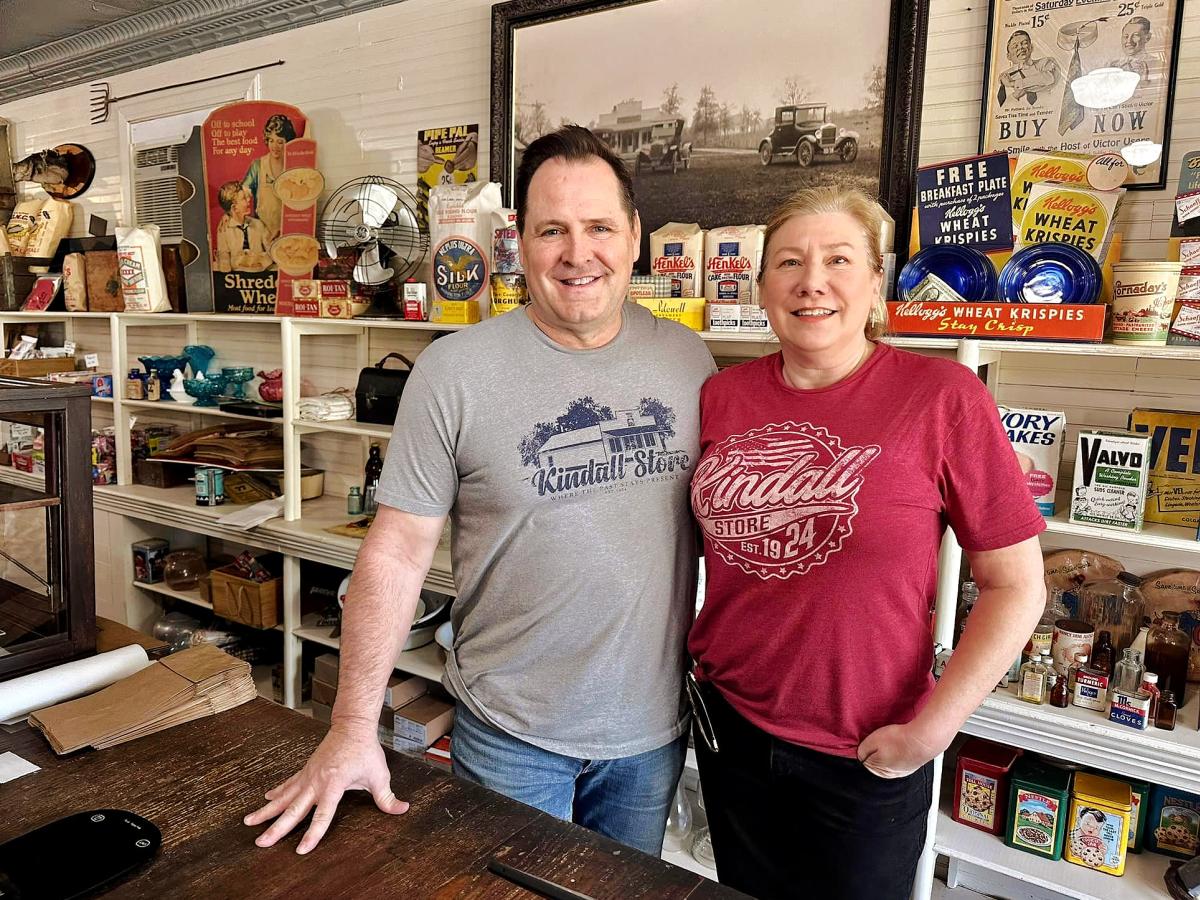 Rick and Renee Vines reopened the Kindall Store in April 2023.
Even though the store's owners originally expected to be open once in a while — or perhaps when nearby events were going on — the store has quickly developed a following that's led it to be open nearly every Saturday and Sunday.
"We have regulars that come, like every weekend," says Renee Vines. "They talk to us. (Part of our goal is) becoming part of their routine and their life and hopefully their community."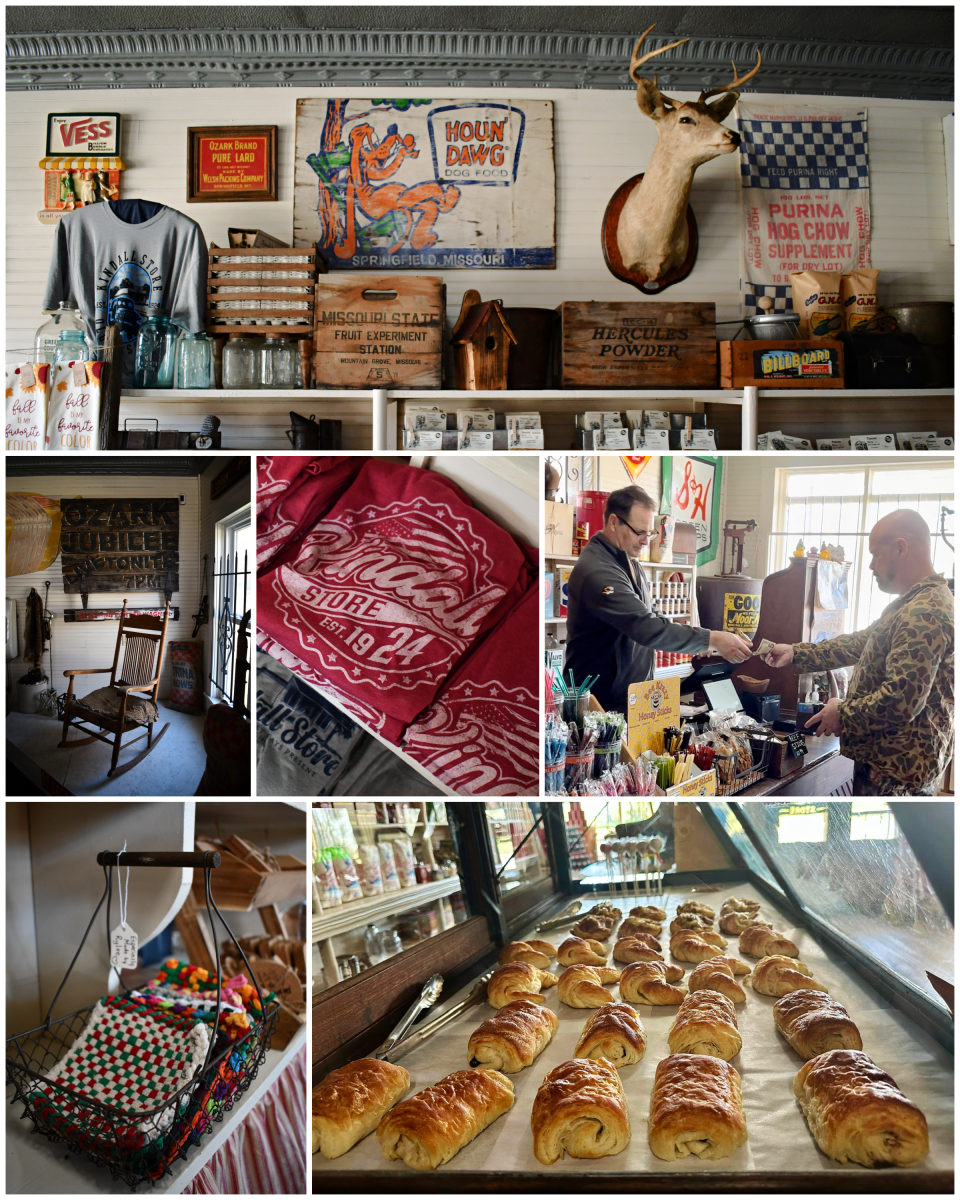 A peek inside the Kindall Store shows baked goods, gifts and a place reminiscent of another time.
In the back, tables and chairs wait for diners who can enjoy sandwiches and other light lunchtime fare. (Or maybe play an impromptu game of checkers.)
"With us, it was kind of a normal thing when (we were kids)," says Becky Owens, a customer whose husband grew up coming to the Kindall Store. "It was everywhere. Here, it's the only place they can get this kind of stuff."
She and young Brett Owens stopped on a recent Saturday – one of many trips they've made to the store.
"We were excited when it reopened," she says. "We come fairly often. I love their fresh pastries, and just the ambiance. I love the feel of it. It feels like you're stepping back in time a little bit."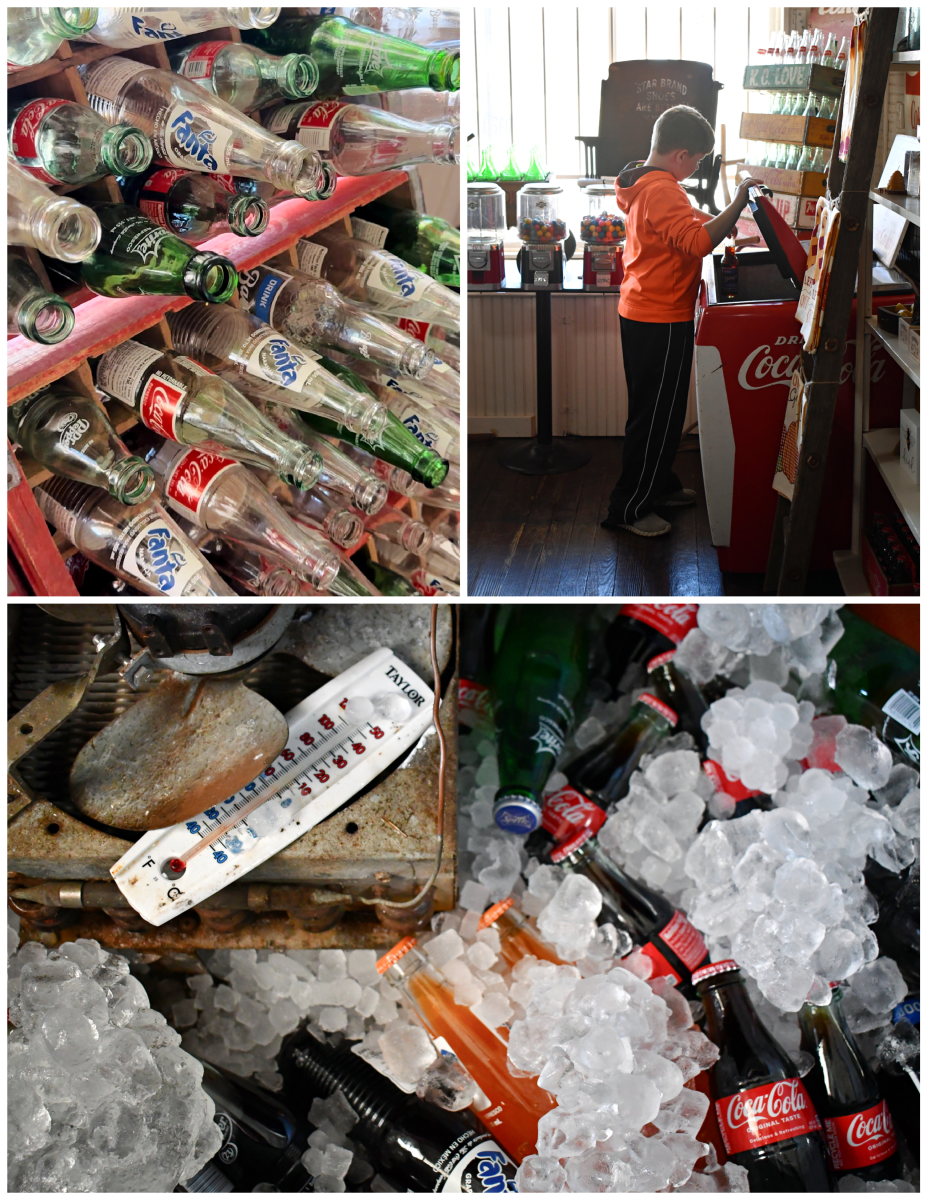 Scenes of soda at the Kindall Store — and Brett Owens' compulsory trip to the cooler for a root beer. (He also brings his empties back and places them in the bottle rack.)
Those pastries, displayed in a vintage case, are a draw mentioned by multiple people. ("It's next to home," said Aaron Rex and his daughter, Delaney, who accompanied him to the store after harvesting her first buck, and there are "awesome pastries.")
They're made by Chef Roland Parny, who gained local fame through La Galette Berrichonne, a French restaurant he owned in Fordland. Even though he has sold the restaurant, Parny is still creating culinary sweets and treats, some of which are available at the Kindall Store.
Special events at the Kindall Store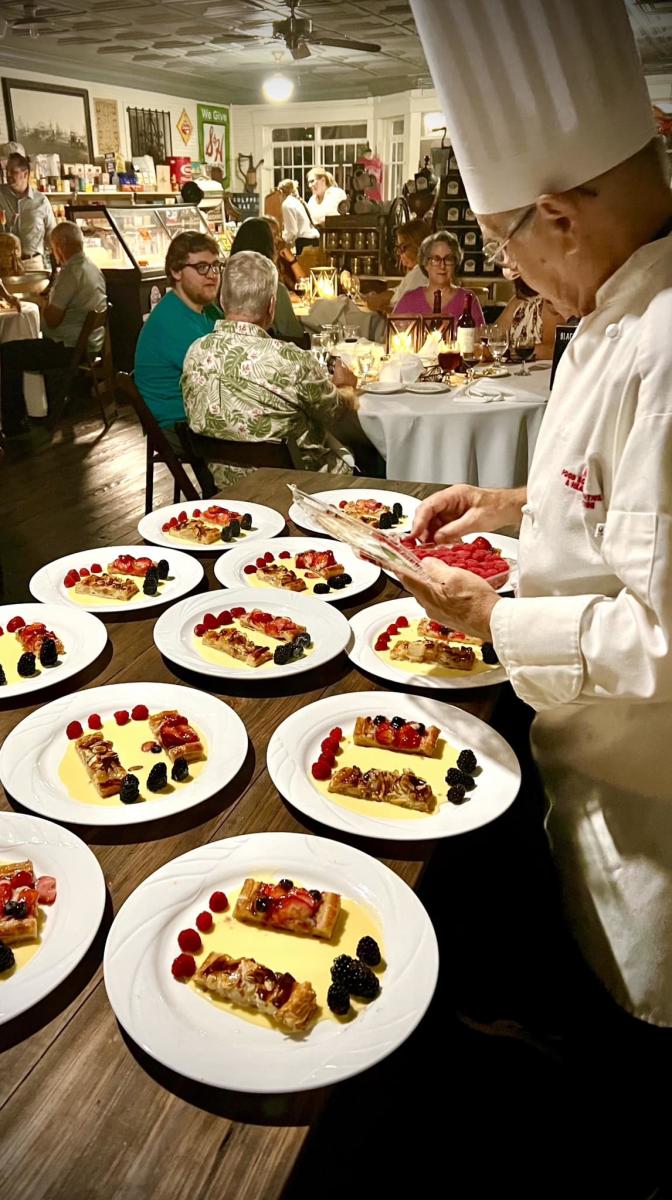 Chef Roland Parny prepares a course of one of his previous dinners hosted at the Kindall Store. (Courtesy of the Kindall Store)
Parny's presence isn't limited to the pastries (which have been known to sell out). He also ties to another of the store's offerings that has developed in the months since it opened: Special events, including multi-course dinners that draw diners for $125 a person.
While menus change from time to time, a recent menu included pumpkin soup, seafood crepe, raspberry sorbet, beef Wellington, sauteed vegetables, gratin Dauphinois and dessert.
There also have been concerts, like when musician Emalee Flatness took the stage. The Vineses been approached about book signings, and had a steak night with CF Cattle Company in October. There's also talk about starting a regular music jam. Others have inquired about using the store for private events.
"We'd like to have maybe some farmers markets, some music outside, and some events and horseshoe tournaments and stuff like that," says Rick Vines. "We've got a lot of plans, but it just takes time, money and energy."
The bottom line: Watch the store's Facebook page for upcoming events. It's also a place to be part of nostalgic conversations and ideas, even for folks who might not be able to visit the store in person.
"There's a lot of good things about our society today, but one of the things that's missing is a sense of community and belonging," says Renee Vines. "This store used to provide that for a lot of people. And so that's one thing that we're trying (to create)."
The creation of this story is funded by a partnership between Ozarks Alive and I Love Springfield, MO!, formally known as the Springfield Missouri Convention & Visitors Bureau.
Want to visit?
Click here to connect with the Kindall Store on Facebook. Please note that the store is generally open on Saturdays and Sundays from 9 a.m. to 5 p.m., but double check that it's open before you drive out for a visit.