Ring in 2022 with friends at these New Year's Eve celebrations. Did we miss one? Email myohn@springfieldmo.org and we may add your suggestion to the list.
NYE Queen City Pub Crawl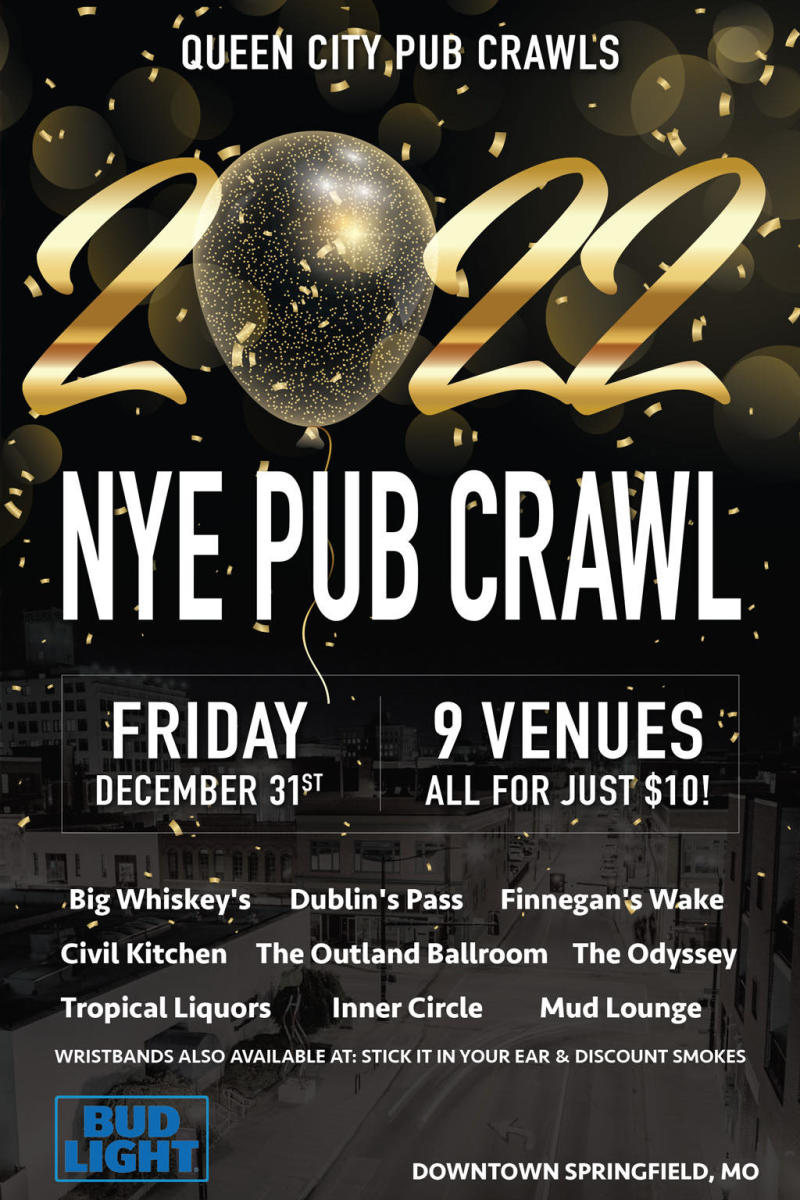 The annual New Year's Eve Queen City Pub Crawl is on! Purchase a wristband for $10 and get into nine different venues. Wristbands can be purchased at Stick It In Your Ear, Discount Liquor and Beer, Finnegan's Wake, Dublin's Pass, Civil Kitchen, Tropical Liqueurs, MudLounge, Inner Circle, The Outland Ballroom, Odyssey and Big Whiskey's.
New Year's Party at Pythian Castle
Join Pythian Castle for the only three-floor party of the year. The night begins in the lobby, then the party moves to the ballroom for a two-course meal. Give a code word to go to the basement for a prohibition-themed escape game, dessert in the theater, DJ dancing, aerials art performance, a champagne toast and party favors to top off the night. A beer and wine cash bar will be open throughout the night.
Reservations are required for the event that costs $60 per person (plus tax and processing fees).
Address: 1451 E. Pythian St., Springfield
New Year's Eve Bash at Tie & Timber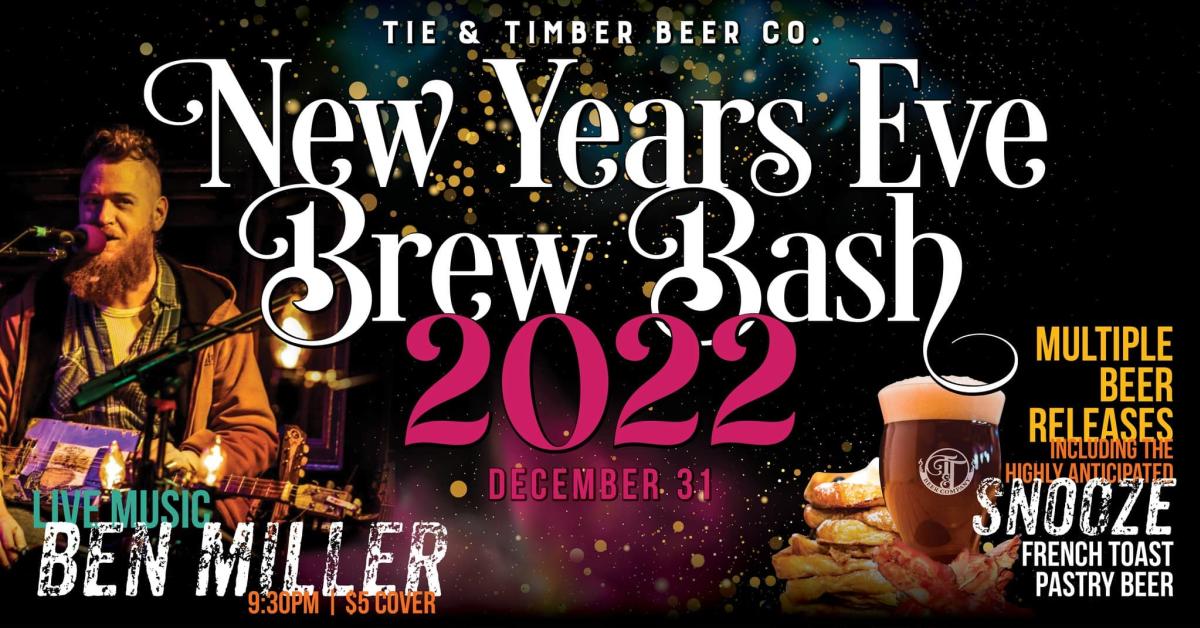 Starting at 9:30 p.m., head over to Tie & Timber for live music with Ben Miller, new beer releases including "Snooze" French toast pastry beer, tasty cocktails and great company as everyone counts down to the new year. Cover is $5 a person. Reservations not required.
Address: 1451 E. Cherry St., Springfield
New Year's Eve at 4 by 4 Brewing
Come ring in the new year at 4 by 4 Brewing starting at 12 p.m. Dec. 31. Have a beer, listen to music, and take photos at the photo booth. Tables in the indoor beer garden can be reserved for $30 each. Reservations are not required but recommended.
Address: 2811 E. Galloway St. Ste A., Springfield
Masquerade Ball at the Savoy Ballroom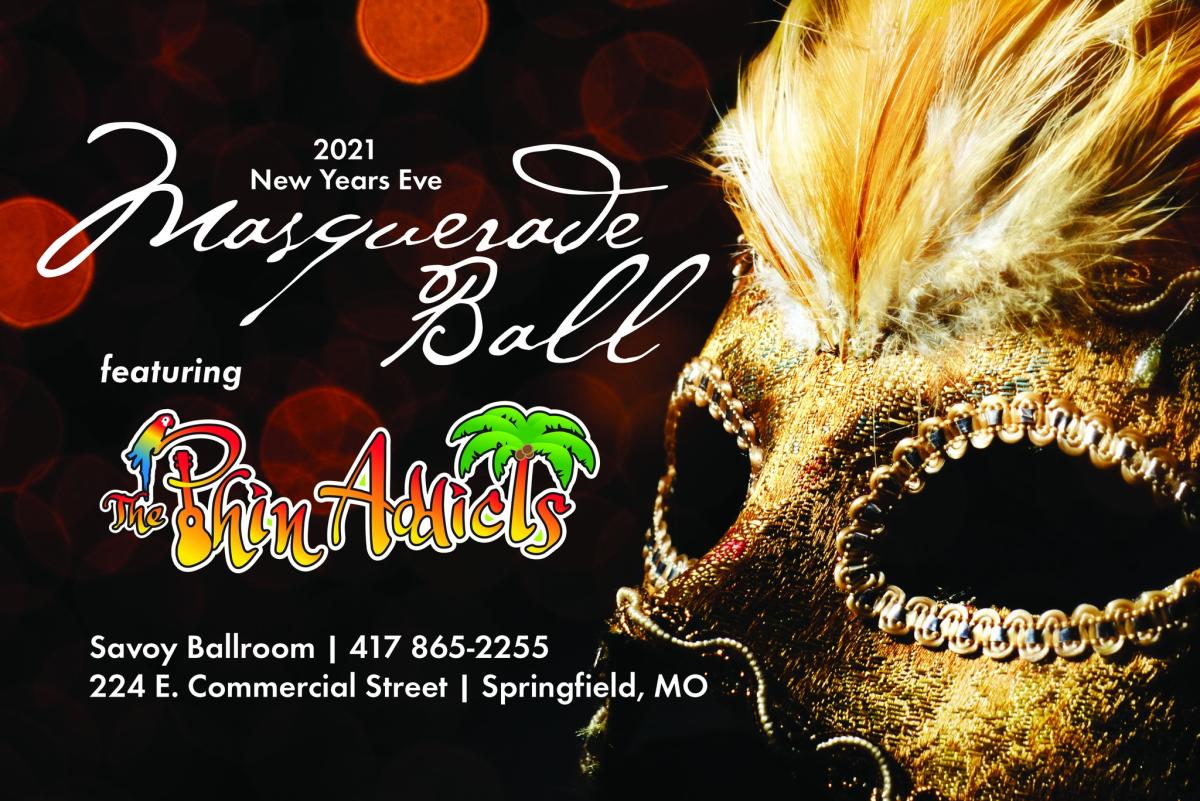 Enjoy live music by the Phin Addicts, party favors, hors d'oeuvres, desserts, a cash bar and a midnight champagne toast at the Savoy Ballroom. The night ends with an epic balloon drop with over 2,000 balloons containing more than $1,000 in cash and prizes. Tickets are $50 a person and must be purchased before the event. 
For more information, call 417-865-2255 or 417-869-6789 or email events@cstreetsavoy.com
Address: 224 E. Commercial St., Springfield
New Year's Eve at the Gillioz
Put a cork in 2021 and blow the top off 2022 at the Gillioz Theatre. Enjoy a concert by The Mixtapes andan enormous dance floor complete with giant disco balls for a festive experience. A champagne toast for 21+ attendees at midnight will ring in the new year. Guests who want a more exclusive experience can sign up for the VIP package that includes:
•A reserved seat at the show
•Exclusive food spread for VIP guests
•VIP lounge and dance floor
•Commemorative champagne flute
•Access to a private bar with premium alcohol available only at the VIP Lounge and through the Noble app
Reserve your VIP ticket here.
Address: 325 Park Central E., Springfield
New Year's Eve at Blue Room Comedy Club
Starting at 7 p.m, spend New Year's Eve at Blue Room Comedy Club with comedian Donnell Rawlings. For "Chappelle's Show" fans, Donnell Rawlings' name will always be synonymous with Ashy Larry, or Beautiful, or any of his other unforgettable characters. Club seating is $35, reserved seating is $45, and champagne seating is $55. A full food menu is available and there is a two-item minimum purchase per person. Reservations are recommended as seats are first come first serve.
Address: 420 W. College St., Springfield
Tabak Co.'s First Annual New Year's Celebration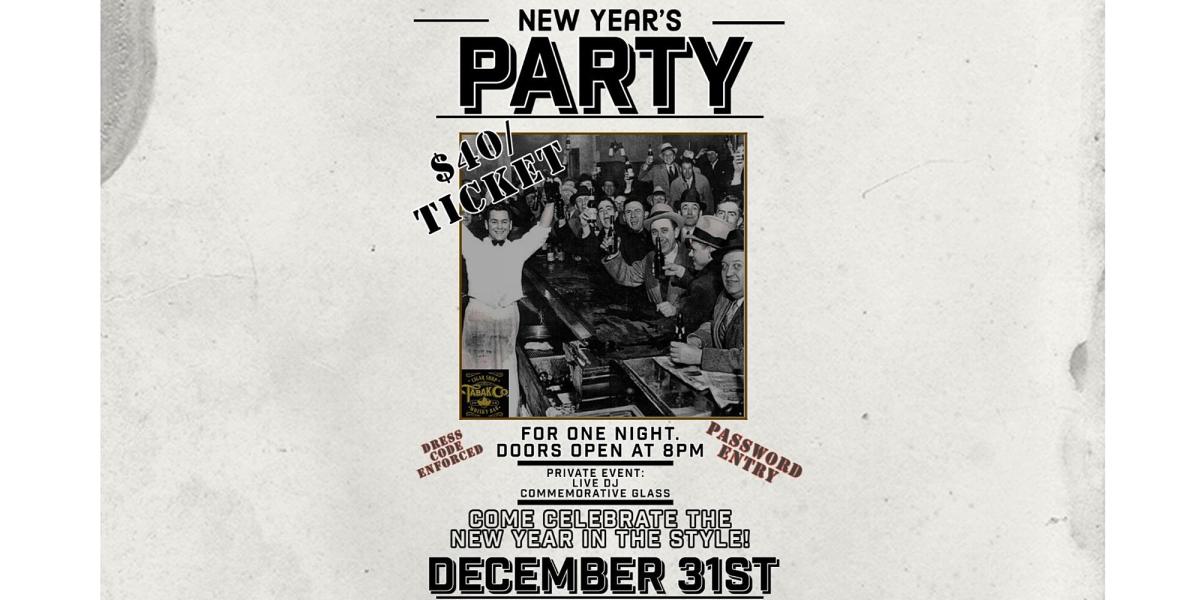 Spend New Year's Eve prohibition style at Tabak Co. The event is limited to 40 people so first come first, serve! Enjoy a Live DJ, commemorative glass and raffle drawing. The required dress code and a password will be sent out Dec. 30 to ticket holders.
Address: 311 Park Central W., Springfield
New Year's Eve at The Golden Girl Rum Club
Join Golden Girl's on New Year's Eve for a yacht party of Titanic proportions. Wear your bougiest boat attire and sail into 2022 with music from @djdaqattack and a cocktail menu by your favorite Golden Girl shipmates. Party starts at 5 p.m.
Address: 137 Park Central Square, Springfield
New Year's Eve at Big Cedar
Join Big Cedar for a New Year's Eve party like no other at the Grandview Conference Center! Big Cedar will have live music, dancing, hors d'oeuvres, a dessert bar, party pics, and a midnight champagne toast. Cheers to 2022! Reservations are required, and bar packages can be purchased for an additional $35. This event is available to Big Cedar and Angler's Lodge Hollister guests only.
Address: 190 Top of the Rock Rd., Ridgedale