During the day, it's a hub for business, lunch meetings and shopping. At night, downtown comes alive with sounds of music, laughter and fun from the nightclubs, pubs and restaurants. 
Historic buildings are filled with more than 40 chef-owned restaurants, breweries, live theater venues, the city's only boutique hotel and more that showcase Springfield's entrepreneurial spirit and hometown hospitality.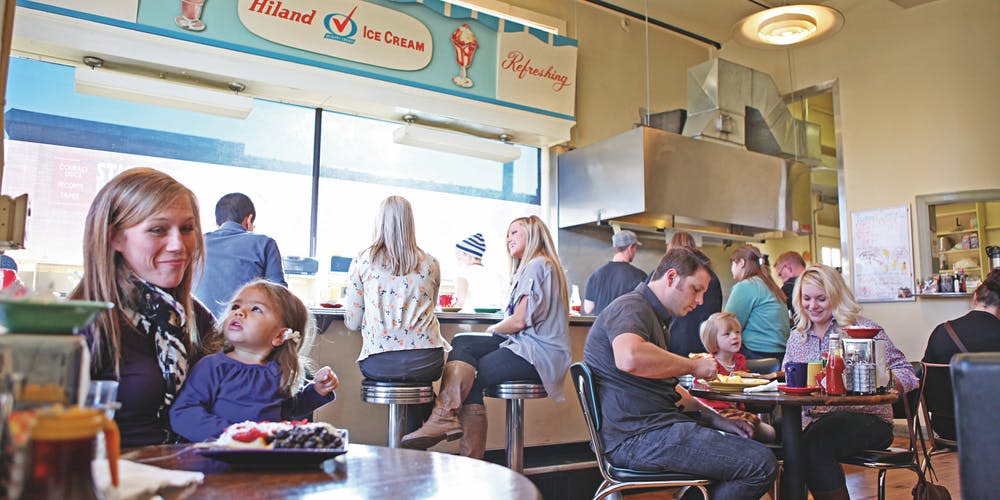 People eating at Gailey's.
A staple of downtown, Gailey's Breakfast Cafe has been serving up all-day breakfast for nearly twenty years. Across the street, The Order serves brunch along with high-end cocktails inside a rustic-industrial space inside Hotel Vandivort. For a great cup of coffee, venture a bit closer to Park Central Square to the Mudhouse or Coffee Ethic for a jolt of much-needed caffeine.
Beer lovers rejoice! Downtown Springfield is home to three craft breweries. You'll have no problem finding a pint of something delicious at Springfield's newest craft brewery, Hold Fast Brewing, next to the Shrine Mosque. Lost Signal Brewing Company not only serves up an amazing smoked pecan porter but some of the best barbeque in the region. At more than twenty years old, Springfield Brewing Company has been serving up brews for generations and is a great place to catch live music on the weekends. If cocktails are more your speed, round the corner to Missouri Spirits and enjoy locally-distilled, meticulously-crafted spirits.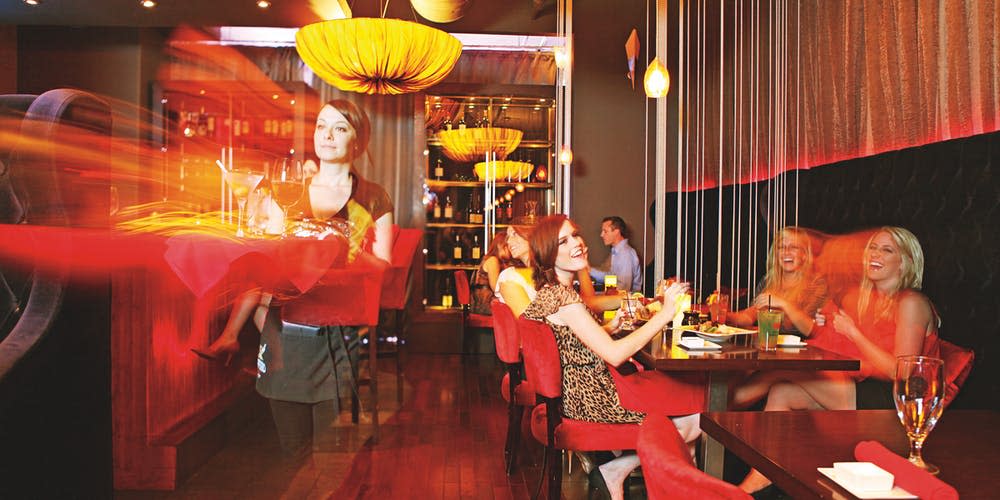 A night out at Kai.
For a classy night out, Kai features Asian fusion fare, sushi rolls and creative cocktails in a chic, bi-level venue with mood lighting. The Queen City Wine Dive prides itself on providing the highest quality food and beverage possible, while also being the most approachable wine bar the Midwest has to offer. The original Big Whiskey's American Restaurant & Bar along historic Route 66 is perfect for those wanting a hearty, all-American meal and an ice-cold mug of beer.
Downtown Springfield is home to a vibrant arts community that truly shines during First Friday Art Walk. Enjoy original art, live music, hands-on activities and live art demonstrations in more than 20 participating galleries from March through October on the first Friday of the month. For a year-round experience, check out Fresh Art Gallery — Springfield's only collective art gallery featuring art strictly by local and regional artists and managed by the artists themselves.
The historic Gillioz Theatre.
Entertainment options abound at several downtown venues. The historic Gillioz Theatre hosts dozens of concerts and entertainers each year. The Landers Theater is home to the Springfield Little Theater, the second oldest and largest civic theater operation in Missouri. The Springfield Contemporary Theater produces contemporary works with intimate staging while using outstanding directors, local actors and guest professionals throughout the season. For those interested in a bit of nightlife entertainment, The Hepcat Jazz Club and the Blue Room Comedy Club are great ways to end a downtown evening. 
You'll also find fascinating histories, such as Route 66, the Wild Bill Hickok shootout site and the Civil War Battle of Springfield along with The History Museum on the Square -- remodeled in 2019 -- chronicling the activities that shaped the area into the thriving metro it is today.