Looking for something to do in the evenings in December? Grab a cup of hot cocoa, hop in the car with the kids or your friends and check out these Christmas light displays around the Ozarks. Did we miss any? Email myohn@springfieldmo.org and we may add it to the list.
Gardens Aglow at Mizumoto Japanese Stroll Garden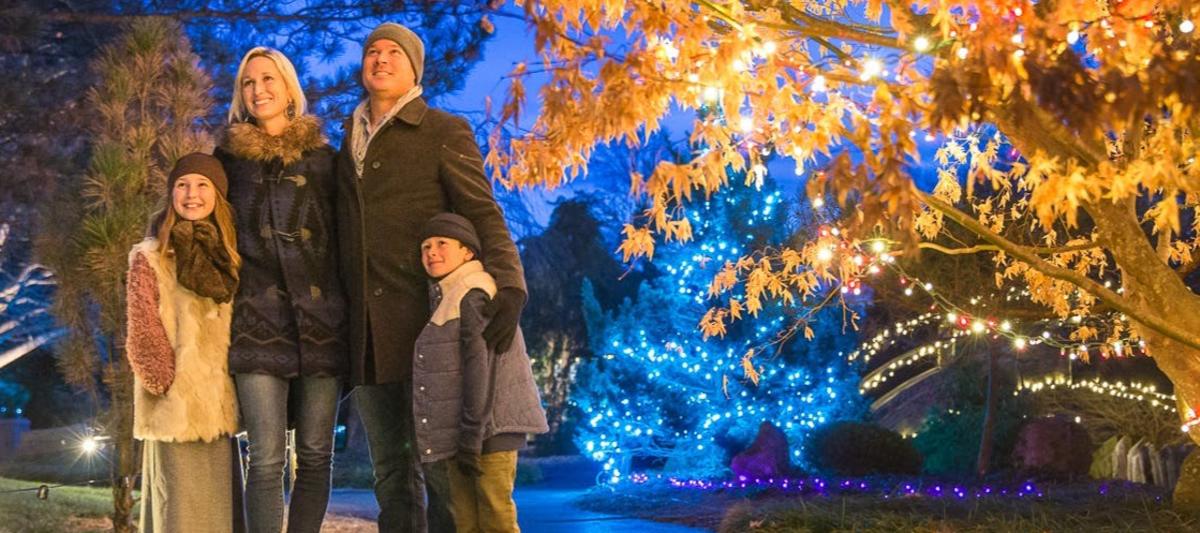 Photo courtesy of The Springfield-Greene County Park Board
Gardens Aglow returns for its fourth season with more than 150,000 festive lights and beautiful features. Bring the whole family to walk the botanical-themed light festival. Tickets start at $5 for ages 13+, $2 for children ages 3-12, and kids 2 and under enter free. Event runs from late November to end of December. (Light shows for Dec. 22 and Dec. 23 have been canceled.)
Address: 2400 S. Scenic Ave., Springfield
Festival of Lights at Jordan Valley Park
Get your steps in with a leisurely evening stroll through festive holiday lights at Jordan Valley Park. Light shows are programmed to music for an enchanting visit.
Address: 635 E. Trafficway St., Springfield
Candy Cane Lane at Rutledge-Wilson Farm Park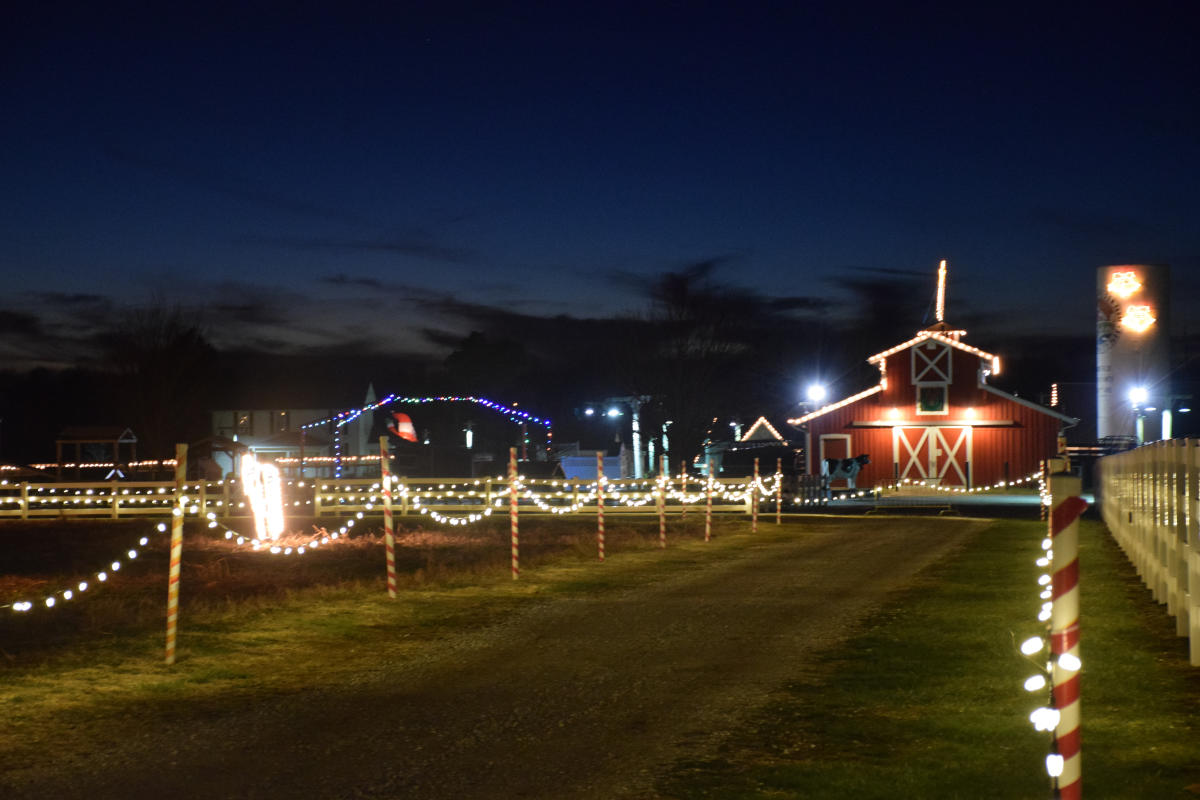 Photo courtesy of the Springfield-Greene County Park Board
Drive through Rutledge-Wilson Farm Park and enjoy the dazzling farm-themed holiday displays with more than 10,000 lights. Candy Cane Lane is open 5-8 p.m. Friday-Sunday Dec. 3-19. Tickets are $5 per vehicle with no buses or limos due to height restrictions and sharp turns.
Address: 3825 W. Farm Road. 146, Springfield
Bass Pro Shops Winter Wonderland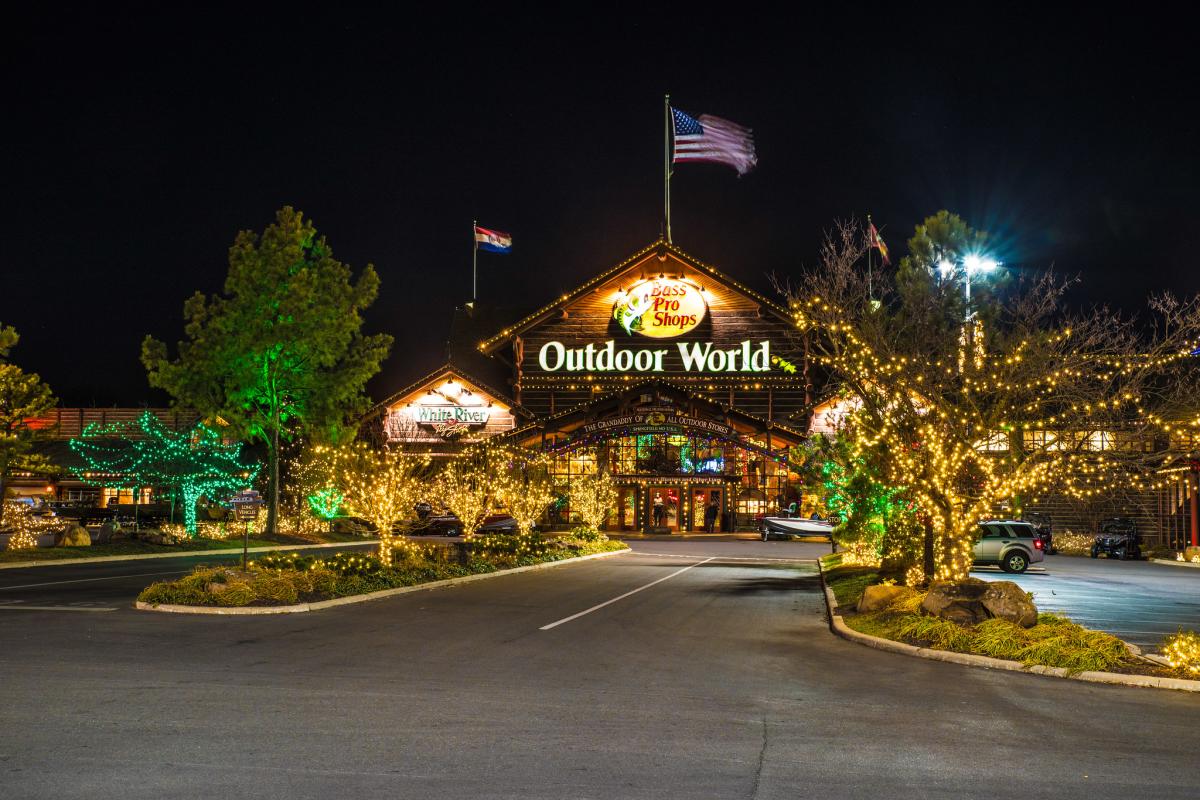 See holiday magic at Bass Pro's Winter Wonderland with thousands of lights decorating the inside and outside of Bass Pro. Families can mail their letters to Santa during their visits, take photos with Santa, and bring home free holiday craft activity kits while supplies last. Families can also enjoy the amazing aquariums and wildlife displays found in every Bass Pro Shops and Cabela's store.
Address: 1935 S. Campbell Ave., Springfield
Park Central Square in Downtown Springfield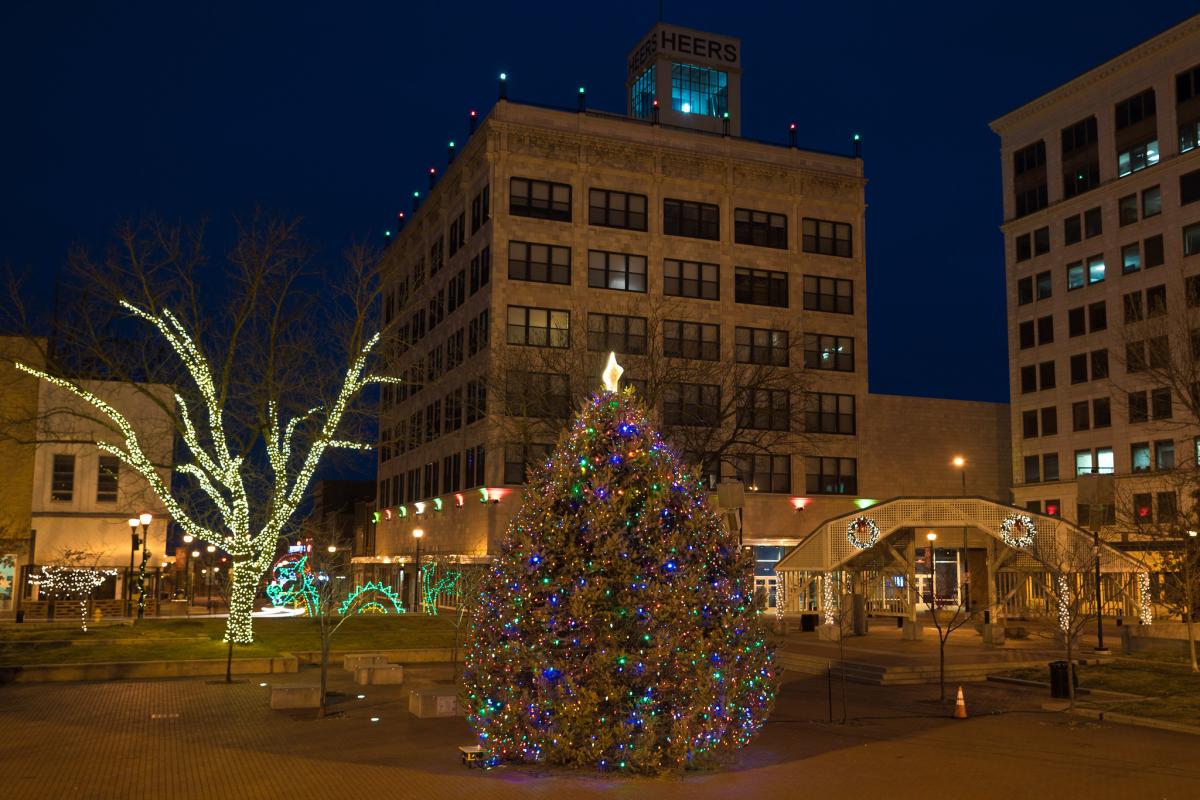 Explore Downtown Springfield and visit Park Central Square for pictures of the large tree and all the lights hung around the square. Stop into local coffee shops, eateries, and other shops for a perfect holiday date night.
Address: 134 Park Central Square, Springfield
Bagwell Lights
The 2019 show from Bagwell Lights
For the last several years, Mike Bagwell has brought the spirit of Christmas to his neighborhood with his annual Bagwell Lights display. The display spans several yards and the main house sparkles with over 150,000 pixels and 14,000 led lights synchronized to music. The surrounding yards have static lights and holiday-themed inflatables. The light show is free to see, and anyone who wants to drive by for a listen can tune into 105.5 FM to hear the music synced with the lights. The display runs Sunday-Thursday 5-10:15 p.m. and Friday and Saturday 5-11 p.m.
Address: 2008 E. Cambridge St., Springfield
Jaxon's Lights
The corner of Tujunga Drive looks a little different around Christmas time after Jaxon Baker started Jaxon's Lights in 2016. What began as a few inflatables in the yard evolved into the house being covered with thousands of Christmas lights and dozens of inflatable yard decorations. Each year brings new creativity, different light shows and new inflatables. Turn your radio to 97.1 FM to hear the music sync with the lights.
The show runs from 5-10 p.m. Sunday-Thursday, and 5-11 p.m. Friday-Saturday. 
Address: 4938 S. Tujunga Dr., Springfield
Beyond Springfield
Home For The Holidays at Big Cedar Lodge
Photo courtesy of Big Cedar Lodge
Experience true Christmas magic on the Big Cedar Christmas light tour. Bring the family, grab a complimentary cup of hot chocolate and enjoy a beautiful 25-minute tram tour around Big Cedar. Take in over 1 million spectacular Christmas lights while listening to holiday music. If you're in the mood for more fun, check out Big Cedar's Holiday Fun guide for more events leading up to Christmas. Tickets start at $20 and the last tour is on Dec. 30.
Address: 190 Top of the Rock Road., Ridgedale
Light The Park at Dunnegan Memorial Park
Open from 6 to 9 p.m. every day through Dec. 30, the Light The Park event features light displays in Dunnegan Memorial Park sponsored by Bolivar businesses and organizations. While the drive-thru display is free of charge, local not-for-profit organizations and groups collect donations at the front gate nightly. In 2020, more than $13,000 was raised for the participating organizations.
Address: 601 MO-83, Bolivar
Lost Canyon Christmas Cart Tour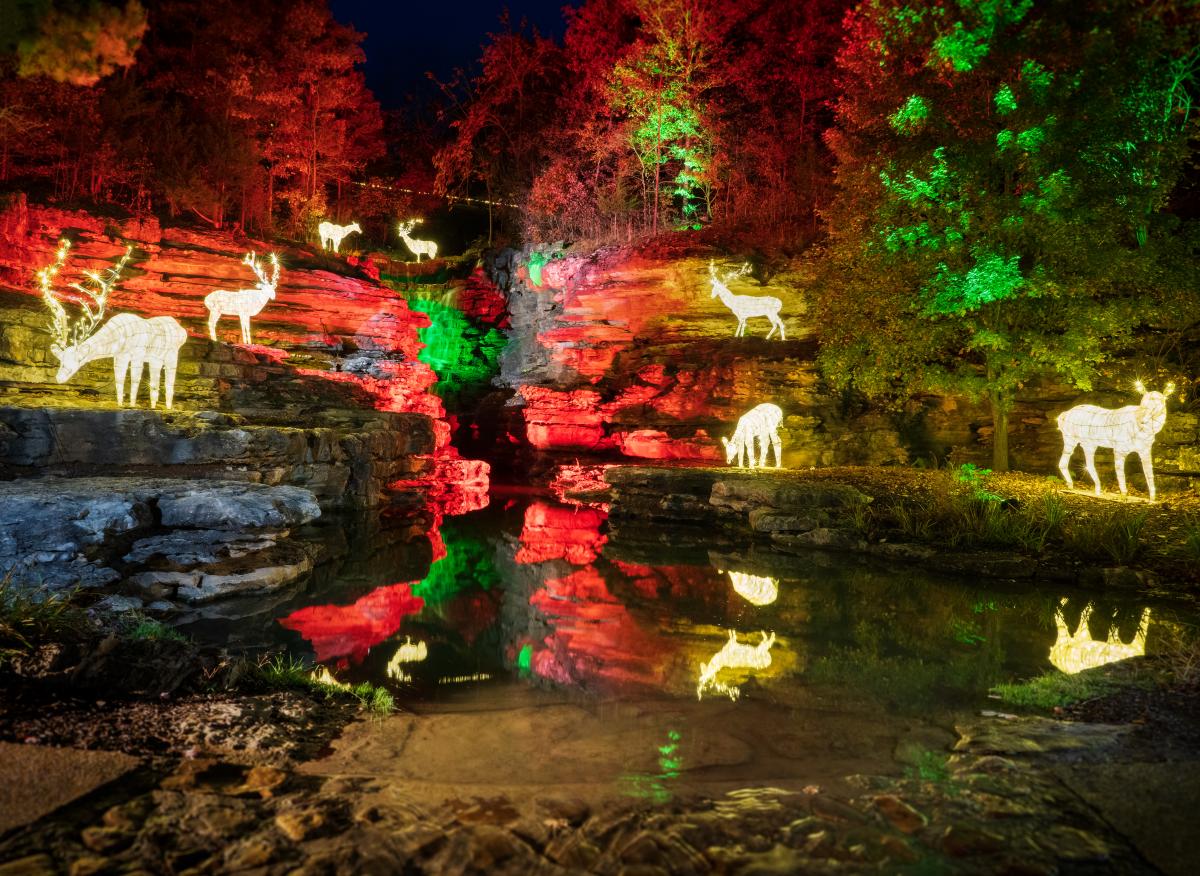 Photo courtesy of Top of the Rock
Top of the Rock is happy to announce the opening of Lost Canyon Christmas – the first-ever light tour at Lost Canyon Cave and Nature Trail. Experience the Ozarks after dark and join them for a 2.5-mile nighttime journey through illuminated, awe-inspiring displays resembling historic Native American scenes from Chief Seattle's letter of 1854. Sip on hot beverages and be surrounded by twinkling lights and holiday magic while connecting to the great outdoors.
Where: 150 Top of the Rock Road, Ridgedale
Christmas Lights of Ozark at Finley River Park
Finley River Park is open every night from Nov. 11-Dec. 31 for the drive-thru light show. Driving through is free, though donations are accepted at the end to help build the light show every year. Lights are open from 5-10 p.m. Sunday-Thursday, and 5-11 p.m. Friday and Saturday.
Address: 891-961 N Riverside Road., Ozark
Waterford Christmas Cottage
Tune into 107.3 and watch Waterford Christmas Cottage come to life. The light show runs 5:30-10 p.m., Sunday-Thursday and 5:30-11 p.m. Friday and Saturday.
Address: 602 E. Falls Circle, Ozark
The Trail of Lights at Shepherd of the Hills
The Trail of Lights is celebrating over 30 years as Branson's longest-running drive-thru light display. This attraction is filled with millions of multi-colored Christmas lights and themed and animated displays, winding its way through the 160-acre Shepherd of the Hills Homestead.
Sunday-Thursday: $25 per carload 
Friday-Saturday: $30 per carload 
$50 per van (vehicles with 8-15 riders)
Address: 5583 76 Country Blvd., Branson
Silver Dollar City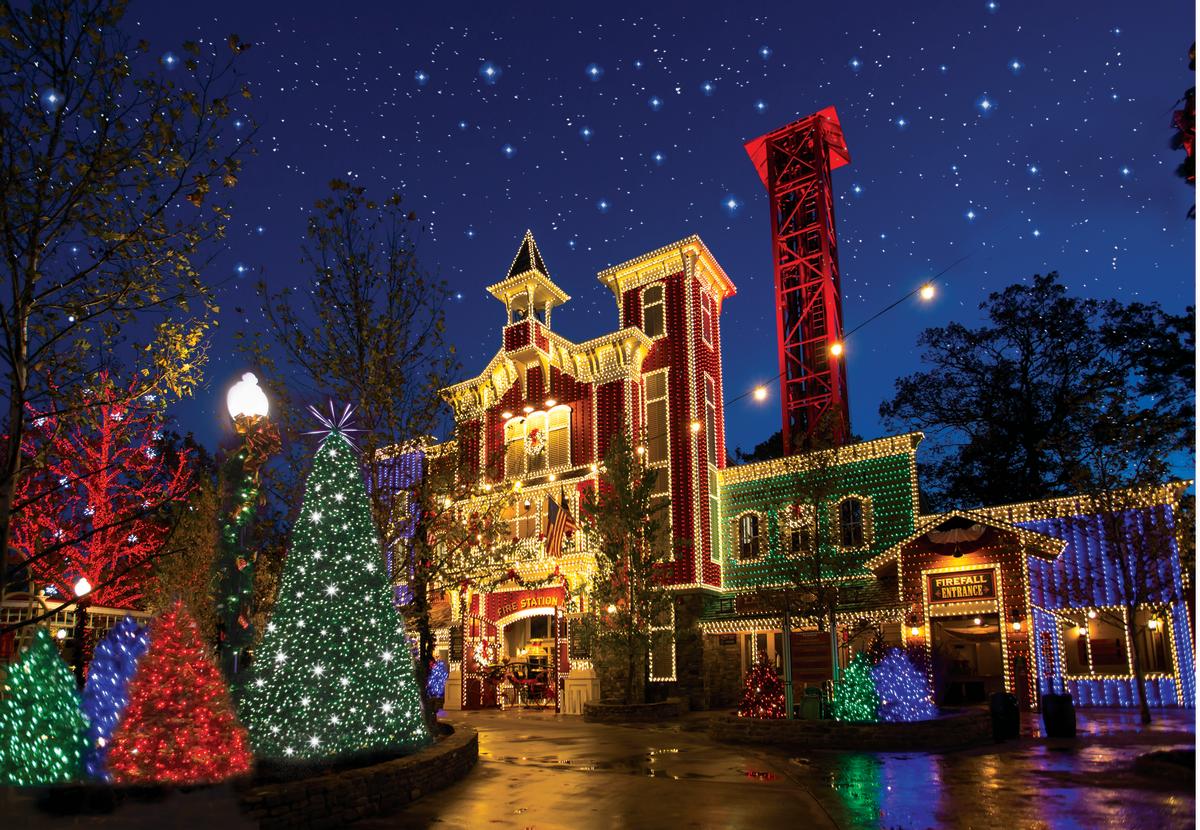 Photo courtesy of Silver Dollar City
For an award-winning lights display, Silver Dollar City's An Old Time Christmas® is a four-time winner and reigning title-holder of a "USA Today 10Best Readers' Choice" poll for the nation's Best Theme Park Holiday Event! The event that runs through Dec. 30 has over 6.5 million twinkling lights and live holiday shows daily.