Celebrate the spirit of fall this week with an indulgence of festivities of the Ozarks. From cultural events to food and drink-inspired outings, it's a great way to get to know the people of the Queen City. 
In the Spirit of Things
Everyone knows the story of Camelot, King Arthur and his Knights of the Round Table. Though the story may not be real and the kingdom a fable, there is a bit of wonder to behold at the thought. Take a quick trip to the Springfield Riding Club in Rogersville for the Dragonfest Renaissance Faire from 10 a.m.-5 p.m. Oct. 19 and there will be no reason to use your imagination. Knights riding around on their trusted steads, their broad swords attached firmly at their sides or wielding lances in jousting contests is the norm at this magical, family-friendly event. Enjoy live music, games, a multitude of vendors crafting the finest Medieval treasures, foods of the middle ages and demonstrations of all kinds.
Back for its 6th year, the Ozark Mountain Highland Games from 9 a.m.-5 p.m. Oct. 19 at the American Legion Post 639 in Springfield is an incredibly fun event. Treat yourself to Celtic food and games, watch performances by the Central High Kilties, visit various clan tents and catch more than 50 athletes earning their merit with a display of strength and endurance throughout the day. Games will include open Stone-throwing, Heavy Hammer, Braemar Stone and much more. You don't have to be Irish, Scottish or Cornish to revel in the day's festivities. Put on a kilt and cheer from the sidelines or if you're braw, join in on the fun.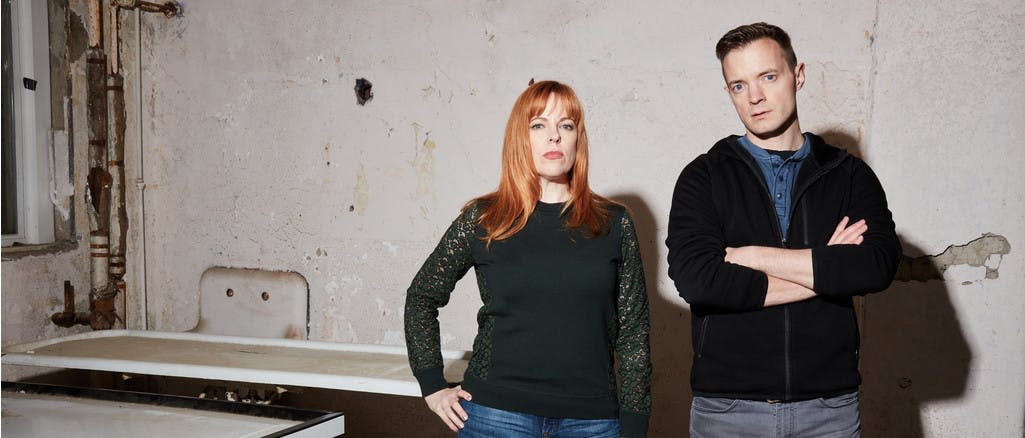 The Historic Gillioz Theatre in Springfield for one night only Oct. 19 presents, Behind the Hauntings: An Intimate Evening with  Amy Bruni and Adam Berr. Haunting the stage, once partners on SYFY's "Ghost Hunters," the executive producers and stars of the show, "Kindred Spirits," will tell harrowing stories of their paranormal investigations. Amy and Adam have traveled the world to hunt ghosts and are ready to answer questions during an exclusive Q & A segment. There may not be a better-suited venue for this show considering the Gillioz has repeatedly been reported to be haunted. If you run into an apparition of a little boy hanging around the restrooms or a shadowy projectionist roaming around the balcony, try not to scream; we hear they are both fairly friendly.  
A Foodie's Paradise

Ozarks Bacon Fest is celebrating its seventh year Oct. 19 at the Ozarks Empire Fairgrounds E*Plex and you won't want to miss it. Bacon, bourbon and beer is the focus of this 21+ event. From 11 a.m.-3 p.m. Springfield's best chefs are bringing home the bacon; you never know what concoctions will be available to sample. Bacon enthusiasts will get to taste artisan-style bacon, local craft beer and bourbon that will warm you from the inside out all while listening to fantastic live music from local musicians. This event is so blissfully bacon abundant there will even be a bacon-eating contest and you bacon believe it.   
Farmers Park Art Show and Pop-up Tasting Tour celebrates its fifth annual art and tasting event this weekend. Twenty-five artists from far and wide will showcase their work Oct. 19-20 at Springfield's Farmers Park. Artistic works such as paintings, sculptures, ceramics and blown glass are only some of the amazing mediums visitors will be able to peruse and purchase. This family-friendly event will also have a tasting tour of local food and drinks beginning at 2 p.m. on Saturday and all day Sunday. Enjoy cuisine from a variety of Springfield's finest eateries, shop some of Missouri's most talented artists' work and have some fun with family and friends at the Farmers Park Art Show and Pop-up Tasting Tour.  
The 32nd Annual Wine & Food Celebration from 2-5 p.m. Oct 20 will be at the White River Conference Center in Springfield. Attendees will have the chance to try sweets from local bakers and piquant delicacies from local chefs in one of Springfield's most beautiful venues. Enjoy demonstration pairings, deliciously exquisite wines, savory foods, cheeses, craft brews and artisan cocktails. Guests will have the opportunity to ask questions of the chefs and wine connoisseurs during their tastings to learn how to find the perfect pairings while out on the town or in the comfort of their own home. Come hungry and ready to expand your palate as these delights will flow plentifully throughout the event.