The Ozarks is one-of-a-kind, especially in the fall. Trees boast a brilliance of autumn colors, the air becomes crisp as cooler winds sweep through the rolling hills signaling a time for festivals, pumpkin carvings, corn mazes and family-fun outings. 
Kick-off Fall at the 12th annual Harvest Fest at Rutledge-Wilson Farm Park. From hayrides to carnival games, pumpkin picking and crafts, the 207-acre farm park has fun for the whole family. Harvest Fest will be open Fridays through Sundays until Oct. 27. Fun for all ages, the littles will love the bounce house while the bigger littles have a blast mastering the obstacle course. You'll have no problem finding something fun to do at Rutledge-Wilson Farm Park this fall season.
Silver Dollar City Harvest Festival is ongoing until Oct. 26. The new harvest festival features skilled artisan craftsmen, the Cirque Éloize Lumberjacks Show, and thousands of dazzling Jack-o-Lanterns line the brand new Pumpkin Pathway and Pumpkin Plaza! Fall enthusiasts can hop aboard the thrilling rides, get their faces painted and gobble up the delectable fall-inspired treats.
The 27th annual Republic Pumpkin Daze from 8 a.m.-5 p.m. Oct. 5 will have competitions you won't want to miss. Weighing the region's largest pumpkins, gourds, watermelons and more will be a sight to see. Attendees will enjoy more than 200 craft booths and games at this free event. 
Baker Creek Heirloom Seed Company October Heritage Days Festival in Mansfield is a fun-filled day of live music and crafts, not to mention the wholesome down-home cooking. Immerse yourself in a pioneer village and farm said to be Missouri's "longest-lasting homestead." Baker Creek Heirloom Seed Company, established in 2007, is more than a farm; it's the whole package.
Whole Hog-n-Dance Fall Fest is happening at Millsap Farms Oct. 5. It's a potluck, so pitch in with your best side dish, store-bought or homemade, it doesn't really matter; everything pairs well with a whole roasted hog. Contra dancing will commence promptly after dinner so don your best dancing boots before heading to Millsap Farms Fall Fest.  
Pumpkin Patches and Corn Mazes
Fassnight Creek Farm Pumpkin Patch has quite the assortment of heirloom pumpkins. Family owned and operated and located mere minutes from Historic Downtown Springfield, the farm has been producing only the finest crop for nearly 100 years. Families can escape the center city hustle and bustle without leaving the city to find first-rate pumpkins for carving.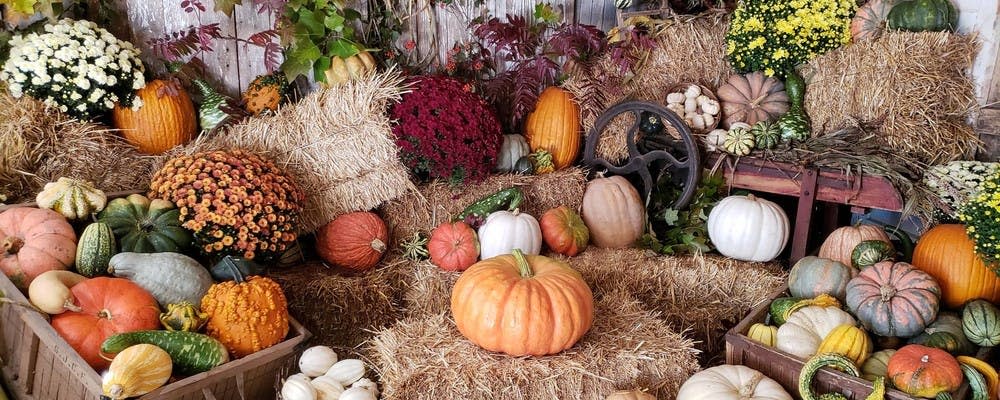 Pickin' Patch Farm in Marionville.
Pickin' Patch Farm in Marionville has fall fun down to a science. Pluck a pumpkin or get lost in the corn maze or simply take in the scenery. Because they specialize in all things fun, you will find more than pumpkins here. Be prepared to make friends with a goat or two and with a photo op around every corner, make sure you have plenty of room to store all of the amazing photos you're sure to take.  
Getting lost in the Aurora Maize is easy; it's finding your way out of the 5-acre maze in Aurora that's the hard part. Celebrate the 21st year of this popular farm with adventures aplenty. Attractions include a cow train, bounce houses, old-fashioned hayrides, a mechanical bull and much more. There is even a night haunt attraction. Beware! It's not for the faint-hearted.  
Quick Trips for Fall Lovers
A year-round community affair, Farmers Market of the Ozarks inside the Farmers Park Pavilion takes place every Saturday. Home to the area's farm-fresh produce, local artisan hand-crafted goods and local musicians, you'll fall for the Ozarks best with every visit.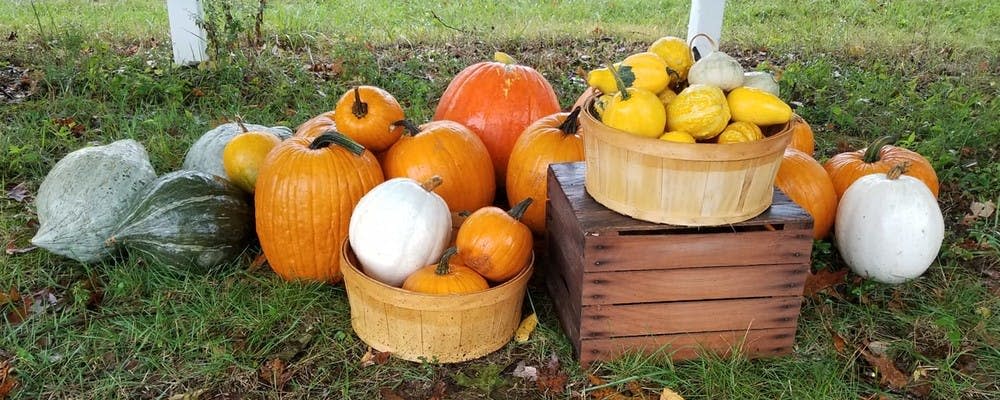 Sunshine Valley Farm.
Sunshine Valley Farm's "Weekend Pickin's" from 9 a.m.-11:30 p.m. won't be around much longer. Every Saturday until the end of October visitors can swing by the farm to harvest a variety of apples such as Ozark Gold, Honeycrisp and Gala. Come enjoy the fruits of your labor at Sunshine Valley Farm.  
Rogersville Farmer's Market & Harvest Festival is celebrating its last farmer's market community event for the year with a full day of family fun Oct. 5. Fall contests, live music, games and delectable delights from the area's farmers. From 9 a.m. to 1 a.m. visitors can play, eat and enjoy themselves at the Rogersville Farmer's Market and Harvest Festival.