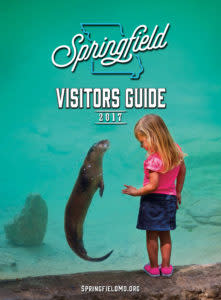 The 2017 Visitors Guide is at the printer and the Convention & Visitors Bureau is eagerly waiting for its delivery expected around Dec. 21.
The guide was printed in a magazine-style format, a new approach that will provide stories about Springfield, high-quality images, listings, ads and coupons.
The CVB distributes visitor guides in packets mailed to people requesting information about the city; at various events, conventions and businesses; and at its visitor information centers and state-operated information centers.
A big "thank you" to all the businesses that chose to advertise in the guide. We're confident it will bring visitors to your business in 2017.
A recent survey conducted by Bentley University shows tourists still value print materials when making travel decisions.
Some highlights of the study:
7 out of 10 tourists and visitors pick-up brochures at their travel destination

95% of visitors have their travel plans influenced by information from a brochure

83% plan to visit a business or attraction highlighted in a brochure, map or travel guide

78% of visitors consider altering their travel plans as a result of a brochure

53% of travelers use brochures to plan their trip before they arrive at their vacation spot
Besides the Visitors Guide, the CVB offers a variety of ways for businesses to reach out to visitors, including website banners and displays at the airport, CVB visitor information centers and the Expo Center. The Marketing Partnership Program also is available for businesses outside Springfield city limits.
Businesses that recently partnered with the CVB are Branson Show League and Dutton Family Theatre.
For information about how you can target travelers with your marketing efforts, contact Jane Rips at 417-881-5300, ext. 104, or jrips@springfieldmo.org.