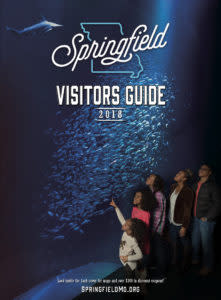 The 2018 Visitors Guide was sent to the printer Nov. 20 and copies should be available by the end of December.
Many thanks to all the businesses that chose to advertise in the guide that's distributed to thousands of visitors each year. The guide is designed to showcase attractions, retailers, restaurants, lodging facilities and other amenities the city offers.
Along with the Visitors Guide, the CVB offers a variety of opportunities for businesses to reach out to people visiting the city, including displays at the airport, Expo Center and information centers; the bureau's website and others.
Some businesses that recently began participating in CVB marketing programs are:
Pedal Power Pedicabs
Springfield Family Restaurant
Royal Grill Buffet
Mikado
Good & Perfect Gifts
Barn House
First Watch Cafe
For information about how to inform visitors about your business, contact Jane Rips, partner development manager, at jrips@springfieldmo.org or 417-881-5300, ext. 105.