The Downtown Springfield Association announced the 2016 Color Run set to begin at 9 a.m. April 30 will affect portions of several streets.
Trafficway Street between Kimbrough Avenue and John Q. Hammons Parkway closes at 4 a.m. with local traffic only allowed to enter Mediacom Ice Park. Other portions of the course route will be closed as early as 6 a.m. around Color Zones.
The entire course will be closed by 9 a.m. and most will reopen by or before 12 p.m.
The finish festival will be in the lot between the Expo Center and the Jordan Valley Parking Garage. Officers will be at every intersection for safety, but the route is closed to vehicles and officers will not allow any vehicle to cross the route.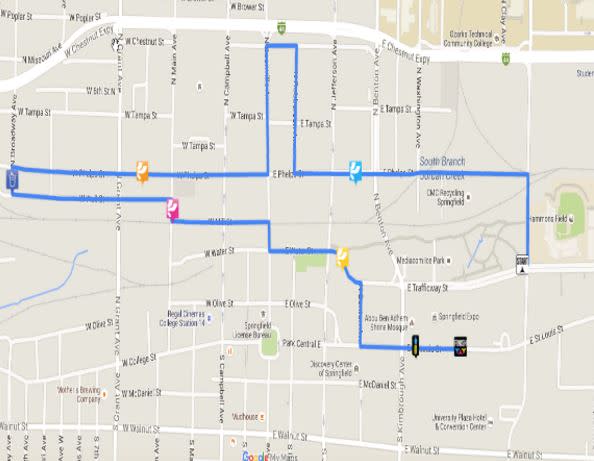 Streets closed:
East Trafficway Street in both directions from the Mediacom Ice Park (at Jordan Valley Park) to North Sherman Parkway (4 a.m.-2 p.m.)

North Sherman Parkway from East Trafficway Street to East Phelps Street

East Phelps Street from North Sherman Parkway to North Robberson Avenue

North Robberson Avenue from East Phelps Street to East Chestnut Street

East Chestnut Street from North Robberson Avenue to North Boonville Avenue

North Boonville Avenue from East Chestnut Street to West Phelps Street

West Phelps Street from North Boonville Avenue to North Broadway Avenue

North Broadway Avenue from West Phelps Street to West Wall Street

West Wall Street from North Broadway Avenue to North Main Avenue

North Main Avenue from West Wall Street to West Mill Street

West Mill Street from North Main Avenue to North Boonville Avenue

North Boonville Avenue from West Mill Street to East Water Street

East Water Street from North Boonville Avenue to North Jefferson Avenue, and crossing North Jefferson Avenue onto East Trafficway

East Trafficway from North Jefferson Avenue to North Benton Avenue

North Benton Avenue from East Trafficway to East St. Louis Street

East St. Louis Street from North Benton Avenue to the Expo Lot at 735 E. St. Louis St.