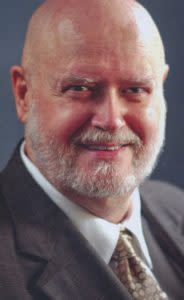 R.B. "Bob" Smith, III.
March 19, 1939-Jan. 16, 2020
R.B. "Bob" Smith, III, died Jan. 16 at the age of 80 years old. Bob built legacies over two separate professional careers, both centered on promoting the communities in which he lived.
A long-time leader of Missouri's tourism industry, Bob was appointed to the Missouri Tourism Commission in 1989 and served as chairman from 1993-1996 during a period that saw the formation of the modern-day Missouri Division of Tourism as well as the creation of a sustainable funding mechanism. He eventually became deputy director of the Division of Tourism and twice served as interim director of the agency before his retirement in 2010. He was inducted into the Missouri Tourism Hall of Fame in 1988. In 2010, upon his retirement, Missouri Travel Alliance named its annual tourism scholarship after him. Scattered throughout the room were examples of "Smith-isms," illustrative sayings that he used to articulate particular points to friends and colleagues.
His 20-year tourism career began later in life, and Bob considered his first career as a newspaperman to be where he "sharpened his teeth" in community service. Born March 19, 1939, in Newport, Tennessee, Bob first "got ink in his veins" when he began delivering the Knoxville Sentinel at the age of 9 when the family moved to Crossville, Tennessee. When the family moved to Oak Ridge, Tennessee, he continued delivering The Sentinel and added the Chattanooga Free Press. He eventually was hired to pour lead for the Linotype machines at The Oak Ridger, and, at the age of 15, went to work in the job printing shop. In addition to daily duties, he helped print "parlays" for those who bet on football and basketball games, printing 10,000 "informational only" sheets every Monday night and cleaning up all physical evidence of the job before the shop opened the next morning.
After high school and a stint in the Army, Bob followed a girlfriend to Blairsville, Georgia, at the age of 19. Overhearing a group discussing the launch of a community newspaper to challenge the existing paper, Bob inquired about a job as a printer and soon found himself hired as the editor. After a few months in Blairsville, he returned to a production job at The Oak Ridger and took over an open advertising account for a jewelry store, later marrying the store's credit manager in 1960. His wife of 50 years, Pat, survives.
He served at newspapers in Kingsport and Morristown before being named as publisher of the Branson Beacon in 1980. While there, he served three terms as president of the Branson Chamber of Commerce. From there he moved to Lebanon, Missouri to become publisher of The Daily Record. His son, Steve, became the paper's sports editor.
In 1991, he was elected president of the Missouri Press Association and began a campaign to improve the influence of the newspaper industry in Jefferson City by encouraging local papers to hold legislators accountable for their actions and policies. During his tenure as president, he also led the creation of the Missouri Newspaper Hall of Fame to commemorate the association's 125th anniversary. He was inducted into the Hall of Fame in 2005. He served as Missouri Press Service president from 1993-1994 and as Missouri Press Foundation president from 1994-2001.
After his retirement, Bob became active in the Laclede County Republican Central Committee, and served a term as chairman. He also worked with the University of Missouri Extension Council in Laclede County, publishing a monthly newsletter to promote gardening. In addition, he obtained certification as a master gardener and could be found most days tending to his expansive backyard garden where he grew award-winning flowers and vegetables.
A Celebration of Life service is scheduled for 2 p.m. Feb. 1 at Shadel's Colonial Chapel in Lebanon.