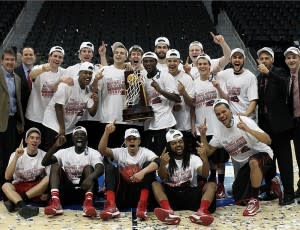 The staff at the Springfield Convention & Visitors Bureau extend a hearty congratulations to the Drury University Panthers on earning the distinction of being the 2012-13 NCAA-II National Champions!
The Panthers are returning to Springfield today with plenty of celebrating planned. A crowd is expected to greet them upon arrival at Springfield-Branson National Airport, followed by a sheriff's escort back to the university where fans will be gathered at O'Reilly Family Event Center.
Drury University is working with the City of Springfield to plan a celebration to recognize the three Drury teams that won three national championships in less than a month: Men's and Women's Swimming and Diving on March 9, and Men's Basketball on April 7. The date and details of that celebration will be announced at a later date.