Fall has officially arrived at Silver Dollar City! From September 15-Oct. 28, the Harvest Festival is bringing in fall flavors with this season's Tasting Passport. For $35 the passport allows you to choose five items from the exclusive fall menu from restaurants and eateries throughout the park. The menus are filled with pumpkin themed dishes that are a must-try. Let's dig into some of the great dishes I tried and give you a look into what you might like to try when you visit Silver Dollar City! 
Maple, Bacon, and Pecan Funnel Cake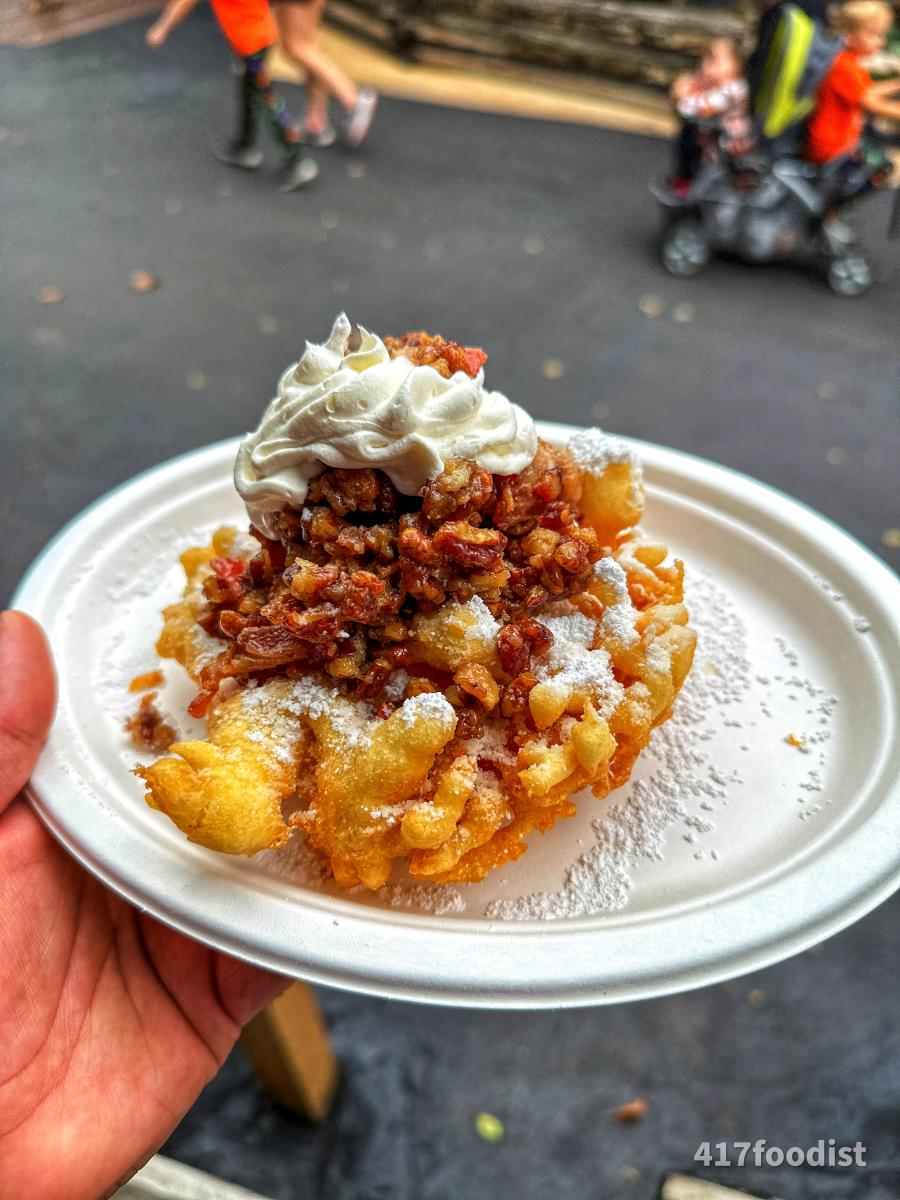 Photography by @417Foodist
The maple, bacon, and pecan funnel cake is a great way to start your visit at Silver Dollar City. When I was a kid, there wasn't a single visit that we didn't enjoy a funnel cake, so why stop that tradition now? The funnel cake is fried fresh, and then topped with crispy bacon and pecans, with a great maple flavor throughout the whole funnel cake. There is also a dollop of whipped cream on top for good measure, followed by the dusting of powdered sugar. You can find this delicacy at Fanny's Funnel Cakes. 
Bratwurst in a pretzel bun
The bratwurst topped with sauerkraut on a pretzel bun, is a great transition from having the sweet funnel cake into having something more on the savory side of town. The pretzel bun has a nice chew to it, it's dense and holds the condiments well without getting soggy, when you fill it with that bratwurst and a large helping of sauerkraut. The bratwurst is on the menu of Buckshot's Skillet Cookery. 
Sweet potato kettle chips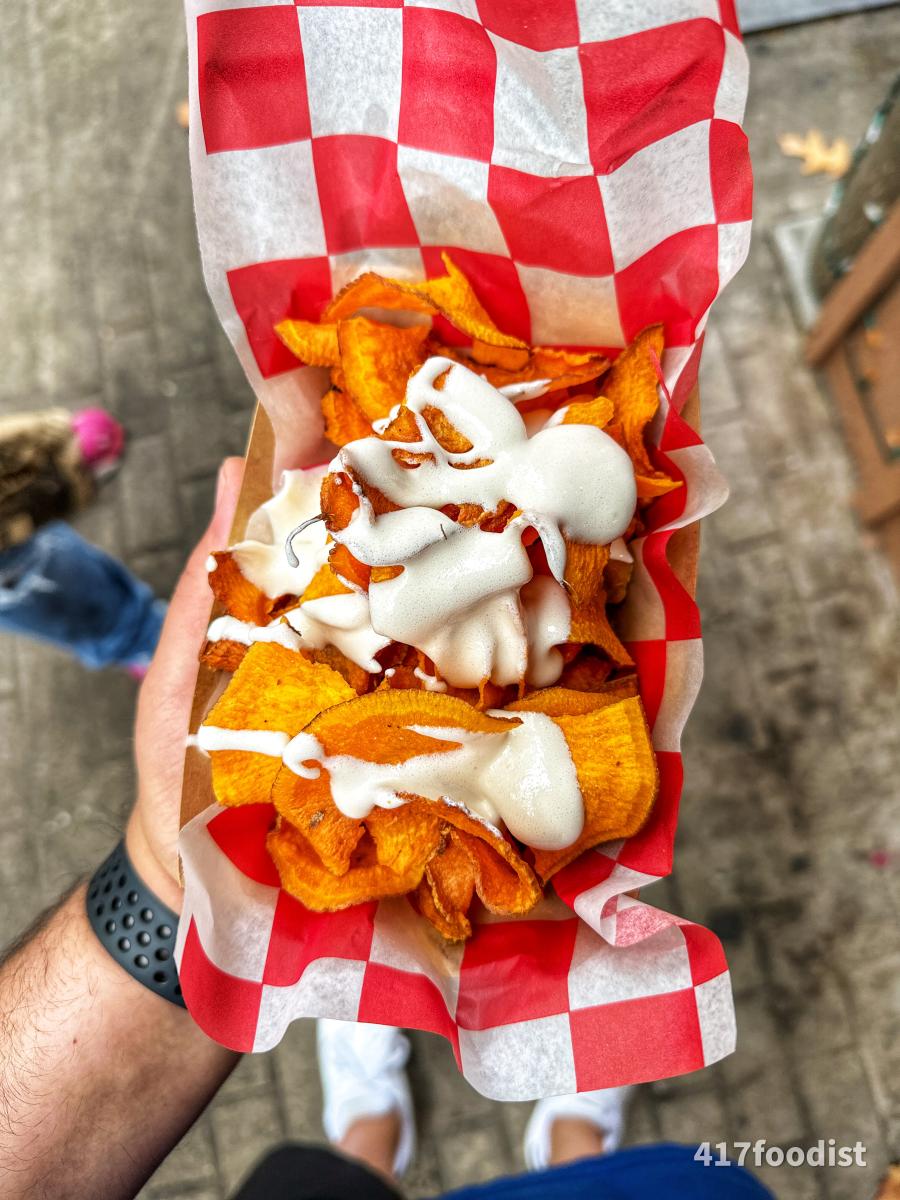 Photography by @417foodist
Everyone loves to snack on some chips from time to time. My favorite type of chip is a kettle cooked chip, the thickness and the super crunch in each bite is what I love. The sweet potato kettle chips achieve every expectation I have for a great chip. A basket filled with spiral cut sweet potato chips, that are light and airy, but have that loud crunch with each bite. Plus, they top them with marshmallow, and you can give them a dusting of your favorite seasonings as well. Go fully on savory with garlic salt or even salt and vinegar, or you can dust on some cinnamon and sugar on top. You can grab a basket of these chips at Chester's Kettle Chips
Pork Belly Skillet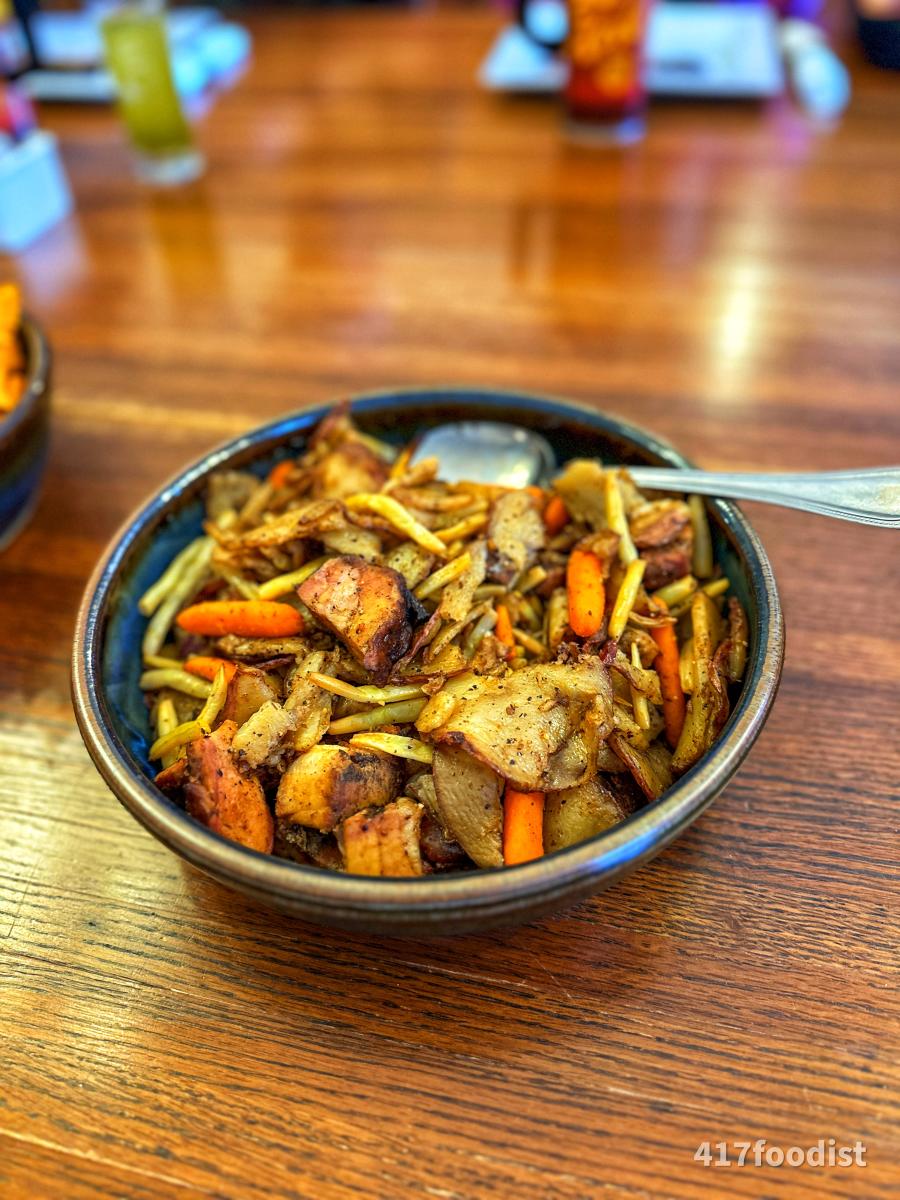 Photography by @417foodist
The skillets are some of the oldest items on the menus at Silver Dollar City. When I saw there was a pork belly bowl on the tasting passport, I knew it must be consumed! The skillet is filled with delicious, savory pork belly, sliced potatoes, carrots, and green beans. Just like every skillet dish before it, the pork belly skillet really is a classic stick to your rib's meal, that fills you up and keeps you going on those busy days exploring the park! You can find the Pork Belly Skillet at Jim Owen's Dockside Grill
Pumpkin Chili with Cornbread Crumble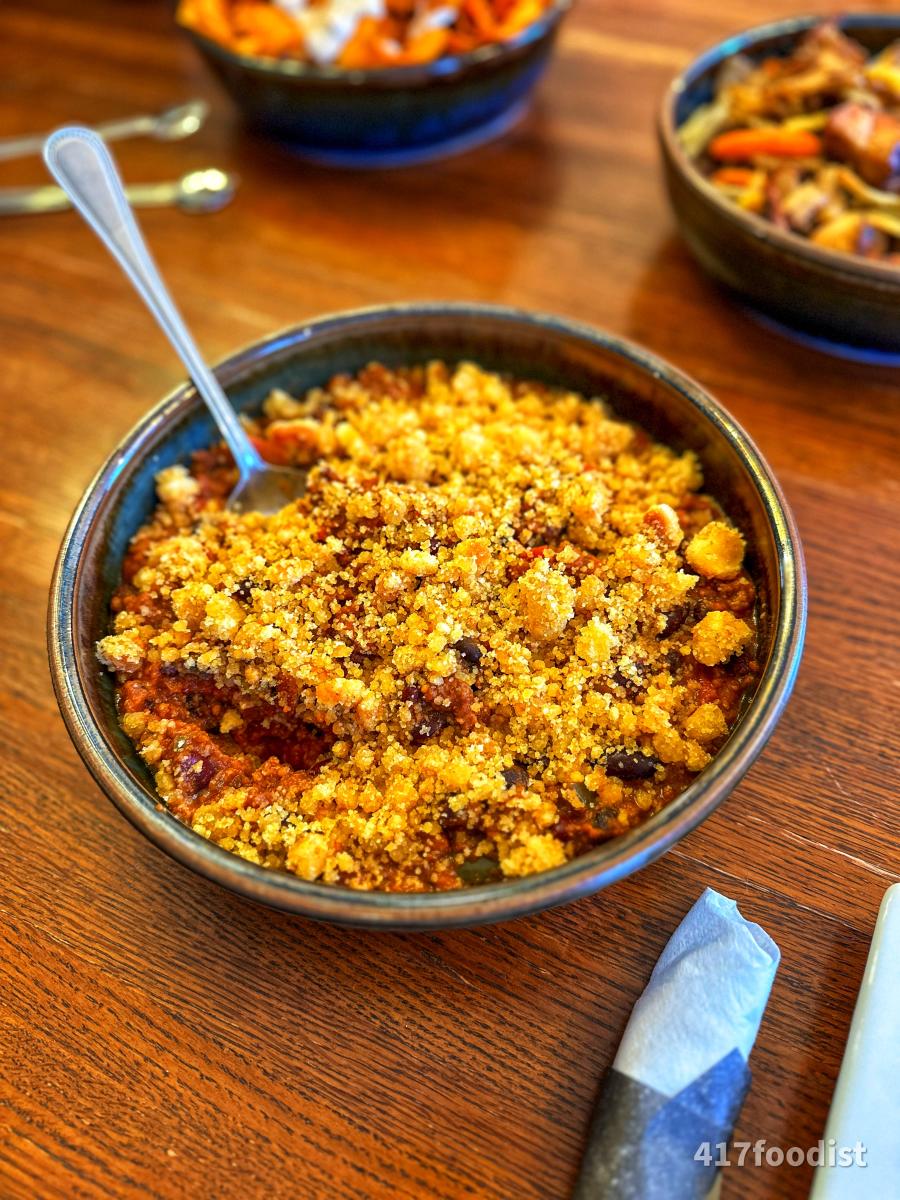 Photography by @417foodist
Here in the Midwest the moment fall begins, its chili season. Silver Dollar City decided that they were going to elevate the traditional dish and add a touch of pumpkin into their recipe for the Harvest Festival. The chili is rich, its savory, and almost served like a casserole as it is stopped with a cornbread crumble, instead of dishing the chili over a slice of cornbread! The pumpkin adds some nice earthiness to the chili, with just a touch of sweetness, without overpowering the dish. It truly is a must try, for all the chili and pumpkin lovers. You can order the Pumpkin chili at the Wagon Works Grill or Taste of the City. 
Pumpkin Bread Pudding
When you first arrive at Silver Dollar City, one of the first shops you see is selling the delicious cinnamon bread and the cinnamon rolls. The culinary geniuses that they are at SDC, are now using these two delicacies to make the pumpkin bread pudding! Each slice is filled with the melt in your mouth flavors of both the cinnamon bread and rolls, with the hint of pumpkin throughout the whole dish. If you have a dessert stomach, and a sweet tooth, make sure you save room for a big 'ol slice of this heavenly dessert! Pumpkin Bread pudding is available at the Rivertown Smokehouse. 
Chicken & Andouille Gumbo with Cheese Grits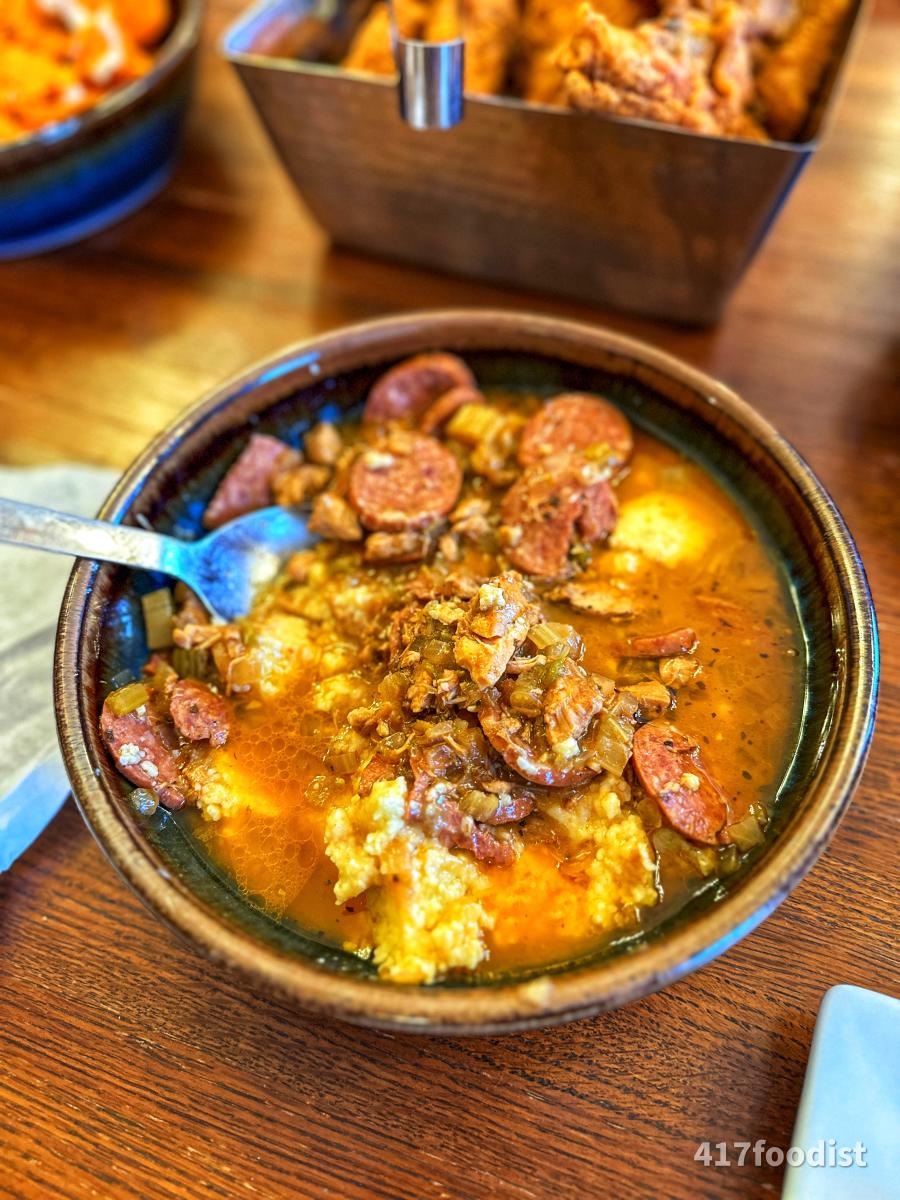 Photography by Billy Dove
The chicken and andouille gumbo with cheese grits hit my radar quite early in the day, as I had seen rumblings on social media about how it was a fan favorite with the Harvest Festival. They really know how to build up the anticipation, as this dish isn't available until 5:30 p.m. when Taste of the City opens, but the wait is worth it! A large helping of creamy, cheesy grits, topped with gumbo, is a creation that my taste buds didn't know they needed. The slices of andouille, and tender pieces of chicken are cooked to perfection in the gumbo, with the "Holy Trinity" of Cajun cooking, onions, peppers, and celery, pulling their weight as the base for any great gumbo.
The Fall Tasting Pass
I wasn't able to try everything on the fall tasting pass, but if you're interested in seeing what else is offered, see the photo below!