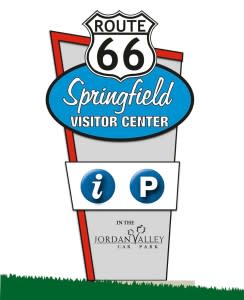 In just a few hours, a new sign will be installed in front of the Route 66 Springfield Information Center and Convention & Visitors Bureau offices, 815 E. St. Louis St.
The sign is 18 feet high by 11 feet wide and features a large Route 66 emblem at the top. Portions of the sign are lit with white neon and backlit panels. It replaces a sign that was about 5 feet tall.
The sign is reminiscent of those used by businesses during the heydey of "The Mother Road" and will make the information center more visible to travelers. While the goal is to increase traffic at the information center, it is also designed to create a sense of Route 66 nostalgia and history to those who see it.
With final installation expected Wednesday, the sign is going up just in time for the CVB's quarterly Travel Connections Mixer set for 5-7 p.m. Thursday. People wishing to attend the mixer should RSVP by noon Wednesday at cvb@springfieldmo.org or 417-881-5300, Ext. 100.
It is also being installed in time for the Birthplace of Route 66 Festival on Saturday. Though the information center usually is closed Saturday, it will be open from 10 a.m.-4 p.m. for the festival. Along with providing free information, Visitor Guides, coupons and brochures to visitors, the center sells Route 66 T-shirts and souvenirs.
The CVB is a nonprofit marketing agency with the goal of boosting the local economy through growth in the travel industry.
For more information, call 417-881-5300 or 800-678-8767.