Springfield Little Theatre has a nationally recognized education program including shows and troupes that is housed in The Judith Enyeart Reynolds School of the Performing Arts for Springfield Little Theatre, in addition to the seven main stage shows at the historic Landers Theatre. If you're in the mood to experience awe-inspiring live theater performances, be sure to explore this year's show line-up at the Springfield Little Theatre.
"Fiddler on the Roof"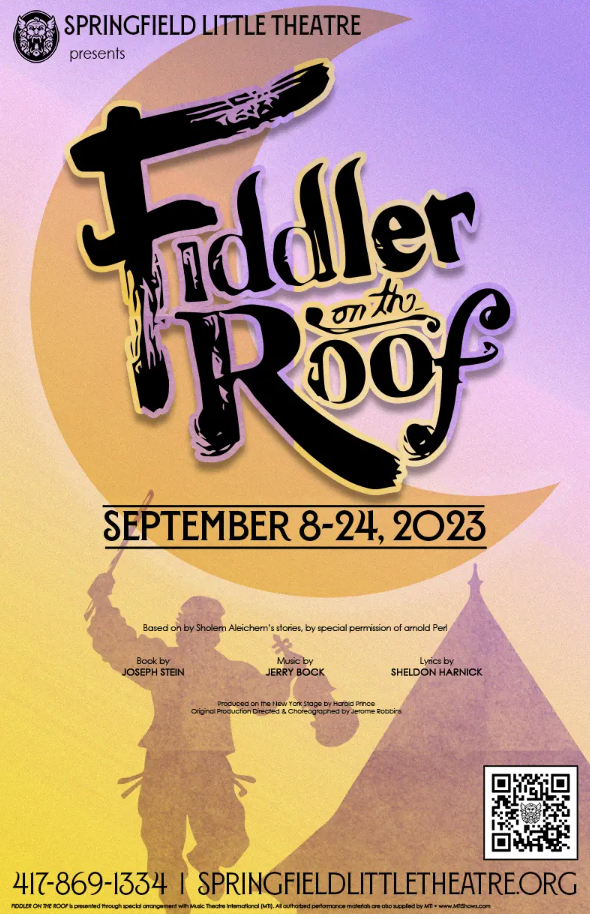 Set in the little village of Anatevka, the story centers on Tevye, a poor milkman, and his five daughters. With the help of a colorful and tight-knit Jewish community, 
Capturing the essential human longings for love, community, success, freedom, family, and meaning, "Fiddler on the Roof"features iconic songs such as, "Sunrise, Sunset," the boisterous "If I Were a Rich Man", and the classic "Matchmaker, Matchmaker." Directing Springfield Little Theatre's "Fiddler on the Roof" will be well-known television actor and stage director, Jack Laufer.
When: September 8-24, 2023
"Disney/Pixar Finding Nemo JR."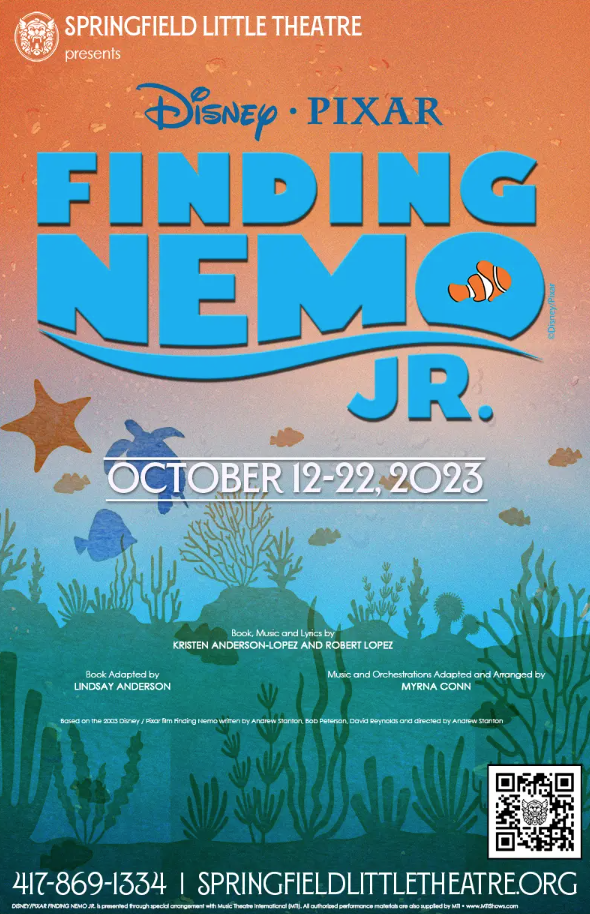 Marlin, an anxious and over-protective clownfish, lives in the Great Barrier Reef with his kid Nemo, who longs to explore the world beyond their anemone home. But when Nemo is captured and taken to Sydney, Marlin faces his fears and sets off on an epic adventure across the ocean. 
Featuring memorable songs such as "Just Keep Swimming," "Fish Are Friends Not Food," and "Go With the Flow," "Finding Nemo JR." brings a vibrant underwater world to life on stage in a story full of family, friendship, and adventure. 
When: October 12-22, 2023
"Elf: The Musical"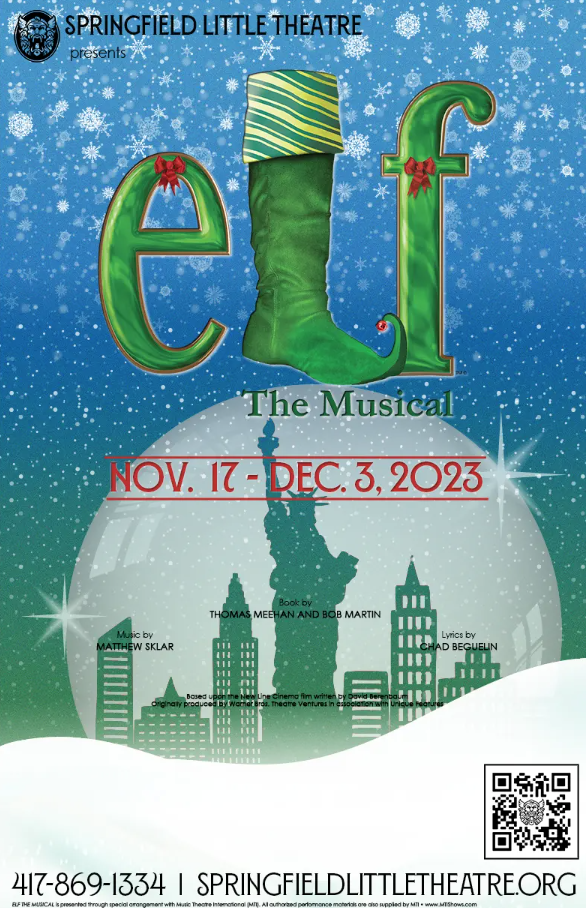 Based on the cherished 2003 New Line Cinema hit, "Elf" tells the story of Buddy, a young orphan, who mistakenly crawls into Santa's bag of gifts and is transported to the North Pole. The would-be elf is raised, unaware that he is actually a human until his enormous size and poor toy-making abilities cause him to face the truth. With Santa's permission, Buddy embarks on a journey to New York City to find his birth father and discover his true identity. Buddy is determined to win over his new family and help New York remember the true meaning of Christmas.
This modern-day holiday classic is sure to make everyone embrace their inner elf. After all, the best way to spread Christmas Cheer is singing loud for all to hear! 
When: November 17- December 3, 2023
"In The Heights"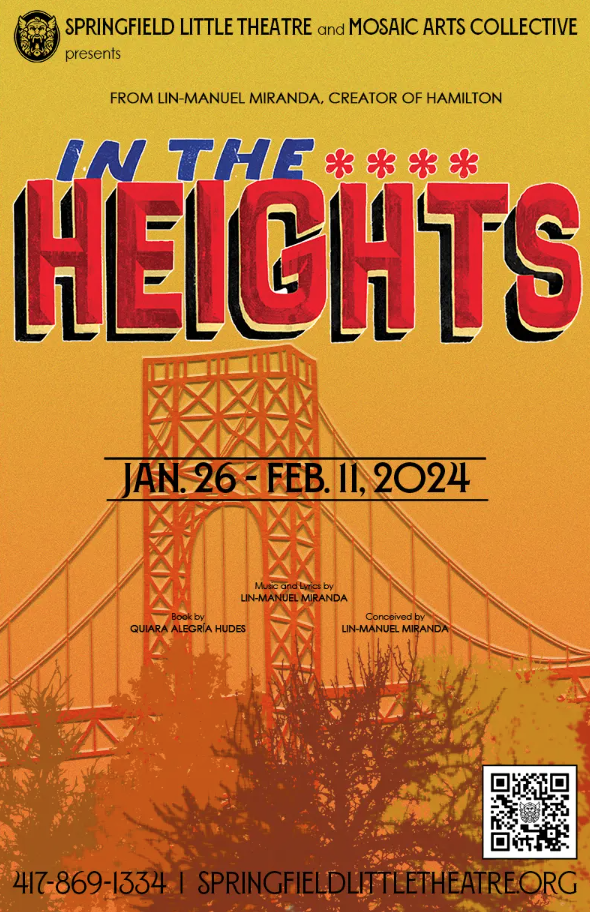 This 2008 Tony Award-winner for Best Musical centers on an ensemble of characters in the Washington Heights neighborhood of New York City.
Nina has just returned to her Washington Heights neighborhood from her freshman year at Stanford, unsure if she plans to go back; her parents struggle to keep their small business alive and Benny, their young employee, does his best to help the company stay afloat; Usnavi operates a tiny bodega, and his love interest, Vanessa, only dreams of finding a studio apartment in the coveted West Village. When the winning lottery ticket, a power outage, and romantic tension all hit the 'hood, the long-time friends and neighbors make discoveries about each other, about themselves, and about the place they all call home.
In collaboration with Mosaic Arts Collective, Lin-Manuel Miranda's first musical, "In The Heights" comes to life on the Landers stage. 
When: January 26 - February 11, 2024
"The Play That Goes Wrong"
They're back! We heard you Springfield, and we're bringing this smash hit back to the Landers stage! Don't wait to buy your tickets to this Olivier Award-winning comedy that has become a global phenomenon. This 1920s whodunit has everything you never wanted in a show—an unconscious leading lady, a corpse that can't play dead, and actors who trip over everything (including their lines). Nevertheless, the accident-prone thespians battle against all odds to make it through to their final curtain call, with hilarious consequences! 
"The Play That Goes Wrong" is a comedy for the ages. ALL AGES! Just like last season, this show will sell out, so buy your tickets ASAP and see what all of Springfield is talking about! 
When: March 7 - 17, 2024
"Mary Poppins JR."
 
The jack-of-all trades, Bert, introduces us to England in 1910 and the troubled Banks family. Young Jane and Michael have sent many a nanny packing before Mary Poppins arrives on their doorstep. Using a combination of magic and common sense, she must teach the family members how to value each other again. Mary Poppins takes the children on many magical and memorable adventures, but Jane and Michael aren't the only ones upon whom she has a profound effect. Even grown-ups can learn a lesson or two from the nanny who advises that "Anything can happen if you let it."
Based on one of the most popular Disney movies of all time, "Disney and Cameron Mackintosh's Mary Poppins JR." is capturing hearts in a whole new way: as a practically perfect Broadway Junior musical with an enchanting mixture of irresistible story, unforgettable songs and breathtaking dance numbers.
When: April 11 - 21, 2024
"Guys and Dolls"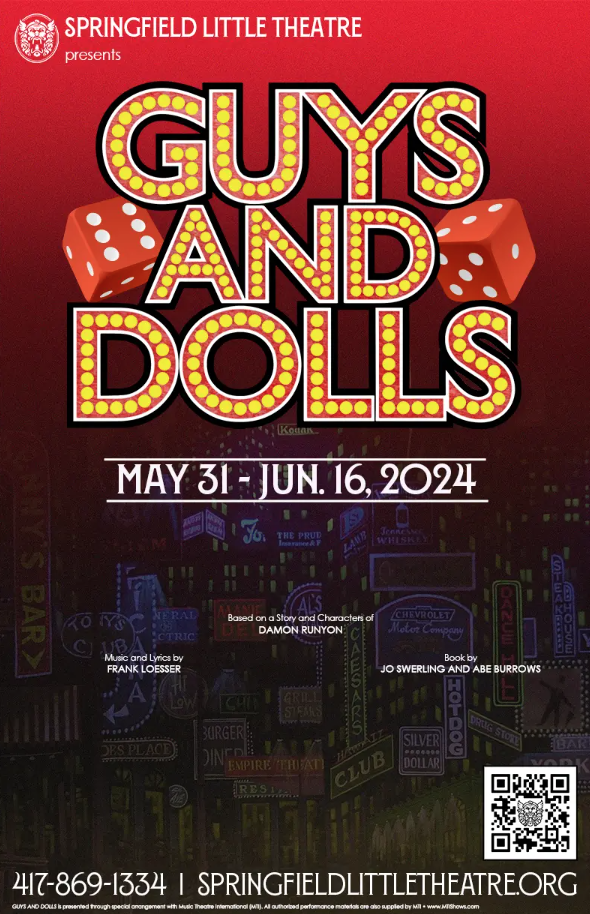 Set in Damon Runyon's mythical New York City, "Guys and Dolls" is an oddball romantic comedy. Gambler, Nathan Detroit, tries to find the cash to set up the biggest craps game in town while the authorities breathe down his neck; meanwhile, his girlfriend and nightclub performer, Adelaide, laments that they've been engaged for fourteen years. Nathan turns to fellow gambler, Sky Masterson, for the dough, and Sky ends up chasing the straight-laced missionary, Sarah Brown, as a result. Guys and Dolls takes us from the heart of Times Square to the cafes of Havana, Cuba, and even into the sewers of New York City, but eventually everyone ends up right where they belong.
Considered by many to be the perfect musical comedy, winning a bevy of awards, including Tony Awards, Drama Desks and Oliviers. Frank Loesser's brassy, immortal score makes "Guys and Dolls" a crowd pleaser!
When: May 31 - June 16, 2024
Springfield Little Theatre is a nonprofit, volunteer-driven organization energized by the highest artistic ideals that strives to entertain, educate, and involve the community in live theatrical productions and in the preservation of the historic Landers Theatre.