The Convention & Visitors Bureau revealed the recipient of its 2018 Pinnacle Award during its annual Salute to Travel & Tourism banquet Thursday night.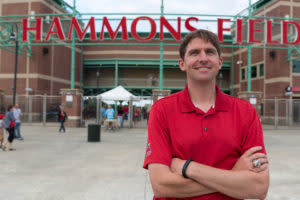 Matt Gifford received the 2018 Pinnacle Award.
Matt Gifford, who served as general manager of the Springfield Cardinals from 2004 to 2017, received the bureau's top award. Gifford provided significant support to the local travel and tourism industry through his leadership for the AA baseball team and community involvement, including serving on the boards of the CVB and Springfield Sports Commission. Gifford currently serves as vice president of stadium operations for the major league St. Louis Cardinals.
The Pinnacle Award is for individuals who have been active in the travel industry for many years and have made substantial contributions to the betterment of the Springfield area's travel industry.
Additional awards were presented to other people and organizations during the event that took place at University Plaza Hotel & Convention Center.
Springfield Hot Glass Studio received the Hospitality Award, which is presented to an attraction, lodging facility or restaurant that demonstrates outstanding hospitality to the traveling public and exhibits a team spirit in promoting the growth of Springfield area travel and tourism.
The Diplomat Award went to Terry Whaley, who served as executive director at Ozark Greenways for more than 20 years before retiring in 2017. This award is presented to a government official, organization or employee who has provided significant support to the Springfield area travel industry.
Aaron Owen, executive director at Ozark Empire Fairgrounds & Event Center was honored with the Spotlight Award. This award is presented to an individual, business or organization not usually considered part of the travel and tourism industry for noteworthy contributions in advancing travel and tourism in the Springfield area.
The Ambassador Award went to the Missouri State High School Activities Association. This award is presented to individuals or organizations who generated significant economic impact for the area by working to encourage tourism or secure a major convention or event in Springfield.
Volunteers also received awards. The Decade of Service was presented to Mariel Caldwell and the Gift of Time for 20 years of service was presented to Helen Hurt and Bill and Betty Palen. Flora Clark received an award for 25 years of service and the Volunteer of the Year Award was presented to the late David Esa.
For more information, call 417-881-5300.
The Convention & Visitors Bureau is a nonprofit marketing agency dedicated to boosting the local economy through growth in travel and tourism.
A handful of photos are below. And the "party pics" are at http://bit.ly/CVB2018AwardsPics.
[gallery columns="2" size="medium" ids="8198,8199,8200,8201,8202,8203,8204,8205,8206,8207,8208,8209,8211,8197"]