Tickets on Sale for Awards Banquet
Ticket sales are under way for the Salute to Travel & Tourism set to begin with a reception at 6 p.m. and dinner at 7 p.m. Feb. 17 at University Plaza Hotel. Tickets are $50 per person for open seating or $475 for a reserved table for ten. They can be purchased online at http://banquet.springfieldmo.org.
The event will be a first step in commemorating the 150th anniversary of the Civil War in Missouri.
Awards are presented in five categories with the top award – The Pinnacle Award – a secret until the night of the event. The Pinnacle Award is presented to individuals who have been active in the travel industry for many years and have made substantial contributions to the betterment of the Springfield area's travel industry.
Other awards to be presented this year are:
Ambassador Award: Bass Pro Fitness Festival. The Ambassador Award is presented to individuals or organizations who generated significant economic impact for the area by working to encourage tourism or secure a major convention or event in Springfield.
Hospitality Award: Cooper Tennis Complex. The Hospitality Award is presented to an attraction, lodging facility or restaurant which demonstrates outstanding hospitality to the traveling public and exhibits a team spirit in promoting growth of Springfield area travel and tourism.
Spotlight Award: Askinosie Chocolate. The Spotlight Award is presented to an individual, business or organization not usually considered part of the travel and tourism industry for noteworthy contributions in advancing travel and tourism in the Springfield area.
Diplomat Award: Missouri Department of Transportation. The Diplomat Award is presented to a government official, organization or employee who has provided significant support to the Springfield area travel industry.
The bureau also will present Decade of Service awards to volunteers who have served the CVB for 10 years. They are: Dean and Darlene McAnally, Mary Ellen White, JoAnn Wiksten, Jim and Beverly Wilson, Naomi Young and Jerry and Judy Young.
The CVB extends its gratitude to the following sponsors of the banquet:
Diamond Level: City of Springfield and CityView
Platinum Level: University Plaza Hotel
Gold Level: Doubletree Hotel, Elliott Lodging, Wilson's Creek National Battlefield Foundation
Silver Level: A Graphic Resource, SR Graphics, Gerry Averett Photography
Bronze Level: Baum's Promotional Products, OOVVDA Winery, 7 C's Winery, Gary Ellison Producations
If you would like to be a banquet sponsor, please contact Melissa Divincen at 881-5300, Ext. 105, or mdivincen@springfieldmo.org.
Division of Tourism Introduces FREE Marketing Opportunity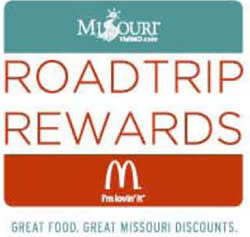 The Missouri Division of Tourism is working on a FREE potential promotional opportunity in partnership with McDonald's that has the capability to drive incremental tourism revenues throughout the peak summer period.
This spring, when families begin planning summer getaways, many will make decisions based on where they can get the best value for their money. MDT's goal is to help destinations communicate their value offers to as many potential visitors as possible in order to grow business.
A partnership with McDonald's could cost effectively drive millions of visitors to the state's destinations. The 411 McDonald's throughout Missouri will serve more than 19 million customers each month this summer, and you have the opportunity to communicate with them through the Roadtrip Rewards promotion.
Radio and billboard advertising, as well as in-restaurant signage and packaging messages, would build awareness of the promotion for one month. The goal is to begin in May if enough businesses indicate an interest in participating by Feb. 11. Every purchase that month would result in a coupon being printed on a McDonald's receipt. The coupon will direct customers to a special Roadtrip Rewards section of VisitMO.com where they can view the special offers. The physical receipt would serve as the redemption mechanism at each destination.
If you are interested in participating, visit the promotion website at www.RoadtripRewards.com and fill out the form. By doing so, you are NOT making a firm commitment; just indicating interest. Many destinations will already be promoting deals and discounts this spring and summer, and by participating in this promotion you would receive free marketing support to drive traffic and build sales. There's no cost for you to participate.
Learn more about the program by viewing the flier at http://www.springfieldmo.org/PDFs/mdt_mcd.pdf.
For more information or assistance filling out the materials, contact Shari Wells at MDT at shari.wells@ded.mo.gov.
Condolences to the Williams' Family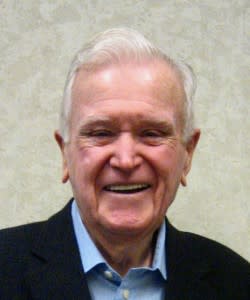 The Convention & Visitors Bureau staff extends condolences to the family and friends of long-time volunteer John Williams who passed away Jan. 15.
John and his wife of 65 years, Mary, were among the first group of volunteers to serve the bureau when the program began more than 20 years ago. John was the recipient of the 2010 Volunteer of the Year Award.
Airport to Close for Three Days in August
The Springfield-Branson National Airport will close from 11 a.m. Aug. 12 until 11 a.m. Aug. 15 for runway resurfacing. The airport will be closed to all aircraft except helicopters.
The airport has two runways and only one is being resurfaced. That runway will be closed all summer while the other remains open until resurfacing work reaches the intersection of the runways.
The closure will affect people flying in for the sesquicentennial events at Wilson's Creek National Battlefield. The sesquincentennial is the only large event on the CVB calendar at the time. Hotels with groups booked that might be affected by the closure are encouraged to notify meeting planners immediately.
Northbound Ramp to Close for Up to 60 Days at U.S. 60 and U.S. 65
The Missouri Department of Transportation announced it will close the ramp that takes traffic from westbound U.S. 60 to northbound U.S. 65. The closure begins on Jan. 30 and could last up to 60 days.
Traffic will be detoured to Glenstone Avenue, north to Sunshine Street then east on Sunshine back to U.S. 65.
Hotels are encouraged to let guests know about the ramp closure and detour.
For more details, visit the MoDOT website.
Date Change for Capitol Days for Tourism
Take note! The date for Capitol Days for Tourism in Jefferson City has changed to March 9-10. This annual event includes visits to legislators to discuss tourism-related issues and the popular pancake breakfast in the Capitol rotunda.
CVB staff members participate in this event. For information on how you can participate, call the Missouri Travel Council at 573-636-2814.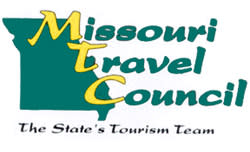 Legislative Updates
With the state still facing a budget crisis and the potential for cuts to tourism funding, keeping an eye on the state legislature and taking action when needed is more important than ever.
The Missouri Travel Council's legislative consultant, Dale Amick, provides regular updates that are available online. To view the updates, visit http://www.missouritravel.com/leg-update.htm.
You can also view legislative updates on the Springfield Hotel & Lodging Association website and the Missouri Hotel & Lodging Association website.
CVB Board Action in January
In January, the Springfield Convention & Visitors Bureau Board of Directors:
Heard the quarterly report from the Springfield Regional Arts Council.
Discussed a potential date and agenda items for the 2011 board retreat.
Heard a report on the Convention Attraction Task Force and competitive assessment study.
Heard a report on and viewed the CVB's 2011 advertising campaign marketing Springfield to leisure travelers.
Announced committee appointments for 2011. They are:
Executive Committee
Matt Gifford, chair Randy Blackwood Darren Harralson Erik Fjeseth Sally Hargis
Budget & Finance Committee Darren Harralson, chair Erik Fjeseth Collin Quigley Kevin Mackey Melissa Dallas Scott Tarwater
Marketing Committee Sally Hargis, chair Randy Blackwood Meghan Chambers Missy Handyside Tim O'Reilly
Nominating Committee
John Wilson, chair Jim Anderson Sally Hargis Darren Harralson Missy Handyside
Destination Springfield Board of Directors Randy Blackwood, president Sally Hargis, vice president Erik Fjeseth, treasurer Matt Gifford Collin Quigley Greg Walker (advisory) Rob Rector (advisory) John Ford (advisory)
CVB in Action:
New Partner: Welcome to our latest partner, Leong's Asian Diner! Springfield-Style Cashew Chicken has reigned in Springfield since 1963 when Leong's Tea House opened its doors. The dish that is popular nationwide celebrates its 50th year in 2013. The restaurant is participating in the Passport to Family Fun coupon Book and the Travel Guide. For more information on how your business can be promoted to visitors, contact Melissa Divincen at 881-5300, Ext. 105, or mdivincen@springfieldmo.org.
Natural Resources Conference: Dana Maugans, CVB sales director, will represent Springfield Feb. 2-3 at Lake of the Ozarks.
Destination Showcase: Dana Maugans, CVB sales director will represent Springfield Feb. 24-25 at Destination Showcase in Washington, DC.
Salute to Legislators: Members of the CVB staff and 11 other organizations participated in the annual Salute to Legislators event Jan. 26-27 in Jefferson City.
Upcoming Conventions and Events
| Date | Event | Attendance |
| --- | --- | --- |
| Feb. 8-9 | Show Me Curriculum Administrators | 100 |
| Feb. 10-12 | Missouri Organic Association | 300 |
| Feb. 21-23 | Missouri Department of Agriculture Small Fruit & Vegetable Conference | 200 |
| Feb. 25-27 | Kiwanis International MO-AR Convention | 600 |
| Mar. 1-3 | Missouri Canoe & Floaters Association | 100 |
| Mar. 3-6 | Missouri Art Education Association | 600 |
| Mar. 4-6 | Sports Car Club of America | 150 |
| Mar. 11-13 | Greater Springfield Sports Commission Champions Challenge | 4,000 |
| Mar. 13-20 | National Christian Homeschool Basketball Championships | 10,000 |
Groups Booked Recently by the CVB
| Date | Event | Room Nights |
| --- | --- | --- |
| February 2011 | Show Me Curriculum Administrators | 15 |
| January 2012 | NCAA Cross Country Championships | 381 |
| June 2012 | Missouri Association of LPNs | 320 |
| June 2012 | Lutheran Church, Missouri Synod | 517 |
| June 2012 | Aladdin Lamp Collectors Club | 841 |
| October 2013 | American Chemical Society | 403 |
| May 2014 | American Truck Historic Society | 2,190 |
February Meetings
Feb. 9, 11:30 a.m., Attractions Council, CVB Offices.
Feb. 16, 11:45 a.m., Springfield Hotel & Lodging Association at location to be determined.
Feb. 17, 8 a.m., CVB Board of Directors at the CVB offices.
Feb. 23, noon, Greater Springfield Area Sports Commission at the Springfield Area Chamber of Commerce.
A big THANK YOU to volunteers who worked 641 hours for the CVB in December. In all, volunteers provided 12,106 hours to the bureau in 2010!
Springfield Travel Statistics
| | Dec. 2010 | YTD 2010 | YTD 2009 |
| --- | --- | --- | --- |
| Information Centers Visits | 2,108 | 44,302 | 54,904 |
| Tourist Inquiries | 436 | 77,362 | 61,693 |
| Website Unique Visitors | 20,666 | 541,169 | *See Below |
| Total Contacts | 23,210 | 662,833 | *See Below |
| Airline Passengers | 58,210 | 796,251 | 811,771 |
*The CVB is using a new analytics program to track website traffic. Because of differences in how the new program works compared to the old program, statistical comparisons with previous years are not possible.
Springfield Hotel Statistics
| | Nov. 2010 | YTD 2010 | YTD 2009 |
| --- | --- | --- | --- |
| Room Supply | 181,770 | 2,030,281 | 2,037,819 |
| Room Demand | 79,720 | 1,033,578 | 1,025,248 |
| Percent of Occupancy | 43.9% | 50.9% | 50.3% |
| Average Daily Rate | $65.08 | $66.02 | $66.63 |
| Revenue Per Available Room | $28.54 | $33.61 | $33.53 |
| Room Sales | $5,188,364 | $68,240,672 | $68,323,899 |