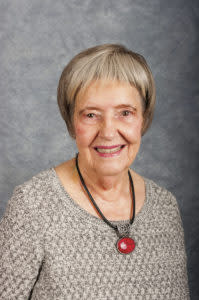 The CVB staff extends our condolences to the family and friends of Mary Williams, a long-time CVB volunteer who passed away Dec. 12. Mary Williams was 99. 
Mary and her husband, John, were among the first people to volunteer for the bureau when the volunteer program was established more than 30 years ago. Fondly called Mr. & Mrs. Springfield by the CVB staff, the Williamses were an outstanding example of the commitment and dedication of all the CVB's volunteers. They were an inspiration to everyone they worked with and always the first to volunteer for new projects and eagerly fill in at a moment's notice. There is no doubt that any Springfield visitor who met Mr. & Mrs. Springfield returned to their homes with a positive impression of our city. John and Mary are a tremendous asset to the bureau and their service is more than appreciated by the CVB staff. 
The CVB named an award after the couple and The John & Mary Williams Volunteer of the Year Award has been presented to CVB volunteers since shortly after John died in 2011.
Memorial services for Mary will be at 10:30 a.m. Dec. 29 at Christ Episcopal Church, 601 E. Walnut St. in Springfield.