Welcome Aboard!
The CVB staff extends a warm welcome to the following businesses that have begun reaching out to visitors and locals via the bureau's website, mobile app and other information sources people use to learn about things to see and do in the Springfield area.
For information about how you can invite more people to your business, contact Melissa Divincen at 881-5300, Ext. 105, or mdivincen@springfieldmo.org.
About 3 million overnight visitors come to Springfield annually along with countless day trip visitors. Do they know about your business!?
Hotel Employees Can Help Visitors Discover Springfield!
The CVB is excited to announce the Discover Springfield! program has been recreated and seminars begin soon.
Discover Springfield! is a tool to increase overnight stays and repeat visits to the city by expanding the knowledge of front-line hotel staff on the effects of tourism and the amenities Springfield offers. The goal of Discover Springfield! is to:
Build awareness and value of tourism as an economic engine for the city.
Improve customer service skills of front-line hotel staff through increased knowledge of attractions, restaurants, and shops.
Extend overnight stays.
Encourage repeat visits to Springfield properties by empowering hotel employees with experiences regarding what to do and see in Springfield. Plus, it is a great, free employment benefit hotels can offer their staff.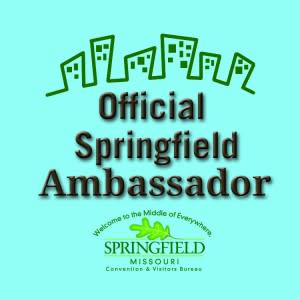 What is included in the Discover Springfield! program?
Each participating employee will receive a packet that includes a Springfield Visitors Guide, a copy of the seminar (PowerPoint), a Springfield map, tourism-related organizations and resources handout, an email sign-up sheet for them to register to receive our newsletter and other tourism-related emails.
Each participating employee will learn how to utilize the bureau's website and visitors guide so they can assist customers with questions about what Springfield has to offer.
Each participating employee will learn about and be encouraged to attend Springfield's attractions.
Once the employee has completed the seminar and visited the listed attractions, they will receive an official Springfield Ambassadors Certificate.
For more information, contact Amy Michels at amichels@springfieldmo.org or 417-881-5300, ext. 120.
Route 66 Documentary to Air in the UK
Scottish comedian, musician and actor Billy Connolly was in Springfield during the first week of May filming a documentary on Route 66. Connolly and a film crew started their trek in Chicago and are traveling the entire route to Los Angeles.
The four-part show is expected to air this year on ITV1 in the United Kingdom.
In 2009, Connolly filmed a similar show titled "Billy Connolly Journey to the Edge of the World" as he traveled Canada's Northwest Passage from the Atlantic to the Pacific.
Convention Planners FAM Tour Scheduled
The CVB's Group Sales Department is planning a familiarization tour for convention, event and sports event planners June 9-10.
The FAM tour will showcase the city's convention facilites, sports facilities and amenities to the decision makers who plan group events that could take place in Springfield.
For information, contact Sales Director Dana Maugans at 881-5300, Ext. 111, or dmaugans@springfieldmo.org.
Division of Tourism Needs Info for 2012 Travel Guide by June 1
The Missouri Division of Tourism and Madden Media are planning the 2012 Official Missouri Travel Guide and your help is needed to make the upcoming edition a comprehensive resource for people who travel in our state.
This is a reminder for you to authorize a listing for your business so it might appear in the 2012 Travel Guide. To create or update your listing, log on to the Missouri Division of Tourism's Industry Portal, www.Industry.VisitMO.com and follow the instructions.
As in the past, the 2012 Travel Guide will contain sections on Missouri's five geographic regions, with free attraction and accommodation listings in each region. The division has enhanced the form this year to make it more user-friendly.
If you'd like to see your business listed in the 2012 Travel Guide, submit your listing online by June 1, 2011. No listings will be automatically carried over from previous editions of the Travel Guide. Send emails to TravelGuideEditor@VisitMO.com if you need assistance submitting or updating your listing.
New for 2012, complimentary listings will be limited to 140 characters. Madden Media is offering 240-character expanded listings as a paid advertising opportunity. If you are interested in any advertising for the 2012 Official Missouri Travel Guide, contact Rick Vega at 813-919-5033, the representative of Madden Media for the southwest and central parts of the state.
The Missouri Division of Tourism cannot sell advertising; it must be arranged through Madden Media.
The 2011 Official Missouri Travel Guide can be viewed online at www.VisitMO.com.
May Meetings:
May 18, 11:30am, Springfield Hotel & Lodging Assoc., Location to be Determined
May 19, 8am, CVB Board, CVB Offices
May 25, noon, Chamber of Commerce
Welcome Groups with a Message on Your Marquee
U.S. Forest Service Fire in Eastern Oak Forests Conference, May 17-19 - 300 attendees
National Christian Homeschool Championships Spring Nationals, May 18-22 - 1,000 attendees
Special Olympics Summer Games, May 25-27 - 1,500 attendees
National Street Rod Association, May 27-30 - 4,500 attendees
Missouri State High School Activities Association Baseball Championship, May 31-June 5 - 375 attendees
International Association of Administrative Professionals, June 2-5 - 150 attendees
United Methodist Church Missouri Conferenece, June 2-6 - 1,600 attendees
Missouri Athletic Trainers Association, June 2-5 - 180 attendees
Missouri Association of Convention & Visitor Bureaus, June 5-7 - 100 attendees
Classic Chevy Club, June 7-13 - 500 attendees
General Registry of Ozarks Volkswagen Enthusiasts Annual JuneBug Jamboree, June 10-11 - 1,000
Cumberland Presbyterian Church Annual General Assembly, June 18-24 - 800 attendees
Studebaker Drivers Club International Meet, June 18-25 - 1,500 attendees
Missouri DARE Officers Association, June 25-July 2 - 250 attendees
Missouri Association for Community Action, June 28-30 - 200 attendees
Thank you to Randy Blackwood and Susan Brown at JQH Arena for hosting the CVB's volunteer banquet in April and to the businesses that donated prizes for the volunteers. Nearly 100 volunteers serve the CVB in a variety of ways and their service is appreciated.  Volunteers provided 676 hours to the CVB in March!
Springfield Travel Statistics
| | March 2011 | YTD 2011 | YTD 2010 |
| --- | --- | --- | --- |
| Information Centers Visits | 2,271 | 4,796 | 7,107 |
| Tourist Inquiries | 5,041 | 6,125 | 10,026 |
| Website Unique Visitors | 30,238 | 84,672 | *See Below |
| Total Contacts | 37,550 | 95,593 | *See Below |
| Airline Passengers | 60,998 | 155,309 | 166,048 |
*The CVB is using a new analytics program to track website traffic. Because of differences in how the new program works compared to the old program, statistical comparisons with previous years are not possible.
Springfield Hotel Statistics
| | Feb. 2011 | YTD 2011 | YTD 2010 |
| --- | --- | --- | --- |
| Room Supply | 169,568 | 357,211 | 359,984 |
| Room Demand | 71,663 | 139,652 | 139,018 |
| Percent of Occupancy | 42.3% | 39.1% | 38.6% |
| Average Daily Rate | $64.08 | $63.00 | $60.66 |
| Revenue Per Available Room | $27.08 | $24.63 | $24.44 |
| Room Sales | $4,591,870 | $8,798,054 | $8,796,423 |