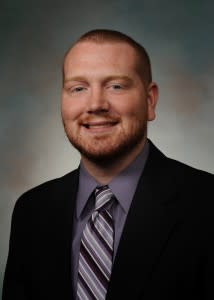 If you need a laugh, Ryan Allison is sure to help you out. He's witty and does a mean imitation of a monkey running down the hall.
Don't let his grin and sense of humor fool you. Ryan is serious about his job as one of the CVB's partner development managers in which he is responsible for selling advertising in bureau publications, on the website and at Springfield-Branson National Airport.
Ryan, a native of Portland, Ore., says the thing he enjoys most about his job is networking with his clients. In his free time, he enjoys spending time outdoors, playing sports, traveling and relaxing at home with his wife, Brittni.
The days of relaxing soon will end. That's because he and Brittni are expecting their first child in March. Playing sports, however, will always be the norm for this family. Ryan grew up dreaming of becoming a professional basketball player and Brittni is a volleyball coach at Lebanon High School. There's no doubt Baby Allison will inherit a love for sports, too.
CVB staff are hoping the baby also inherits Ryan's sense of humor, red hair and his talent for mimicking monkeys.