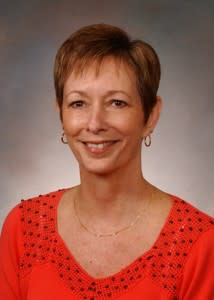 When it comes to work, Karen Smith is all about dollars and sense.
She takes care of the CVB's dollars by paying invoices and sending out the bills. And she uses common sense when it comes to managing the bureau's human resource needs.
Karen, human resource/finance manager, has been with the bureau since 1999 when she began working as an administrative assistant and later as convention services coordinator. She joined the CVB because she wanted to be part of an organization dedicated to helping Springfield grow and prosper.
Karen grew up in Phoenix, Ariz. She has traveled extensively, can fly an ultralight and has eaten chicken feet. She graduated from the New York Institute of Photography in New York and for a time had her own photography studio.
An avid reader, Karen enjoys spending time with her five children; her grandchildren; husband, Paul; and Gypsy, a miniature schnauzer mix.