There are about 6,400 documented caves in Missouri, with several of the state's famous show caves in the Ozarks. If you want to tour some caves here in the Ozarks, check out some of these popular spots.
Fantastic Caverns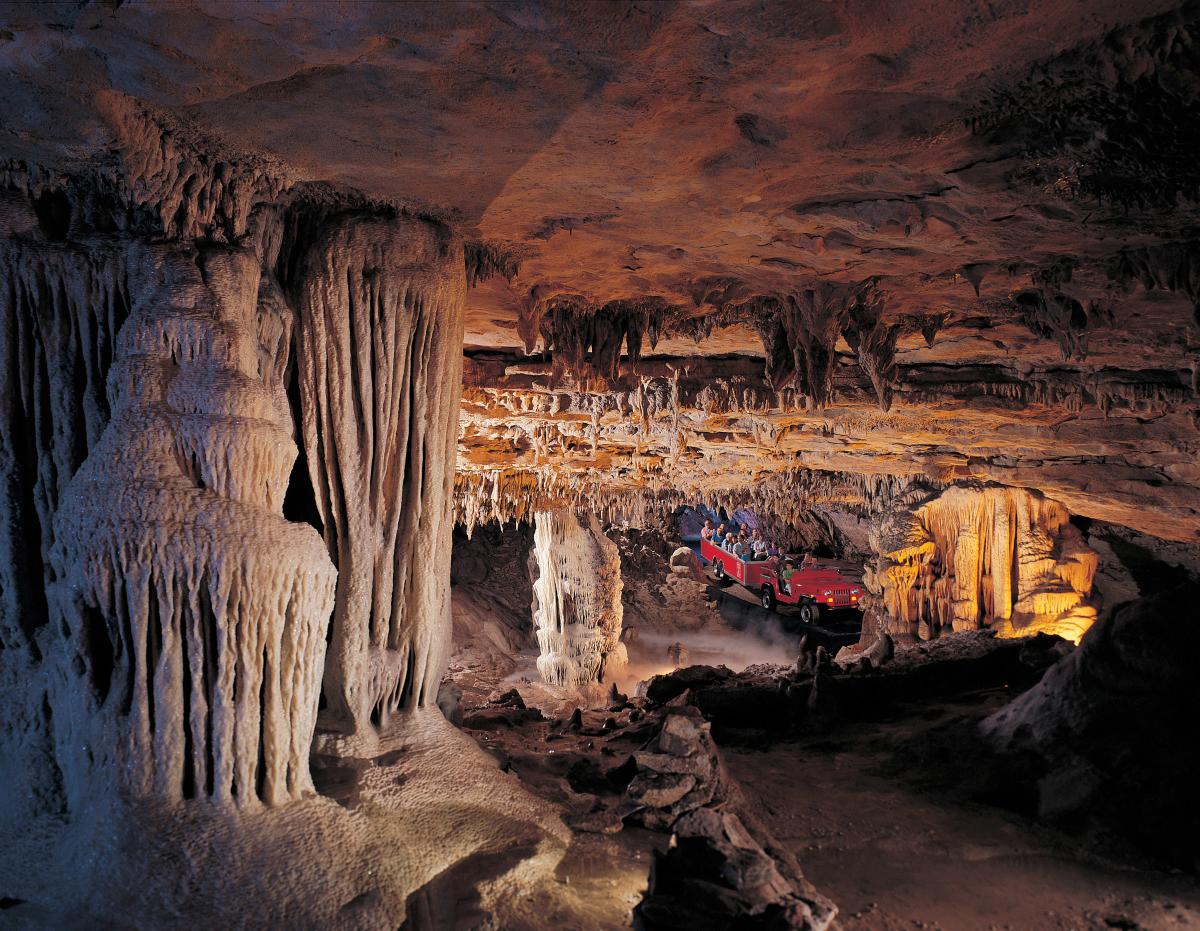 Sit down for your tour through the only ride-thru cave in America, Fantastic Caverns. A 55-minute guided tour follows an ancient underground riverbed filled with massive formations. Learn about the cave's history dating back to its discovery in 1862. Fantastic Caverns is a great cave tour for people with limited mobility, people who use wheelchairs, children and even pets. The cave stays a comfortable 60° year-round and is open 362 days a year.
Address: 4872 N. Farm Road 125, Springfield
Disability Accessible: Yes
Wheelchair Accessible: Yes
Smallin Civil War Cave
Smallin Civil War Cave was discovered in 1818, with more history dating back to the Native Americans who inhabited the area before settlement. The cave features a breathtaking 11-story arch leading you back in time. Through the tour, view 200-year-old cave drawings, fossils and rare cave life such as crayfish, endangered blind cave salamanders and multiple species of bats. The cave is open year-round for guided half-mile walking tours and is accessible to strollers, wheelchairs and mobility scooters. For another interesting tour, explore the cave by lantern with Smallin Civil War Cave's exclusive lantern tours in the fall.
Address: 3575 N. Smallin Road, Ozark
Disability Accessible: Yes
Wheelchair Accessible: Yes
Crystal Cave
Spelunking takes on a whole new meaning at Crystal Cave. Reopened in 2022, Crystal Cave offers a 55-minute walking tour through the different sections of the cave that feature many geological formations, including stalagmites, stalactites, flowstone and rare helictites. Several spots in the cave require ducking or crawling on your hands and knees, as this cave is not handicap or wheelchair friendly. New additions to the property include train rides, gemstone mining and fossil digging, a mini-golf course, a gift shop and a penny arcade.
Address: 7126 N. Crystal Cave Ln., Springfield
Disability Accessible: No
Wheelchair Accessible: No
Marvel Cave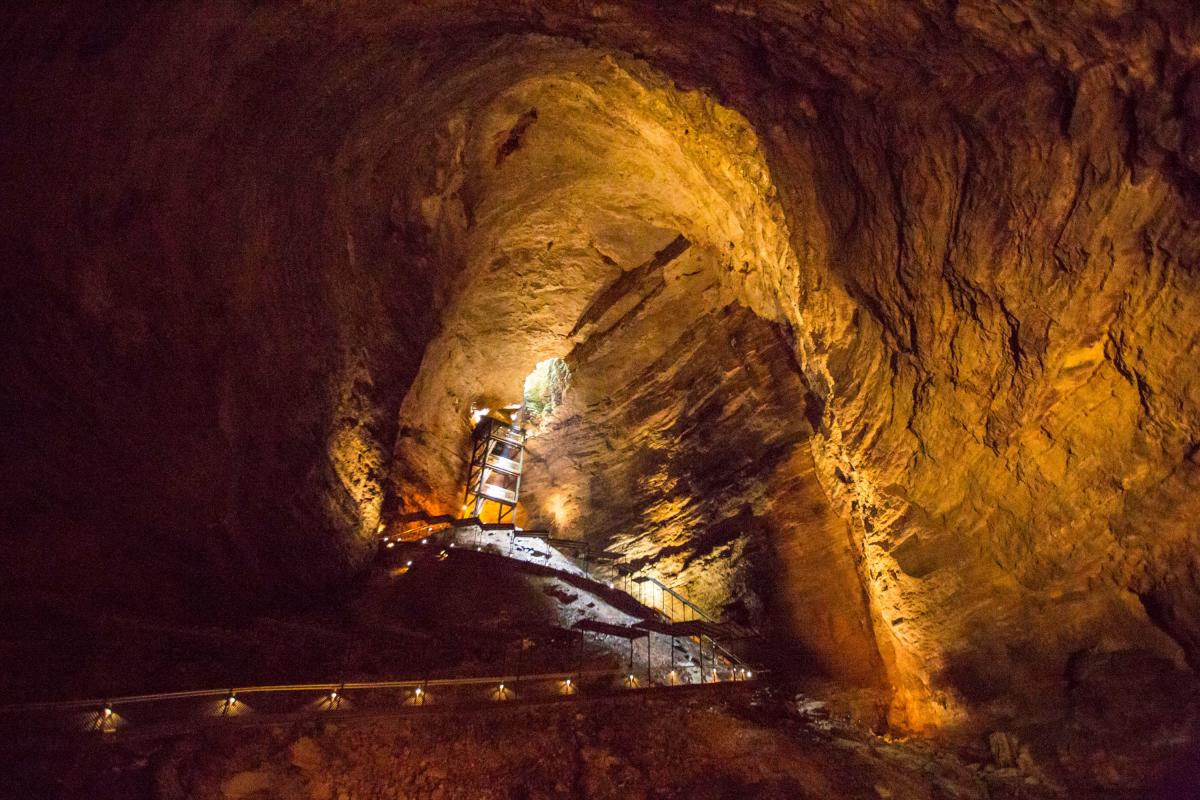 Photo courtesy of Silver Dollar City
Silver Dollar City has evolved around the entrance to one of nature's greatest wonders, Marvel Cave. The cave is known for being one of the largest in Missouri, having one of the largest cave entry rooms (the Cathedral Room) of any cave in North America, and for being one of the longest-running tourist attractions in the Ozarks. Cave tours depart approximately every half-hour and last about one hour. Because of the strenuous nature of the tour, which includes nearly 600 stairs and some stooping, it is not recommended for disabled visitors. For an additional fee, special lantern light tours are offered.
Address: 399 Silver Dollar City Pkwy, Branson
Disability Accessible: Yes
Wheelchair Accessible: No
Lost Canyon Cave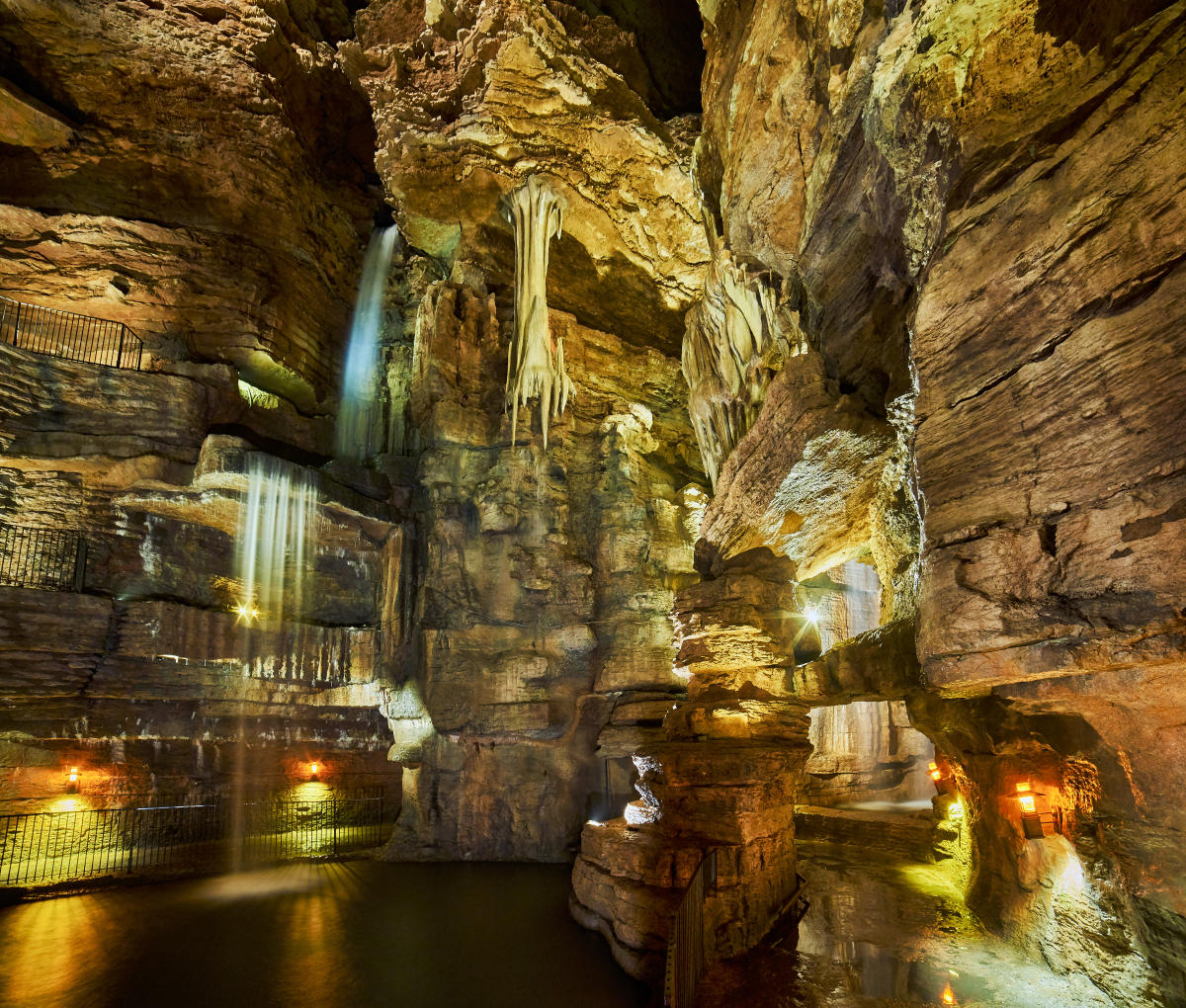 Photo courtesy of Top Of The Rock
Experience the unforgettable two-and-a-half-mile journey on an electric cart as you explore the Top of the Rock Lost Canyon and Nature Trail. This picturesque trail was created to highlight stunning rock formations, waterfalls and views of Table Rock Lake. Guests can even stop at the Bat Bar, one of the few cave bars in the world, for a refreshing drink along the way.
Address: 150 Top of the Rock Road, Ridgedale
Disability Accessible: Yes
Wheelchair Accessible: Yes
Talking Rocks Cavern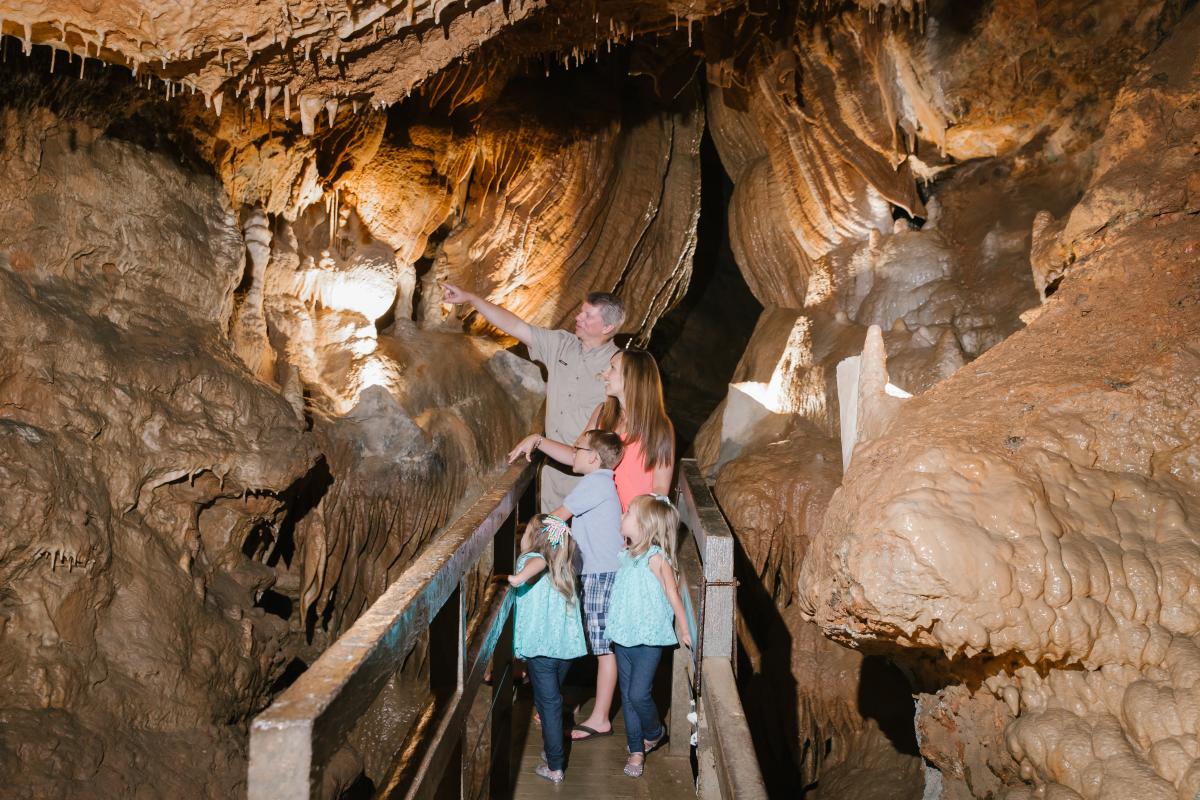 Enjoy viewing pristine cave formations up close when you tour Talking Rocks Cavern. It all started with two men on a rabbit hunt in 1883. They spotted a rabbit running into a small opening, moved a giant rock near the hole and found themselves looking down into a deep, dark, mysterious hole in the ground. The men had discovered what is now Talking Rocks Cavern, just a short drive from Springfield. The cavern is unique as the entrance to the cave is within its 4,000-square-foot gift shop. The walking tour takes visitors on a breathtaking vertical descent into the heart of the cave.
Above ground, activities include Cave Country Mini-Golf, gemstone panning, and geode cracking. Nature trails, lookout tower, picnic areas, Kid's Play Area, two SpeleoBox crawl mazes and the new Fluorescent Mineral and Blacklight Room are also popular activities to explore.
Address: 423 Fairy Cave Ln., Branson West
Disability Accessible: No
Wheelchair Accessible: No
Adventure Cave Tours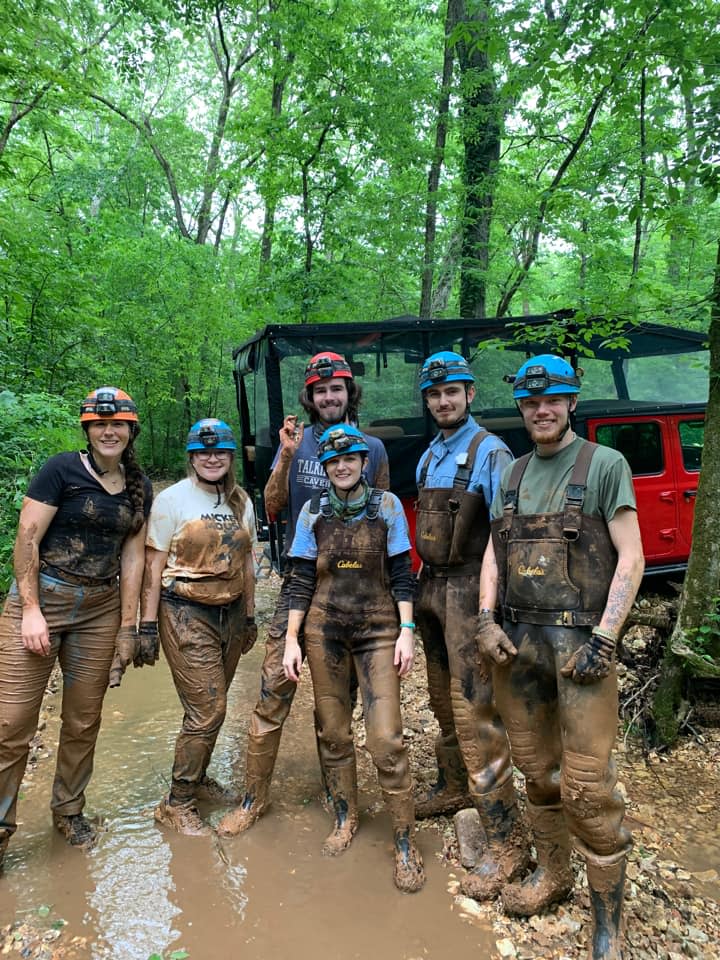 Photo courtesy of Adventure Cave Tours
If you're in the mood for a real caving experience involving climbing, crawling, and the use of headlamps, check out the new Adventure Cave Tours offered at Talking Rocks Cavern in Branson West, Missouri. Take a 4-hour tour of four caves recently opened to the public, three including Powell Cave, Cricket Cave and Adventure Cave. Guests will have the opportunity to explore and learn the history of these caves hidden around the Talking Rocks property. An extra change of clothes and shoes are required, and guests who are claustrophobic or weary of tight spaces are not recommended to take the tour.
Address: 423 Fairy Cave Ln., Branson West
Disability Accessible: No
Wheelchair Accessible: No
Smaller Caves With Limited/No Tours
Riverbluff Cave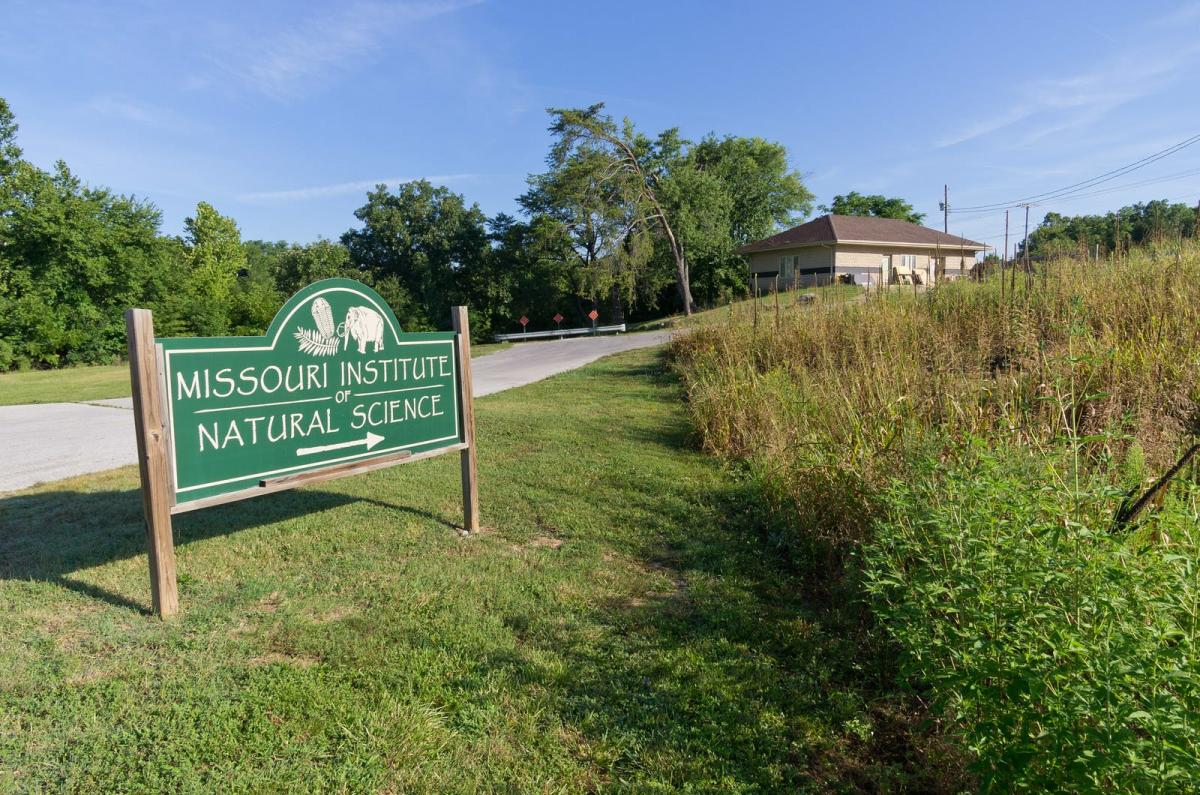 The Riverbluff Cave Site was discovered on September 11, 2001, during road construction in Southwest Greene County, Missouri. Workers accidentally blasted 40 feet wide by 20 feet high fissure into a large room heavily decorated with speleothems. Since its discovery, fossils 1.5 million years old made the cave the oldest depository of ice age bones in any North American cave.
The cave is currently not open to the public, as it remains an active research site. Still, visitors can learn more about it at the Missouri Institute of Natural Science close by.
Address: 2327 W. Farm Road 190, Springfield
Sequiota Cave
Today, Sequiota Cave is home to a migrating colony of gray bats, an endangered species. Sequiota Cave is closed to visitors, except during guided boat tours offered seasonally by Outdoor Initiatives. Paddle through the cave in early March and learn about its myths, facts and history. Reserve spots early because there is limited space, and no on-site registration is available. All tours are subject to weather and bat activity. The guided tours are perfect for children ages six and up.
Address: 3500 S. Lone Pine Ave., Springfield
Disability Accessible: No
Wheelchair Accessible: No
Giboney Cave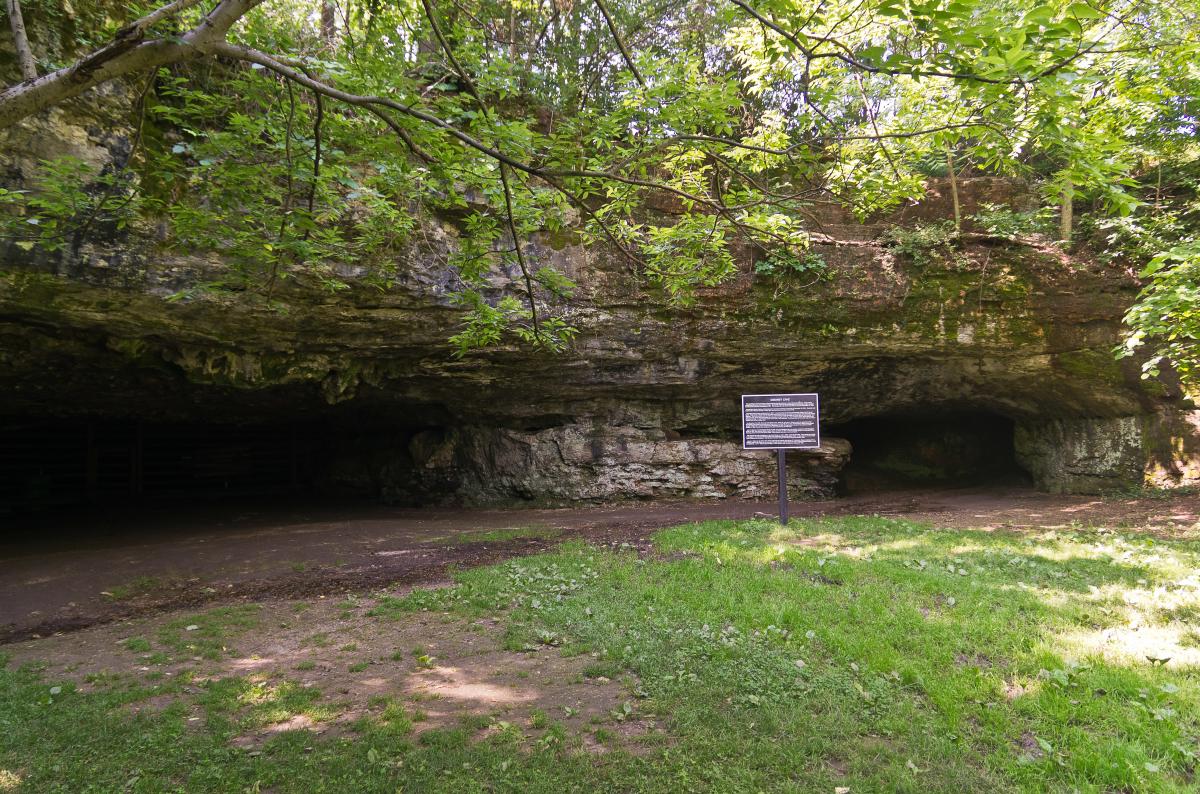 Giboney Cave is located in Doling Park, a former amusement park that was famous for its roller rink. Today the cave is generally closed to the public, but private tours can be scheduled throughout the year. Explore the myths, facts, and history of Giboney Cave at Doling Park during limited public walking tours offered during different seasons. Bring your own headlamp or flashlight, if you have one. Dates are subject to weather and bat activity.
Address: 301 E. Talmage St., Springfield
Disability Accessible: No
Wheelchair Accessible: No