With so much to do, you might think a day trip to Branson seems impossible! Even with a wide variety of attractions, activities, and shows to choose from, it is possible to narrow things down and pack a day full of fun in Branson. Keep reading for a quick guide to plan your next day trip to Branson!
Before you hit the road, don't forget to pull up the ultimate road trip Spotify playlist, curated by our team to perfectly complement your travels to Branson!
Breakfast Spots
You'll need to start your day off right in Branson to have the energy needed to hit all the hot spots. Fortunately, Branson restaurants offer plenty of tasty and affordable breakfast options, so you won't be stuck hitting a drive-thru.
If you plan to set out early, breakfast at Billy Gail's Cafe is a great place to jumpstart your busy day in Branson. Huge portions of delicious, down-home food wait for you there!
If you'd prefer a slower start to your morning, Historic Downtown Branson is the place to be. With the sun peeking over Mount Branson and the fog rising from Lake Taneycomo, it's a beautiful sight and experience sure to set the tone for your day. Downtown, Farmhouse Restaurant and Clocker's Café are busy every morning, serving guests mouthwatering home-cooked dishes as they have for decades now.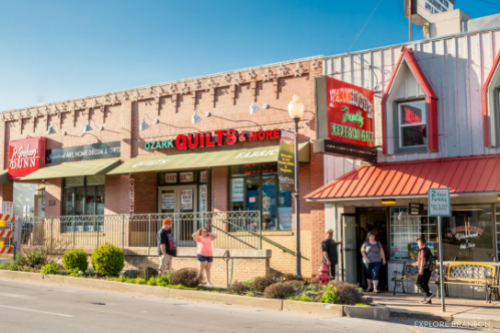 Photo courtesy of Branson CVB
You really can't go wrong with any Branson breakfast spot you choose!
Fun and Entertainment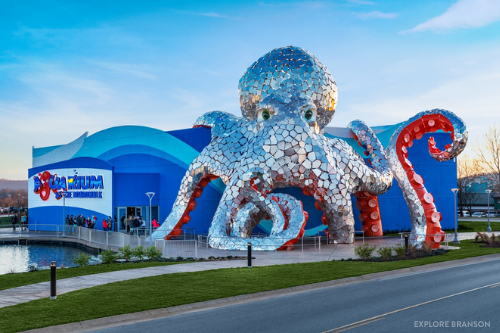 Photo courtesy of Branson CVB
Now that you've enjoyed a tasty breakfast, it's time to really begin your adventure. If you haven't already noticed the gigantic octopus overlooking the Branson Entertainment District, Branson recently welcomed Aquarium at the Boardwalk to West 76 Country Boulevard. This 46,000 square foot attraction is home to numerous species of ocean life and houses them in incredible habitats.
For our thrill seekers, the beauty of the Ozarks is on full display at any one of Branson's ziplines. We think that one of the best ways to enjoy the beauty of the Ozarks at any time of the year is by zipping through the treetops!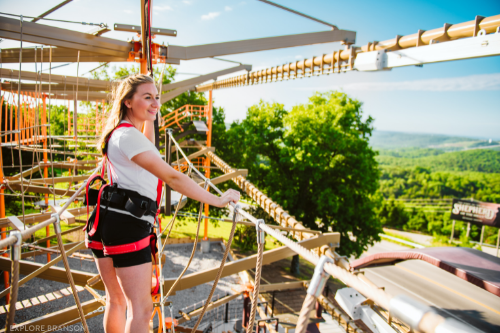 Photo courtesy of Branson CVB
For those who want to soak in the stunning views and scenery at a bit of a slower pace, there are numerous trails and paths to hike while in Branson, spanning a wide range of difficulty levels to suit any nature lover.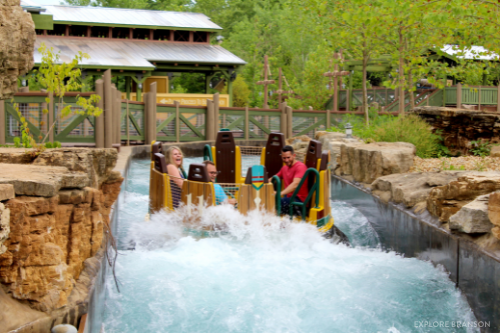 Photo courtesy of Branson CVB
No trip to Branson would be complete without a live show, of course! Known for its incredible live entertainment, Branson has more than 100 shows that span all genres and interests. State-of-the-art productions, world-class tribute shows, and famous national touring acts add to an eclectic mix of entertainment.
Pick a showtime that suits your schedule and have a blast! 
There's always the beloved Silver Dollar City, featuring a little something for everyone. The Ozarks of the past blends with entertainment and ingenuity of today—specifically, rollercoasters up to 16 stories high—to create an experience found nowhere else.
Shopping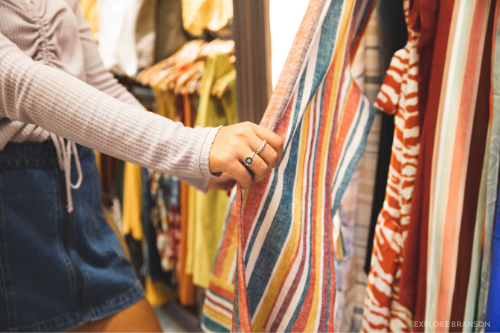 Photo courtesy of Branson CVB
For a slower afternoon, stroll through any—or all—of Branson's shopping districts. Head to Historic Downtown Branson for unique shopping experiences with local businesses both old and new.
Lunch and Dinner
Branson has a variety of dining options for any food lover. Whether you're looking for family-style servings, a quiet table for two, or something unique to the area, Branson's long list of restaurants features something for everyone. Choose from award-winning BBQ or unique dining experiences and everything in between! 
Nighttime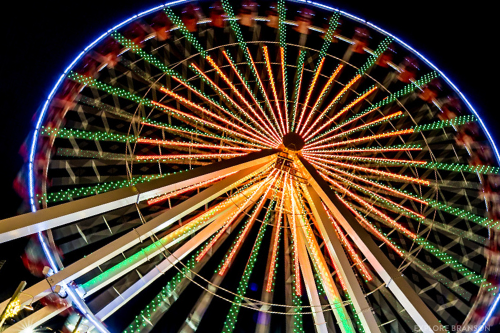 Photo courtesy of Branson CVB
We think the best way to end a day in Branson is with a ride on the Branson Ferris Wheel, racing on the go-karts at any one of the Track Family Fun Park locations, and maybe grabbing some Andy's frozen custard too!
___________
If you plan to make a day trip to Branson, there's no shortage of fun to be had. The hard part will be narrowing down your options to complete your day! We look forward to welcoming you to Branson and know you'll have a blast here.