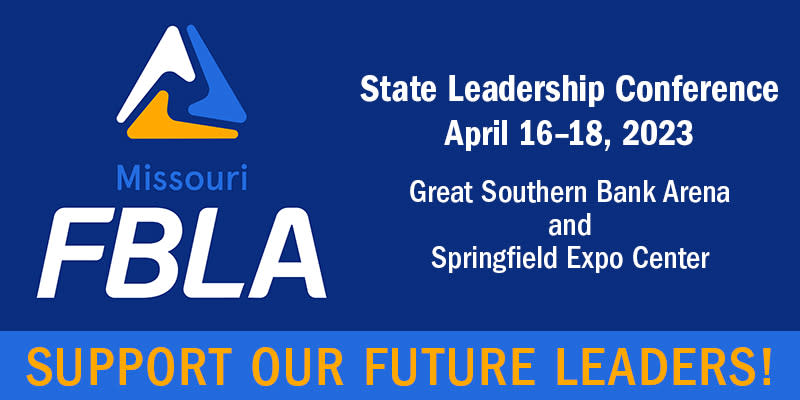 About 5,000 high school members of Missouri FBLA will compete April 16-18 in Springfield for a chance to represent the state at the National Leadership Conference. With competitive events ranging from accounting to agribusiness, Missouri FBLA offers events for every student no matter their career path, and you can be involved in supporting these future leaders.
Missouri FBLA has 12,000 members in 500 schools across the state in three divisions - middle school, high school and college. It's the second-largest state chapter in the nation and has the most local chapters. 
How to Support FBLA
Sponsor the Event!
Missouri FBLA offers five sponsorship levels ranging from the Future Sponsor at $1,500 to the Presidential Sponsorship at $10,000. A la carte options are also available. 
You can also attend the LeadershipEXPO as a vendor. 
For sponsorship and vendor details, view the 2023 FBLA SLC Sponsor Guide and contact Rebecca Ott at rebecca@missourifbla.org.
Judge the Students' Work
On-site judging April 16-17 requires a four-hour commitment, either a morning or afternoon shift, at the Springfield Expo Center.
Off-site pre-judging opportunities are also available. 
For information about judging, click here or contact Kerri Young at  judges@missourifbla.org. 
Welcome the Group on Your Marquee
Show your appreciation by welcoming Missouri FBLA on your business marquees and  offering discounts to our student leaders.
Want to Know More?
Learn more about  Missouri FBLA by visiting their website or contact Lisa Perez, Group Sales Manager with the Springfield Convention & Visitors Bureau at lperez@springfieldmo.org.