September 11, 2001 was a beautiful, sunny day in Springfield, Missouri, headed from an early 52 degrees toward 79 that afternoon. Where Cox Road was being extended southward, holes had been drilled and packed with explosives to blast a limestone outcropping that blocked progress.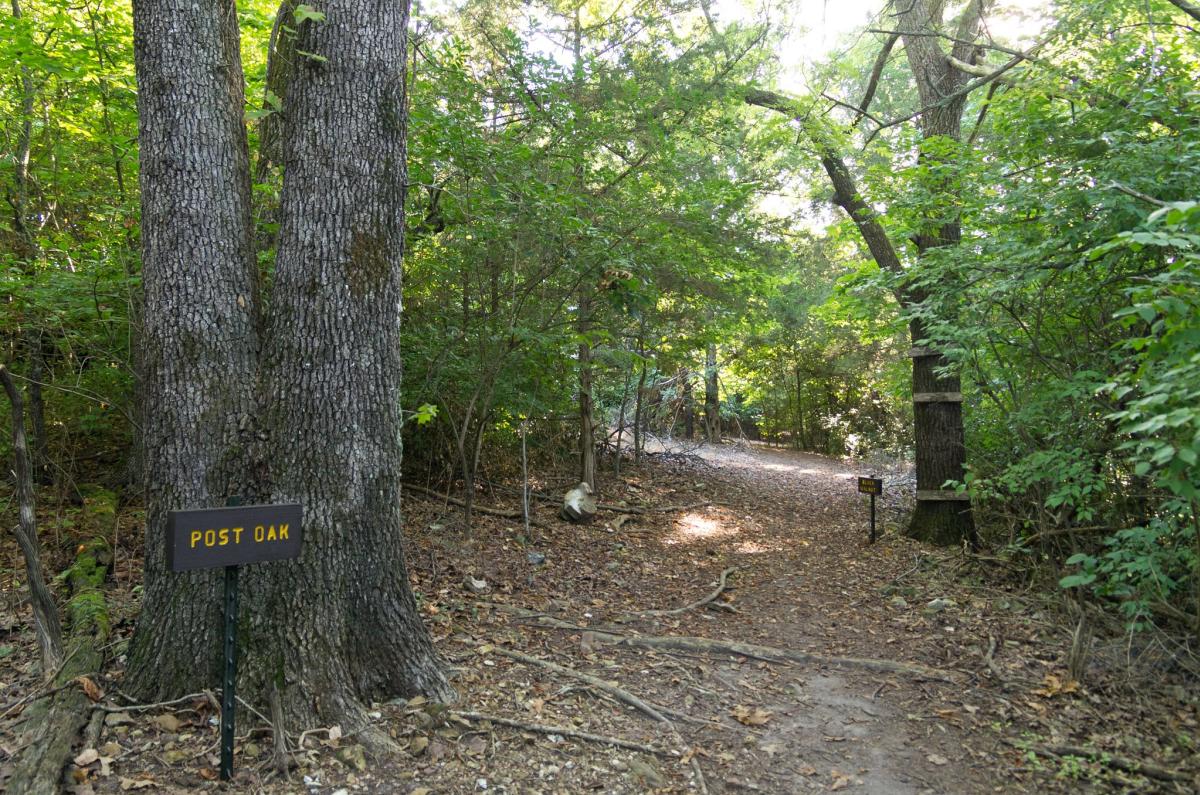 Trail that leads to Riverbluff Cave
Before the charge could be detonated, reports came in about terrorist attacks on the World Trade Center, the Pentagon, and further loss of lives in a Pennsylvania field. At that moment, discharging dynamite was poor timing, but the holes were packed and couldn't be left that way. Reluctant permission was given to proceed. At 2:00 o'clock, the explosion went off that led to a major scientific discovery. The blast blew a hole in the top of a cave below the roadbed. Crewmen peered down into the dim interior where sections of the ceiling and upper wall had collapsed into jumbled heaps of rocks and shattered stalactites spilled across the cavern floor.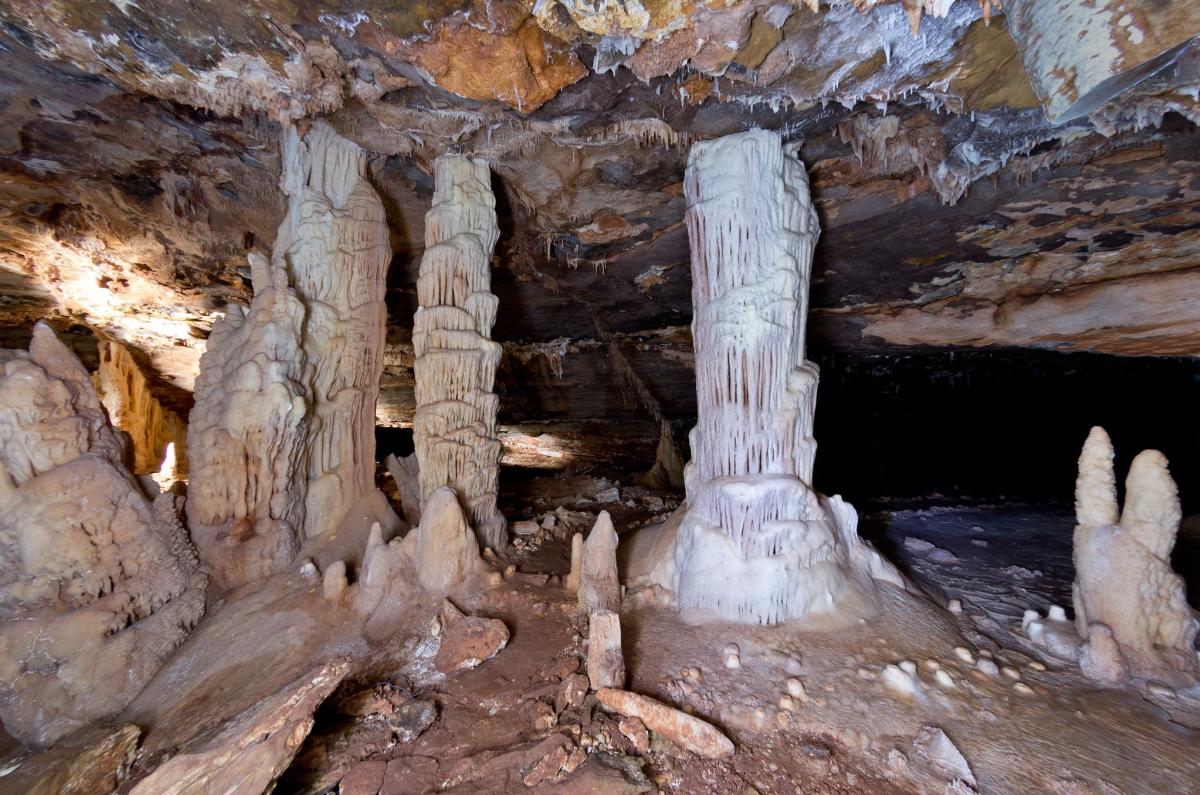 Riverbluff Cave
By the end of that day, June 23, 2012, I knew I had to write a book about this incredible cave. I'd written books about caves twice before, but this one would be different. It would present a rare opportunity to follow a developing story as scientific investigations sought to decipher long buried secrets in a cave rich with fossil evidence of the region's ancient past. Over the next three years I interviewed more than a dozen people, each of whom had played some part in the story, slowly piecing together to whole picture of Riverbluff Cave. At the time I finished, fossils 970,000 years old made the cave arguably the oldest depository of ice age bones in any North American cave. After the book went to print, even older bones were found dating close to 1.5 million years.
The story of Riverbluff Cave is unique to Springfield. When the Springfield-Greene County Park Service celebrated its 100th anniversary in 2014, a copy of the book was included in a time capsule sealed in Phelps Grove Park. I'm proud to know that 100 years from now at least one copy of Cave Detectives will still be part of Springfield.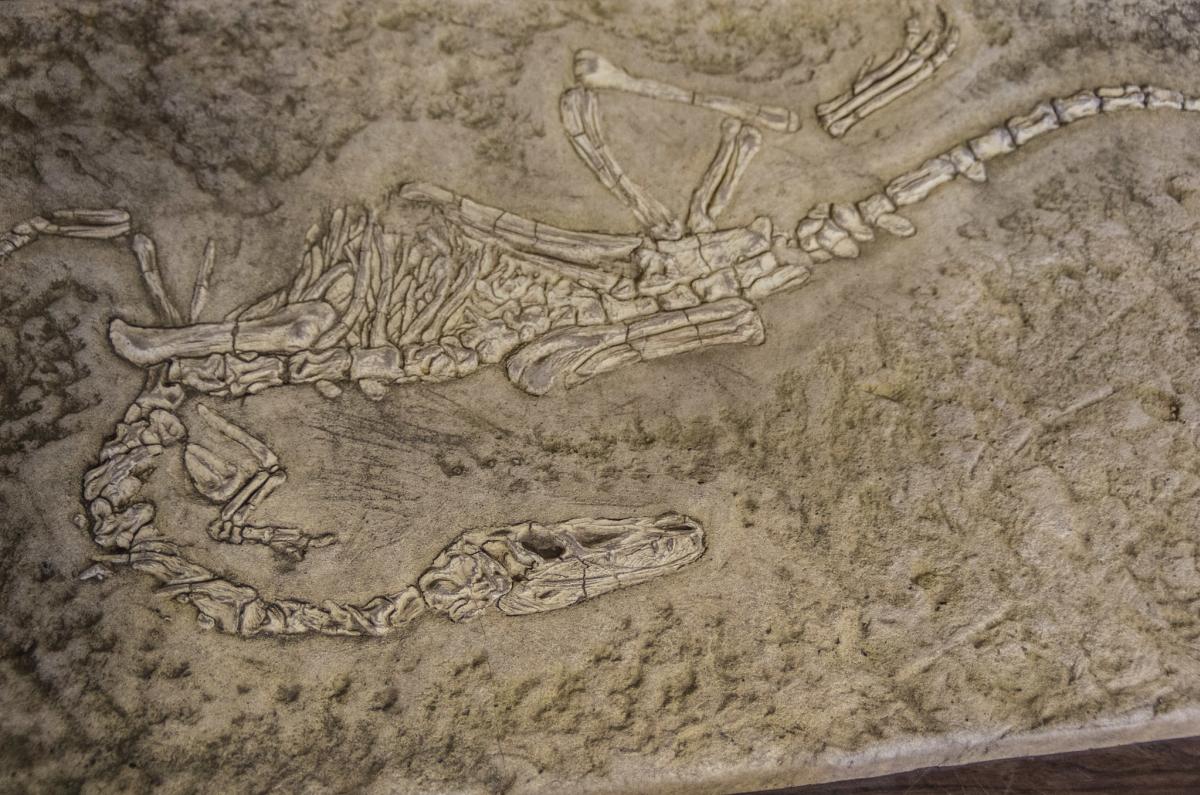 Fossils found in Riverbluff Cave
About David Harrison
David L. Harrison has published 100 books including poetry, fiction, and nonfiction for young readers and educational books for teachers. He is poet laureate of Drury University and David Harrison Elementary School is named for him. A conference room is named for him in The Library Center in Springfield, Missouri, his work has been anthologized in approximately 200 books, translated into twelve languages, sandblasted into the Burton Barr Children's Garden sidewalk in Phoenix, Arizona, painted on a bookmobile in Pueblo, Colorado, and presented on television, radio, podcast, and video stream. David has given keynote talks, college commencement addresses, and been featured at hundreds of conferences, workshops, literature festivals, and schools across America. He holds science degrees from Drury and Emory universities. Two universities have presented him with honorary doctorates of letters. Among dozens of awards, two of David's books of poetry, Pirates and Crawly School for Bugs, represented Missouri in 2013 and 2018 respectively, at the National Book Fair in Washington, D.C. The Society of Midland Authors honored his book of poetry, Now You See Them, Now You Don't, with its Children's Nonfiction Literary Award for books published in 2016. In 2020 he received the first Laura Ingalls Wilder Children's Literature medal for the body of his work. David lives with his wife, Sandy, in Springfield, Missouri. See more at http://davidlharrison.com . His blog is http://davidlharrison.wordpress.com .