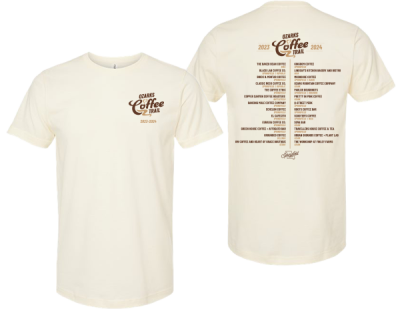 More than 1,500 coffee enthusiasts have signed up for the 2023-24 Ozarks Coffee Trail since it launched on Oct. 1. With such a strong start, we expect the program's third year to exceed the success of previous years. In the 2022-23 season, 3,953 coffee lovers signed up, with 684 collector mug prizes awarded. In its inaugural year, 2,639 signed up, with 420 collector mug prizes awarded. 
"The Ozarks Coffee Trail's success just shows everyone what we already know—the coffee scene in our region is incredible," said CVB Marketing Director Megan Buchbinder. "It's such a great way to tour the region and support small businesses, all while trying out some new places at the same time."
Signing up for the mobile program is free and requires a smartphone. Participants collect 10 points for each location they visit on the trail using unique check-in codes provided at each site. Once patrons accumulate 150 points, they can receive this year's prize, a collector T-shirt adorned with the trail's newly redesigned logo, while supplies last. The trail continues through Sept. 30, 2024.
This year, the Ozarks Coffee Trail includes 37 shops, an increase from the 30 that participated in 2022 and nearly double its inaugural year.
The Ozarks Coffee Trail follows the successful model of the Ozarks Tap and Pour Craft Beverage Tour, introduced by the CVB in 2018. This trail features area breweries, wineries, and distilleries and includes a T-shirt prize when completed.