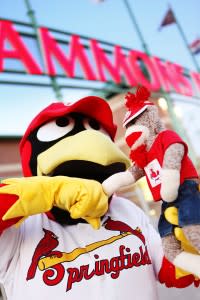 Fist bumps to Watkins Lithography in Kansas City for receiving multiple awards for printing the Sammie Springfield Spokesmonkey book used by the CVB earlier this year in a campaign targeting meeting planners.
The company won gold in Best of Show, Judges' Choice, Best of Kansas City and platinum in Division 3 in the Printing and Imaging Association of MidAmerica Graphex Awards.
Early this year about 350 meeting planners received the book featuring Sammie Springfield, a sock monkey enjoying the sites, hotels and meeting facilities in the city. A couple weeks later, the same planners received their very own Sammie Springfield, a sock monkey with a Springfield logo on its chest. A website and advertising campaign targeting meeting planners are also part of the campaign.
The goal of the campaign is to generate interest in Springfield as a convention and event destination. The CVB sales staff is following up with the meeting planners to discuss potentially bringing events to Springfield.
Several meeting planners who received the book and monkey have responded with positive calls, emails and posts on social media sites.
The sock monkeys are manufactured at Ozark Mountain Kids in Ozark, one of the largest manufacturers of sock monkeys in the United States.