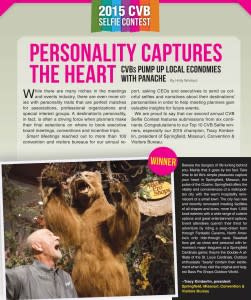 2015 Selfie Contest Winning Entry
When it comes to promoting Springfield as a travel destination, the president of the Convention & Visitors Bureau is selfless about doing selfies. That's why, for the second year in a row, the CVB tops the list in "Smart Meetings" magazine's annual selfie contest.
Along with bragging rights, a selfie of Tracy, who seems to be frightened by a taxidermied bear at Bass Pro Shops Outdoor World, appears on the cover of an insert in the October 2015 issue of the magazine along with copy about why Springfield is a great place to have a convention or event.
"I can 'bearly' contain my excitement in winning the contest again," Tracy said. "I hope the photo gets the attention of meeting planners and they take a look at Springfield for a convention."
The theme of the 2015 contest was "Personality Captures the Heart." In 2014, the theme was "A Sense of Place."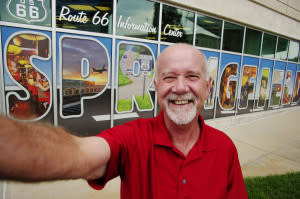 2014 Winning Photo
To see the 2014 selfie entry, visit http://www.smartmeetings.com/meeting-planning/13396/cvb-update-selfies-are-worth-a-thousand-words.
"Smart Meetings" is a trade journal with a circulation of about 44,000 targeting meeting professionals with information about a variety of topics relevant to the industry.