Hey there fun seekers and food enthusiasts! Get ready to immerse yourself in an experience that will have you on the edge of your seat. Brace yourself for the incoming sensation of 'I am missing out' as we present to you BigShots Golf—a golf entertainment fun zone that blends the joy of golf with a scratch culinary adventure.
From our inclusive approach to golf gaming to our scratch kitchen creations, including signature dishes like Everything Spiced Pretzels, the Big Pig Pizza, and the PB & Jam Burger, we guarantee that every moment here will leave you craving more! Check out our top five things not to miss this summer at BigShots Golf.
#1 Fun is for everyone at BigShots.
Step into the world of BigShots Golf, where golfing fun knows no bounds. We welcome golfers of all skill levels, from amateurs looking for a fun way to break up the mundane to the seasoned pro seeking to improve their swing over a challenging round. At BigShots Golf, you'll find state-of-the-art gaming bays equipped with cutting-edge technology, interactive games, and immersive golf simulations. It doesn't matter if you're aiming for the farthest drive or simply enjoying a casual game with friends—our spaces are designed for everyone, ensuring an inclusive and thrilling golf experience. In fact, many guests take their first swing at BigShots and go on to love the game of golf!
#2 Scratch Kitchen Delights.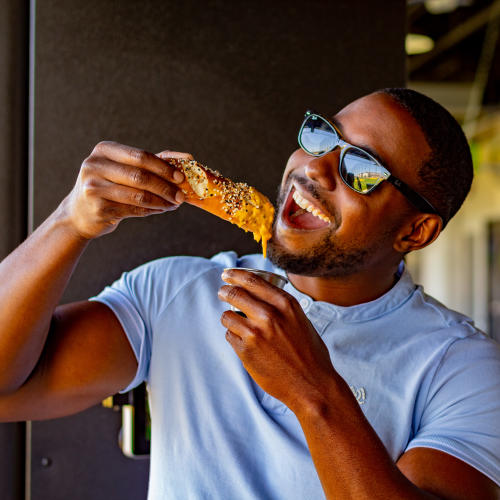 Our scratch kitchen is a haven for food lovers, where our talented chefs craft mouthwatering dishes from scratch, using the freshest ingredients. Picture this - you settle into your cozy bay laughing with your friends and as you tee off, tantalizing aromas envelop you, and you think "I MUST HAVE THAT!" (It happens that fast.) To start, sink your teeth into the Everything Spiced Pretzels, a delightful fusion of warm, pillowy pretzels dusted with an irresistible blend of spices served with tangy beer mustard and creamy queso.
Or indulge in the Big Pig Pizza, built on our scratch dough, topped with house pizza sauce, black pepper bacon, big pepperoni slices, soppressata, melty mozzarella, dusted with parmesan, and drizzled with roasted garlic oil. And let's not forget about the PB & J Burger, an extraordinary creation that combines the nostalgic flavors of peanut butter and jelly with a smash patty burger, bacon, and caramelized onions.   Sweet.   Salty.   YUM.   This is just one of the crave-worthy ways to enjoy our kitchen. We're always offering new and seasonal dishes to keep you coming back.
#3 – Can't-Miss Limited Time Menus.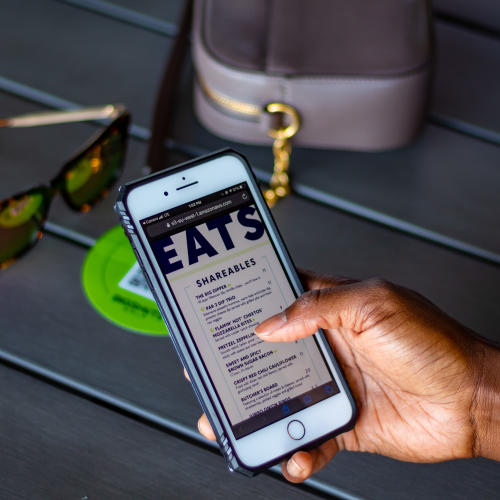 BigShots Golf thrives on keeping it fresh and exciting, consistently introducing limited-time "get-here-now" menus. Imagine walking into our venue on your 10th visit, only to find new creative cocktails and food flavors that showcase the season and bring the fun. Flavors you hadn't had at BigShots before!
Each limited-time menu is a culmination of our team's creativity to bring you something new and delicious—elevating your enjoyment. Stay tuned for our ever-changing menu releases, as they offer a chance to savor exclusive flavors and make each visit to BigShots Golf unique!
#4 - Vibrant Sports Bar and Restaurant.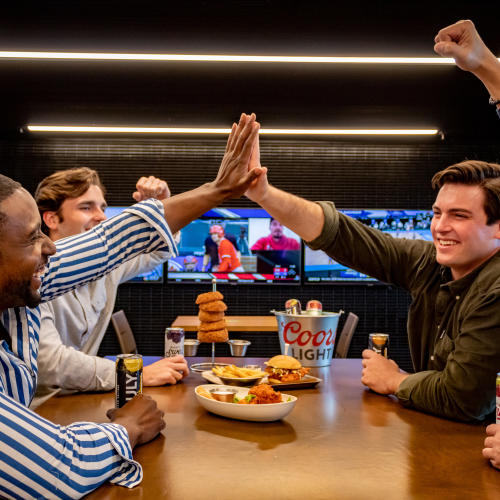 Food and beverage are at the forefront of the BigShots Golf experience. That's why we've dedicated not one, not two, but THREE spots on this list alone! We are frequently asked, "Do you have to book gameplay to enjoy the food and drink at BigShots?" NO! When you simply want to enjoy a delicious dinner or watch the big game with a beer in hand, our sports bar and restaurant await you! No golf is required, walk-ins are welcome.
The space is filled with TVs, the Golden Tee Arcade game, Touch Tunes, and plenty of smiling BigShots teammates waiting to take care of you. Prefer outdoor vibes? Pull up a chair around the fire pit or enjoy corn hole and a free 6-hole putting course. Every visit is sure to become a memorable social occasion thanks to our knowledgeable team. Join us for lunch, dinner, or our awesome happy hour! 
#5 – BigShots is the best place to have an event in Springfield.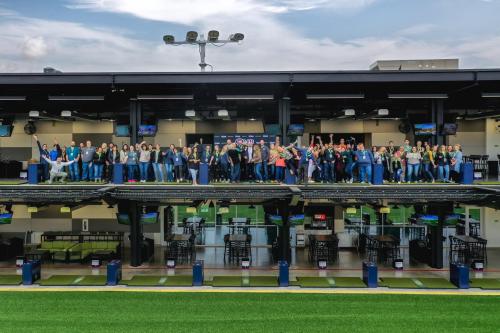 With our spacious facility and versatile offerings, BigShots Golf is the best place in town to host any occasion. Need a private room to host a presentation? We got ya! With over 5000 sq. ft. of dedicated event space and audio/visual capabilities (in addition to the full restaurant, patio, and 56 tee boxes), we have you covered! Team builder after the presentation? Done! Head out to the tee-line and settle into your teams' private bays for some exciting gameplay fun. Family gathering?
We specialize in family fun for all – birthdays, anniversaries, kids parties, bachelor parties - we can customize any event!! The bottom line: BigShots is the best event venue in town with flexible offerings, fun gameplay, delicious food, and a dedicated events team.
BigShots Golf is open 7 days a week accepting online reservations, walk-in gameplayers, and restaurant/sports bar guests. Summer is the perfect time to enjoy BigShots Golf. So, get out there and have some fun in the sun. Play on!
Reserve Online: https://bit.ly/playonsgf
Event Inquiry: https://bit.ly/partyonsgf
Menu: https://bit.ly/3qp0uWl