You have a lot of choices when it comes to entertainment for family, friends, or date night! BigShots Golf Springfield is big on F-U-N. 
The moment you arrive, you'll see why BigShots Golf is a fresh, matchless take on entertainment and recreation. BigShots Golf provides the ultimate gaming and golf driving range experience with full-service food, sports bars, an outdoor patio, mini-golf, private event space, and climate-controlled tee boxes welcoming every level of player. Players can enjoy a social, entertaining atmosphere, and step up and swing on. Perfection demands precision, so we proudly offer the highest quality of food sourced from local ingredients, with handcrafted menu specialties sure to delight foodies everywhere.
We're inspired by our patrons – the families and friends who make up our community – to provide big fun with intimate, personalized service. From digital shot tracking and inventive gaming to craft cocktails and our truly foodie-centric menu, we deliver excellent experiences every time you're here.
Located at 1930 E. Kearney Street, we're making the game of golf accessible to people of all ages with our incredible team of friendly staff, state-of-the-art ball-tracking technology, and interactive games. Here are just a few reasons to check out BigShots Golf Springfield.
*Disclaimer: This post is sponsored by BigShots Golf•
The Games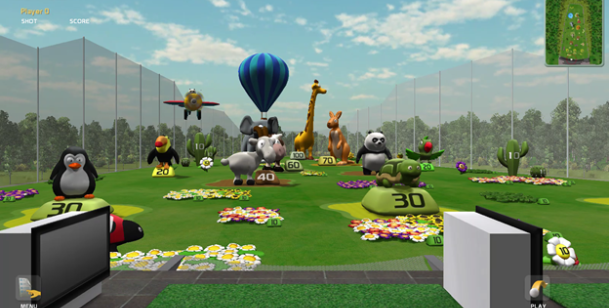 Whether you're a seasoned pro or a non-golfer, our games are fun and easy to play. Our games like Knockout and Pinball are hits with families – you never how many points the kids will rack up to beat mom or dad! Avid golfers can enjoy a full 9 or 18 virtual holes on one of the world's most popular courses or challenge friends in a game of Islands where the goal is to keep your shot from landing in lava or water.
Level up with Live Play! Did you know you can compete against other players in the building or across the entire BigShots Golf network in cities nationwide? Take your skills to the next level and get leaderboard cred to show for it! Live Play is a ton of fun with groups and private events, which our team hosts regularly. 
Speaking of hosted events - from corporate events to team-builders, birthday parties, and even baby showers, our Sales team can help create experiences for the memory books! Our facility has 3,400sq ft of customizable meeting space, a sports bar, plus an outdoor patio area with a 6-hole putting course, corn hole, and a fire pit.
The Tech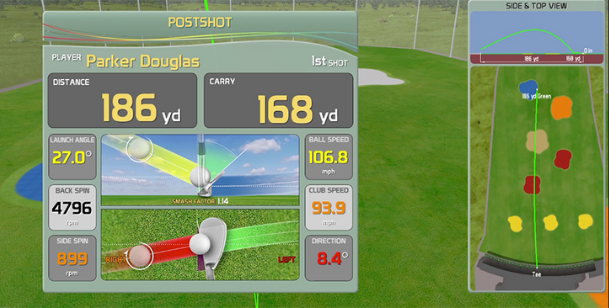 A lot of those other golf places use golf balls with implanted microchips for tracking analysis. Not at BigShots Golf! We use real golf balls, high-tech 3D Doppler radar to track your shot, and 3D augmented reality games. Enjoy true-to-life accuracy with more than 40 swing and ball data points captured with every shot. No clubs? No problem! We have clubs you can use for free, including women's, youth, and left-handed clubs. You can also bring your own golf clubs. 
Book your tee time in advance online, then arrive in style like a real BigShot.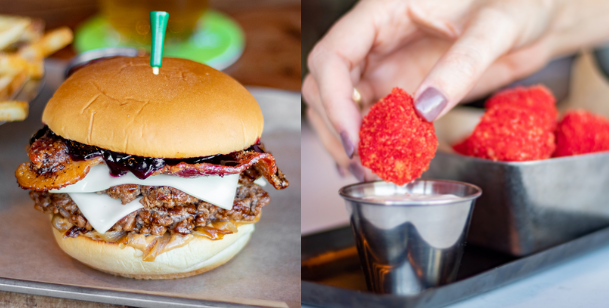 The Food & Drinks
We're proud to offer more than your typical golf course/bar fare. We're talking about scratch-made pizzas, Flamin' Hot Cheetos Mozzarella Bites, bacon candy (you gotta try it!), and one of our most unique items, the PB & Jam Burger offering up double smash patties, peppered bacon, white American cheese, caramelized onions, peanut butter and wild blueberry jam on a potato bun. It's SO GOOD. With our 30+ menu items, there's something for everyone. You don't even have to play golf to enjoy our menu for lunch, dinner, or weekend brunch.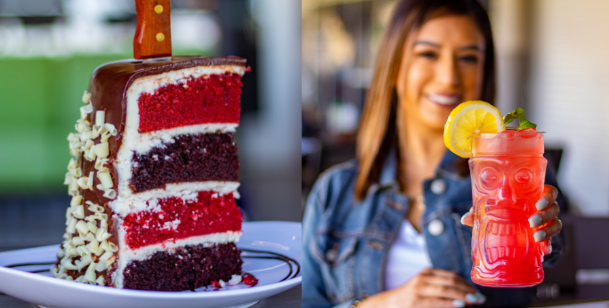 We also feature an ever-evolving menu of hand-crafted cocktails, wine, and local craft beers, like our O'Reilly Irish Red Ale (a collaboration with Springfield's own 4 By 4 Brewing.) From our watermelon mojito served in a Tiki glass to the Lightning Bug and over 40 more options to choose from, this is definitely the place for a night out. Happy hour features specials on many of our shareable food items and drinks so you can try a little bit of everything while you're here or come back again to try something new!
Whether it's an afternoon with the guys, date night, a client outing/lunch, or an experience with the whole family, BigShots Golf is fun FORE all!
Book your bay today! We'll see you soon, BigShot.