Missouri's tourism industry gathered Oct. 12-15 at St. Louis Marriott Union Station to celebrate the efforts of its innovators, ambassadors and navigators during the 42nd Annual Governor's Conference on Tourism.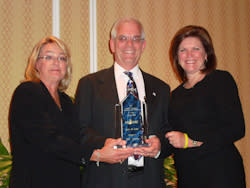 During the conference awards banquet, Kirk Hansen of Fantastic Caverns was inducted into the Missouri Tourism Hall of Fame. The Hall of Fame recognizes individuals whose long-term contributions have had a positive effect on the tourism industry. Inductees have demonstrated their commitment to the industry beyond personal gain and have significantly contributed to the industry in Missouri, leaving lasting impressions on the economy and welfare of the state.
Hansen's involvement in the tourism industry began in 1977 at Fantastic Caverns, where he remains to this day as director of public relations and marketing. Hansen is an integral part of the Missouri Caves Association, an active member of the National Caves Association, and works closely with the Springfield Convention and Visitors Bureau. He is a recognized face among group tour planners and has made a stop at Fantastic Caverns a staple for many bus tours on their way through southwest Missouri.
The Missouri Governor's Conference on Tourism is an annual event that brings together members of the travel industry to hear from nationally-recognized speakers and regional experts on a variety of topics relevant to tourism.
For more information about Missouri visit us on the Web at www.VisitMO.com, or call 800-519-4800.