Bass Pro Shops® Outdoor World® and Wonders of Wildlife National Museum & Aquarium Make up Missouri's number one tourist attraction
Bass Pro Shops® Outdoor World®
They don't call it "The Grandaddy of Outdoor Stores" for no reason! Bass Pro Shops® Outdoor World® is a massive, outdoor-themed experience that includes nearly 500,00 square-feet of shopping, seven intricate aquariums, waterfalls and even a swamp complete with turtles and alligators.
Bass Pro is an outdoor-lover's dream with an extensive selection of gear, apparel and gifts related to fishing, hunting, camping, boating, hiking and more.
Serving as the anchor for Wonders of Wildlife National Museum & Aquarium, Bass Pro Shops is the number one tourist attraction in Missouri and is one that can't be missed during a visit to Springfield!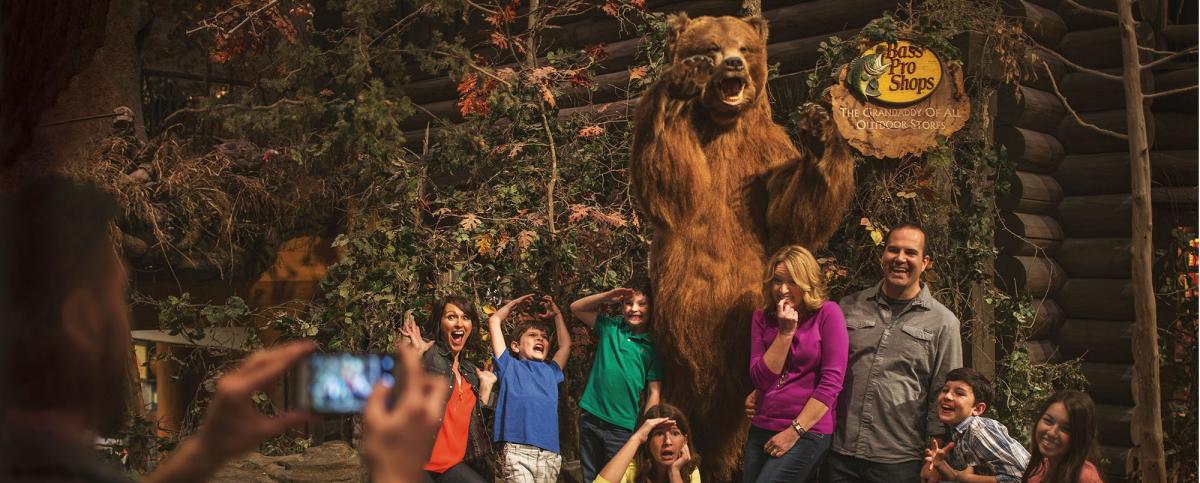 A family poses for a photo in Bass Pro Shops in Springfield, Missouri.
There are a number of attractions within Bass Pro Shops:
The Motorsports Museum features a variety of racing memorabilia, such as fire suits, helmets and racing collectibles. Visitors can get an up-close look at the actual cars used in races, such as the champion No. 3 car Dale Earnhardt drove for his Daytona 500 win in 1998.
At Hemingway's Blue Water Cafe, relax in the Ozarks' most unique restaurant named after the famous author, Ernest Hemingway.
The Archery Hall of Fame is a 3,500-square-foot facility that has a collection of some of the most unique memorabilia depicting archery history available anywhere in the world.
In the NRA® National Sporting Arms Museum, see over 1,000 firearms that trace the history of hunting, conservation and freedom.
The Bass Pro Museum includes a small replica of the original Bass Pro Shop in Springfield along with a fascinating collection of Bass Pro memorabilia.  
Johnny Morris' Wonders of Wildlife National Museum & Aquarium
Johnny Morris' Wonders of Wildlife National Museum & Aquarium — Springfield's newest and biggest attraction — takes visitors on an awe-inspiring journey inside the great outdoors and around the world. The breathtaking Great Oceans Hall brings the depths of the ocean to the middle of America. The Great African Hall, one of the most dramatic exhibits, immerses guests in the African savannah with elephants, giraffes, rhinos, crocodiles, zebra and other species, capturing the continent's daily drama and raw beauty as a tribute to the importance of African wildlife conservation.
Here are some other highlights you'll find in Wonders of Wildlife:
Penguin Cove: A colony of 11 Gentoo penguins in an exhibit that includes two 360-degree "pop-up" bubbles that place guests of all ages directly inside the habitat and two nesting portals that allow guests to peer inside the rocky alcoves.
Out to Sea Shark Dive: This new attraction lets guests get under the water inside a metal cage and come face-to-face with sand tiger sharks, brown sharks, barracuda and Atlantic goliath groupers. State-of-the-art air helmets allow guests to comfortably submerge under the water without diver certification. Additional fees apply.

Out to Sea Shark Dive at Wonders of Wildlife in Springfield, Missouri.
In 2019 Wonders of Wildlife will be home to the Windland Smith Rice International Awards and its annual Nature's Best Photography exhibition, previously only displayed at the Smithsonian Museum of Natural History in Washington, D.C. Created to recognize and display the creative talents and documentary achievements of nature photographers at all levels of experience worldwide, the exhibition will feature a rotating gallery of jaw-dropping wildlife photography and video from around the world as a celebration of both people and nature.
Wonders of Wildlife is located next to Bass Pro Shops National Headquarters in Springfield. You can purchase tickets in advance online at wondersofwildlife.org. Enjoy your adventure!