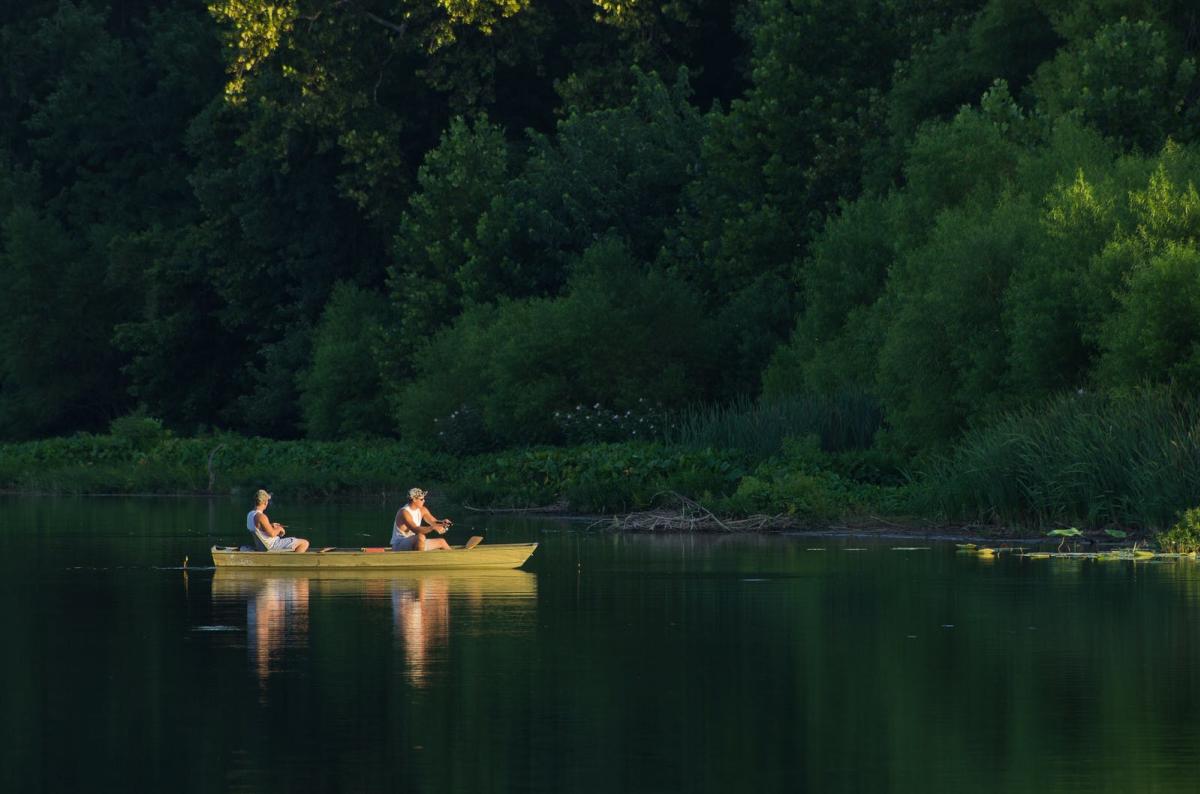 Fishing on the lakes
Some of Springfield's best fishing corners are nestled on the outskirts of the city, making them prime locations to catch trout during the beginning of March. If you're just now getting into fishing or new to the area, here are some of the best locations for trout fishing in the Ozarks. Looking for other fishing spots around Springfield for other types of fish? Read our Angling For The Big Fish post. 
Rockbridge Rainbow Trout & Game Ranch
Hidden away in a valley along the bluff-lined Spring Creek, Rockbridge, Missouri, offers an atmosphere and historic charm unique to the Ozark Mountains. Discover the beautiful and enchanting scenery, interesting history, casual fine dining and warmhearted staff who will make it easy to stay just a little while longer. Take a picturesque step back in time. Eliminate the distractions and chaos of modern life and immerse yourself in the tranquil and relaxing atmosphere. Come bend your rod in our clean, cold running stream stocked with mature, hard fighting Rainbow Trout. Bring the entire family and enjoy afternoons of hiking along our scenic nature trails.
4297 CO Rd 142, Rockbridge, MO 65741
Lake Taneycomo
The chilly waters of Lake Taneycomo make it a prime fishing spot for anglers looking for some of the finest trout in the world. The rainbow trout and brown trout that live in the waters provide an excellent fishing experience for any and all anglers. From fly fishing to artificial-only fishing, Taneycomo is a destination fishing spot for those looking to make their mark in the world of fishing, as numerous state records have been earned in these waters. 
Mile Marker 22, adjacent to State Highways 165 and 265 near the Table Rock Dam
Mountain Springs Trout Park
Based out of Highlandville, Mountain Springs allows families to catch rainbow trout about 20 minutes south of Springfield. Don't have a fishing license? No problem. Anyone can fish and bait is freely supplied, just pay for what you catch. If you opt to keep your catch, the staff will clean and pack your fish on ice for free. Mountain Springs Trout Park is perfect for beginners learning how to fish, or even for experienced fishers looking for a new and different fishing spot. 
2549 State Hwy O
Highlandville
Crane Creek
Looking for a challenge? Crane Creek is 25 miles southwest of Springfield and requires an experienced angler to tackle these waters. It's recommended that anglers stay a few days rather than just an afternoon, as catching a fish here is a real challenge, but worthwhile. Flyfishers who are patient enough to lay low and quiet can get an extremely rewarding catch or two.
1100 State Hwy A 
Crane
Bennett Spring State Park
With more than 100 million gallons of clear, cool water, Bennett Spring is one of Missouri's oldest state parks and continues to attract fishermen year-round. The spring is continuously stocked with rainbow trout waiting for worthy anglers. While the park mainly draws anglers, it also offers other amenities such as campgrounds, hiking trails, cabins and a dining lodge. 
26250 MO-64A
Lebanon
Roaring River State Park
Whether you're into flyfishing, bait, or plastic lures, Roaring River offers all three. The park's fishing sections are split into multiple zones depending on your choice of line. Don't have a fishing permit? Head to the park's fishing store to purchase one along with any and all fishing equipment you may need. Staff at the tackle shop can also provide helpful tips on how to be successful during the current weather conditions. 
12716 Farm Road 2239
Cassville