Springfield's rich African-American heritage is becoming easier to explore thanks to markers being installed at various locations in midtown and downtown neighborhoods.
The developing Springfield-Greene County African-American Heritage Trail is comprised of 20 sites dedicated to the area's African-American history. At each site, a descriptive plaque has been placed or will be placed in the future.
Silver Springs Park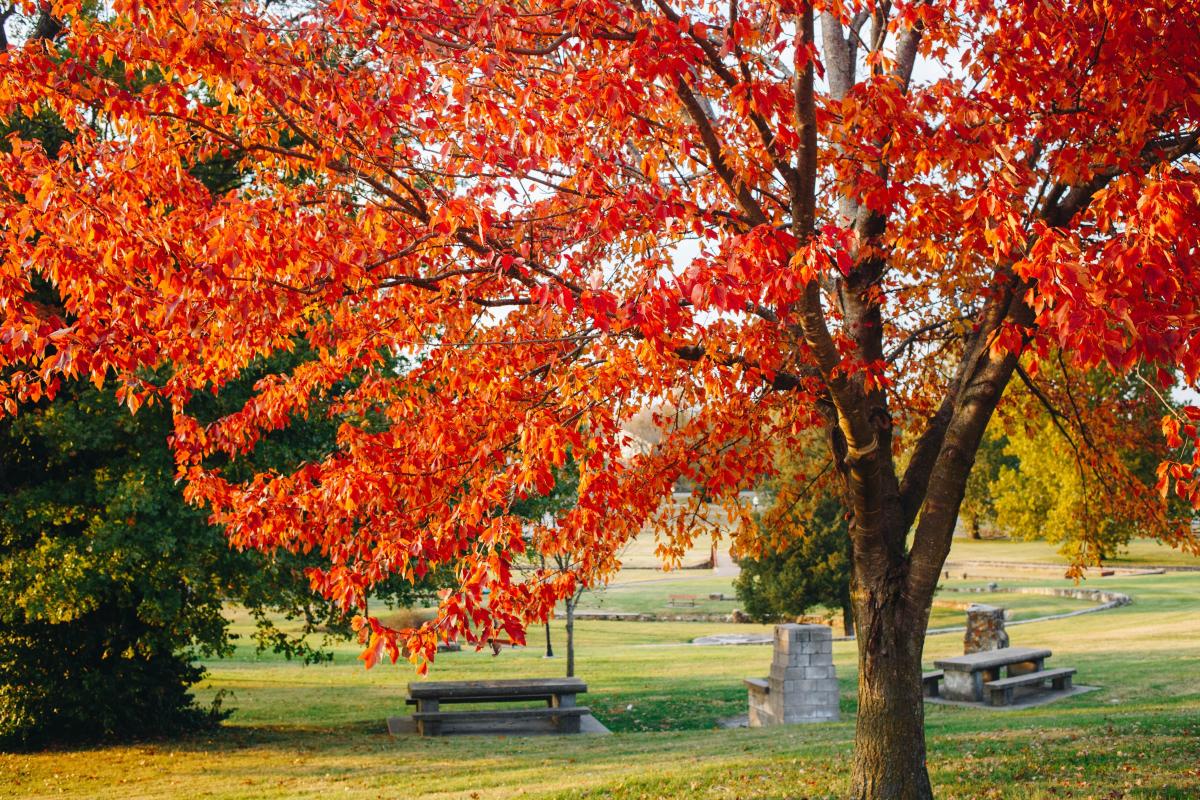 Photo by Brittney Bywater
The first marker was designated during the annual Park Day Reunion at Silver Springs Park, 1100 N. Hampton Ave., in August 2018.
Silver Springs, Springfield's only public park open to black residents during segregation, was established in 1918 on land owned by Springfield school superintendent Jonathan Fairbanks, who died the previous year. Fairbanks opened his home to black residents frightened by the lynchings of three black men on Park Central Square in 1906.
The Park Day Reunion dates to 1952 when Gerald Brooks, a park supervisor and a teacher at Springfield's former Lincoln School, and Robert Wendell Duncan, also a park supervisor, started a day of games and sports events for young African-American residents at Silver Springs. Park Days now includes a parade, beauty pageant, concerts and a picnic. It provided the backdrop for the 1998 film "Park Day" by director Sterling Macer, Jr., who grew up in Springfield.
Timmons Hall (formerly Timmons Temple) was moved to the park in 2019 and restored. Built in 1932, Timmons Temple was considered an anchor for the area's African-American community for decades. It now serves as an events facility in the park it overlooked for nearly 90 years. 
Park Central Square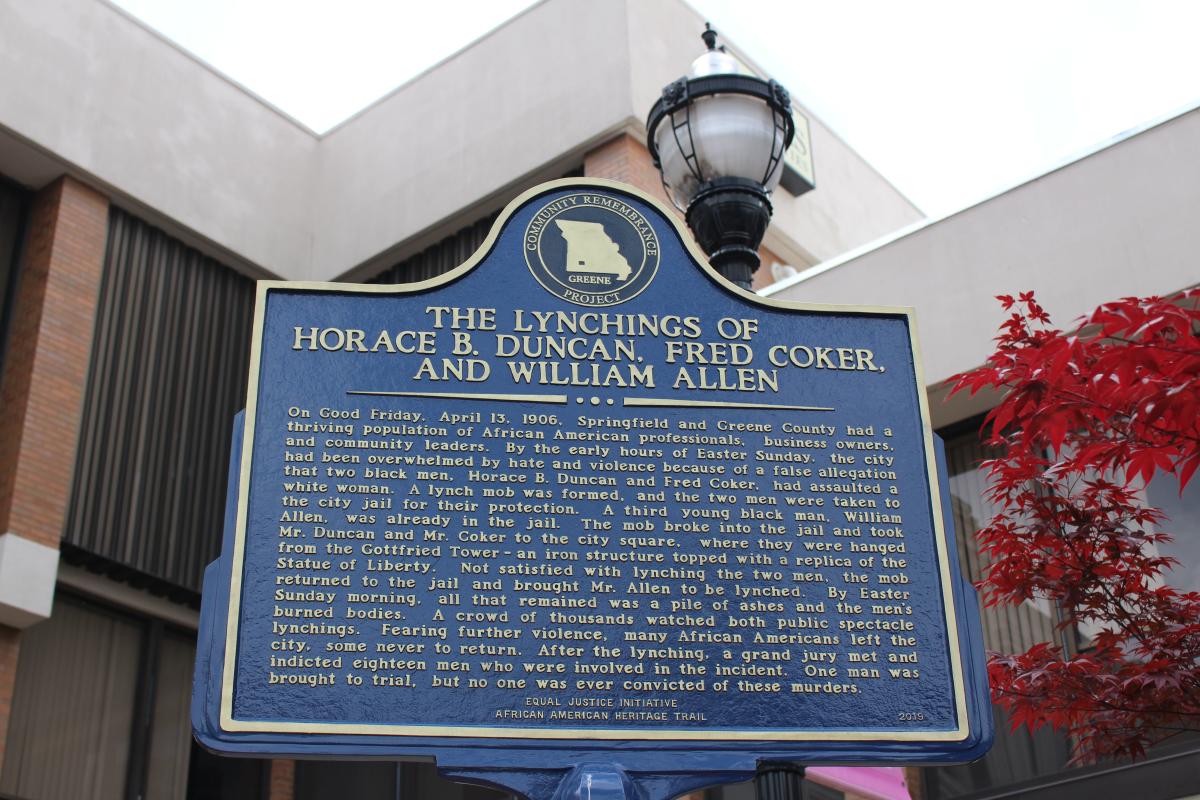 Lynchings plaque on Downtown Square
A marker on the southeast corner of Park Central Square commemorates the site of the heinous lynchings of three innocent black men -- Will Allen, Fred Coker and Horace Duncan -- the night before Easter in 1906. 
Duncan and Coker were arrested as suspects in the alleged rape of a white woman but were released after their employer said they were at work the night the woman was attacked. After an angry crowd began gathering, the men were detained again, reportedly for their own safety.
The mob broke into the jail, forcing Duncan and Coker to walk to Park Central Square, where they were hanged from a structure that supported streetcar wires. The mob then returned to the jail and did the same to Allen, who had no connection to Duncan or Coker. The bodies were burned and some people collected fragments of their remains as souvenirs.
Historic Church Quadrangle
An area known as "church square" at Tampa Street and Washington Avenue is home to a third marker noting two historic black churches.
Gibson Chapel Presbyterian Church was formed as the First Negro Cumberland Presbyterian Church in 1865 by a freed slave named Rev. Peter Lair (later changed to Lear.) In 1891, a new brick church was built at Washington Avenue and Pine Street (now 536 E. Tampa St.). The church was renamed Gibson Chapel after the death of Rev. H. A. Gibson, who worked tirelessly to get the new structure erected. After the lynching in 1906 of three innocent black men on the public square, many families sought shelter in the chapel's basement while male church members guarded the building. The building was heavily damaged by fires in 1915 and 1935 but was rebuilt both times. Five members of the choir formed The Philharmonics, a singing group that went on to regional and national fame.
Pitts Chapel United Methodist Church was constructed in 1865 after an arsonist burned the log cabin church along Jordan Creek. Fleming McCullah donated the land for the church that also housed the Freedmen's Bureau School and later the public school for black children. Edgar Pitts was the pastor of the chapel three times after the Civil War and when he died in 1889, the church was renamed Pitts Chapel. In 1911, the congregation built a new church on the corner of Benton Avenue and Pine Street (now Tampa Street).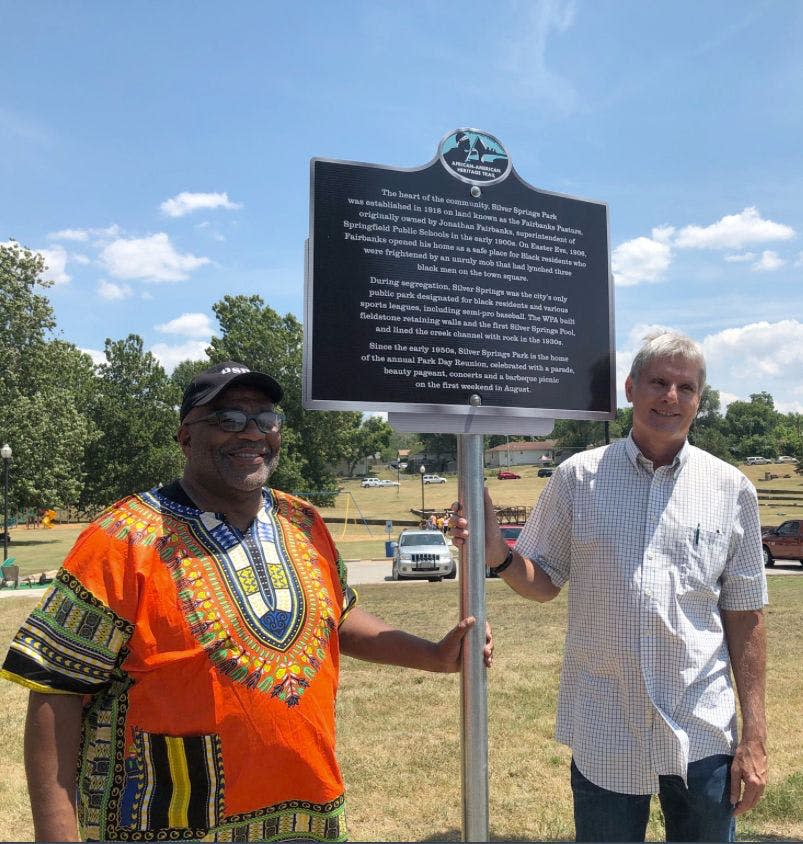 Photo by Brittney Bywater
Future trail markers will interpret other important sites such as:
the Sherman Avenue Corridor
the former Lincoln High School (Springfield's black high school before integration)
the Jones Alley Business District
Washington Avenue Baptist Church
Benton Avenue African Methodist Episcopal Church
Lincoln Memorial Cemetery
Alberta's Hotel
Graham's Rib Station and Modern Motel Court
Donations Accepted
Contributions to the African-American Heritage Trail are gratefully accepted and used to develop the trail. For more information, visit AfricanAmericanHeritageTrailSGF.org. To donate, mail a check to Community Foundation of the Ozarks, Springfield-Greene County African-American Heritage Trail Fund, P.O. Box 8960, Springfield, MO 65801, or visit CFOzarks.org.
Download A Map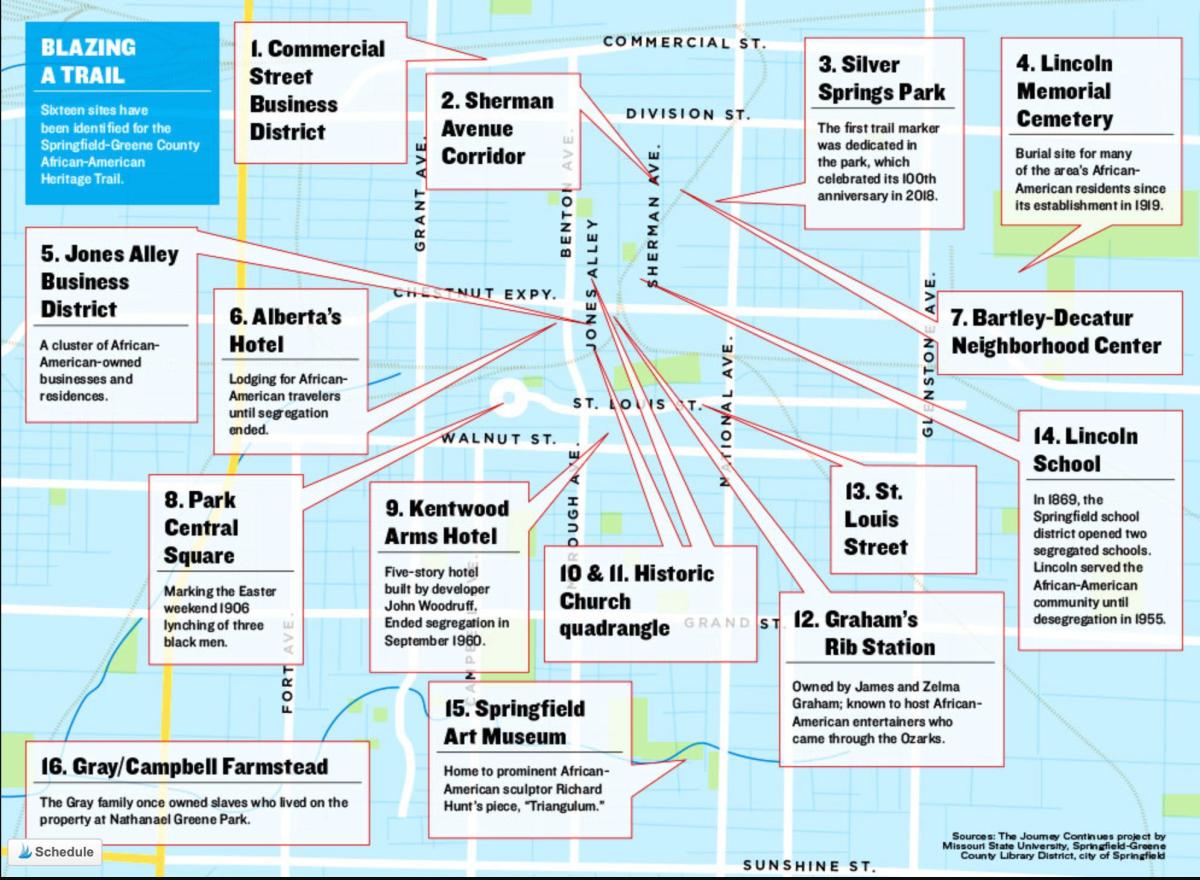 African-American Heritage Trail
Download a map of the African-American Heritage Trail through this link.