Being the social media manager for @LoveSpringfield, I see a lot of things, but there are also tons of people and places I have yet to explore. 
I'm Madison, and throughout 2021, I'll be spending a day with several Springfield locals to get an insight into their day and their life in Springfield, Missouri.
When I arrived at Andrea Ehrhadt's house, a well-known Springfield muralist, I wasn't quite sure what I expected the day to go like. Andrea has created dozens of murals around the city, and someone with that level of artistic knowledge and creativity, I had to get to know.
Within a few minutes of messaging her on Instagram and asking to spend the day with her, she agreed, and she had a lot in store for the day.
Check out what it was like to spend the day with a well-known artist.

Not A Morning Person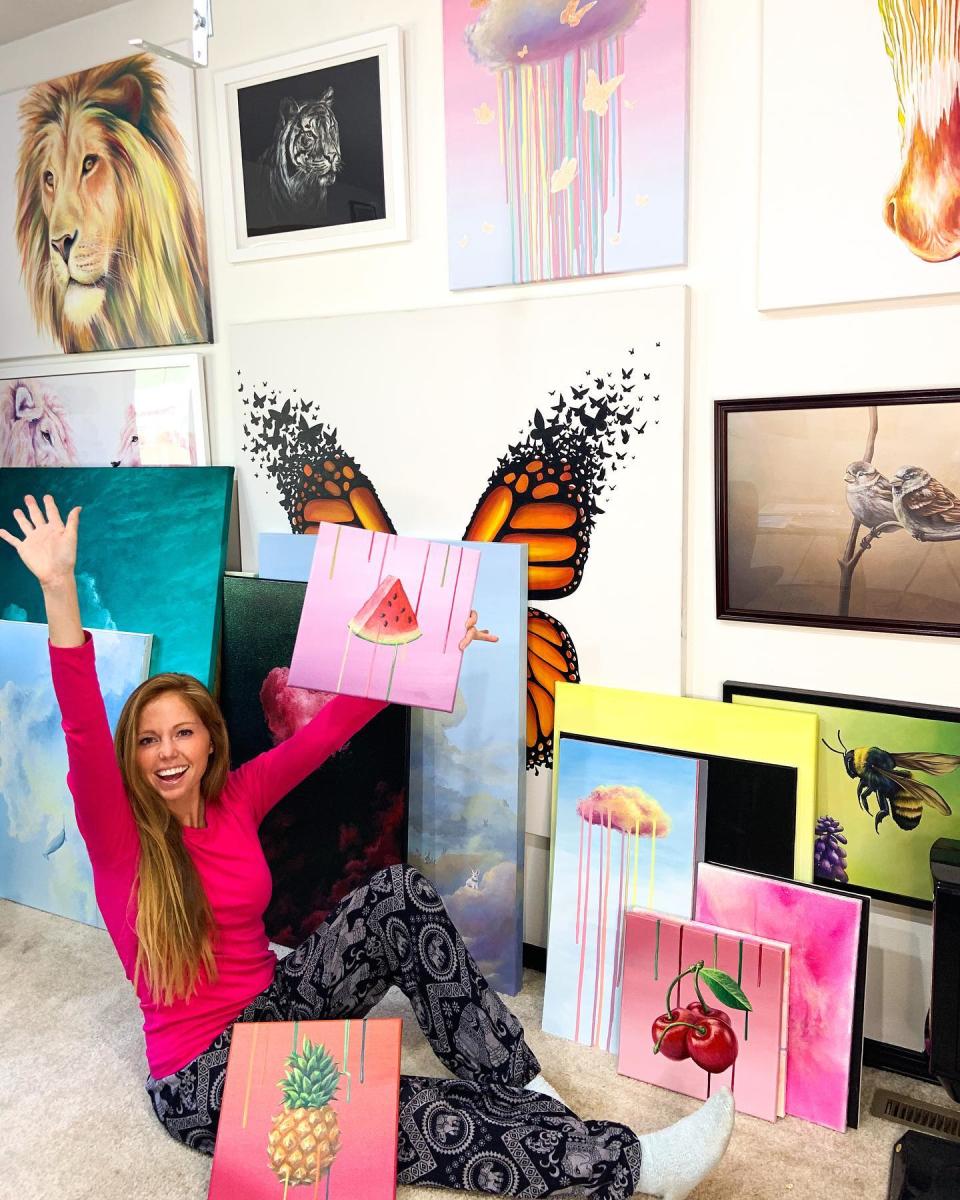 Andrea Ehrhardt's Studio, Photo courtesy of Andrea Ehrhardt
Andrea starts her morning unlike most. She likes to sleep in and start the day on her own terms. She paints when she feels like it and what she feels.
"Some days, I paint all day into the late hours of the night. I start my day at 10 AM...and it ends at 10 PM." She laughed. Her art studio is in her home adjacent to her bedroom and is filled with dozens of finished paintings, works in progress, and finished work ready to ship out.
Pressing my shoes into the floor, I was surprised to see a carpet. Carpet, in an art studio?
"We just put this in," she says, talking about her husband, and herself. "There are three layers of flooring in here. The carpet is a free-for-all. I can get it as messy as I want, and when it's time, I'll tear it out and put new stuff in." Because art, she says, is undeniably messy. 
All of the paints she was using for the day were laid out on the table next to her easel, more paints organized and tacked neatly to an organizer on the wall. She briefly mentioned she had even more stored in boxes somewhere, I never asked how many but certainly a bit more.
I sat up shop at her desk near the window and was greeted by a beautiful orange cat named Nirvana, also just known as "Kitty." She would linger in the studio all day, and that was fine by me.
Always Add More Paint
Andrea grabbed a pre-painted canvas from her stash and placed it on her easel. She's doing a 30-day painting challenge for her followers on Instagram. She's painting the same painting but in different ways for 30 days. Today was day 27, and she just had a few days to go. Pre-painting the backgrounds of her paintings saved her a lot of time in the long run, so she'd taken it upon herself to do a few. 
She pulled out a tripod from the corner of the room and positioned it adjacent to her art set up. 
"I record everything I do, almost every painting," she says, placing her phone on the tripod, "posting my art on Tik Tok and Instagram does great to get the word out there for my art, so I haven't stopped yet."
She has almost 77,000 followers on Instagram and nearly 430,000 on Tik Tok, so something is definitely working.
Instead of doing a traditional video, she decided to live-stream her first piece of the day on her Artist's Academy Facebook group, where she teaches painting classes to her paid subscribers, another way she makes money from her artwork. 
Her cloud paintings are what are currently the hot subject on her social media. For the next 20-30 minutes, she gave a quick tutorial on how she paints her famous clouds. She explained how to blend the colors, the paintbrushes she used, and the most important lesson of all: "If you mess up, that's okay, adding more paint usually does the trick."

Adding Some Glitter
To finish off the cloud, Andrea always adds glitter. She explained that she didn't always add glitter, and that it was actually frowned upon in the artist community.
"I did a lot of painting for other people when I started. I painted a lot of colorful animals and things, which did great, but I wasn't really painting what I was passionate about," she said, as she began adding glue lines to a past painting. 
She loves the color pink and decided to start painting in more pastel colors with different subjects. When she started doing the 30-day cloud painting challenge with glitter, her social media exploded. Some of her Tik Tok videos have over 2 million views and she sells quite a bit of art when they go viral, but it wasn't always this way.
"I gave a lot of stuff away for free when I first started, just to get my name out there." She said. "I would basically go around to local businesses and ask them if they wanted a mural painted for them." 
If they said yes, she'd get to work. If they covered her paint costs, another bonus. Now, she gets commissioned by business owners and locals all across Springfield, and some across the country.
One of the first murals she made was the iconic monarch butterfly wings in downtown Springfield, the wings that jump-started her career as an artist.

Not Always A Great Artist
"I wasn't always a great artist." She said while finishing up the cloud. I looked at her in disbelief, not even remotely understanding.
"I wasn't very good in high school, but when you paint every day, when you practice, you get better, a lot better."
Andrea's grandmother was one of the first people to inspire her to be an artist, as she was an artist herself. Christmas gifts always consisted of art supplies, a toy easel, and tons of colorful markers.
It wasn't until she went to college at Missouri State that she really started pursing art as a career. She graduated with a degree in painting and minors in teaching and business.
Looking at her paintings on the wall, it was hard to imagine this wasn't where she was supposed to be. 
Artist Advice
Andrea giving some artist advice on her podcast The Artist Academy Podcast
Lunch consisted of burrito bowls and lots of queso from Chipotle. I couldn't relate to a person more when I saw her dunk the entire corner of her burrito in cheese. 
We sat quietly for most of lunch as we tuned into an artists' group Andrea wanted to start attending on a new app called Clubhouse. She was one of the odd ones out, because she was one of the few from America. Many were from the United Kingdom.
It was amazing to hear the artists collaborating and asking for advice and ideas. Andrea brought a lot to the table when the conversation turned to social media. 
"Social media is free, so why not use it? You never know what will go viral. I sold 20 prints the other day from one viral post."
Even as someone who doesn't do art, I was learning a lot. I could tell everyone in the group was too. What started as a group of five people turned into about twenty by the time lunch was over. People were eating up everyone's advice and wanting to turn their artwork into a career. 

Updating Artwork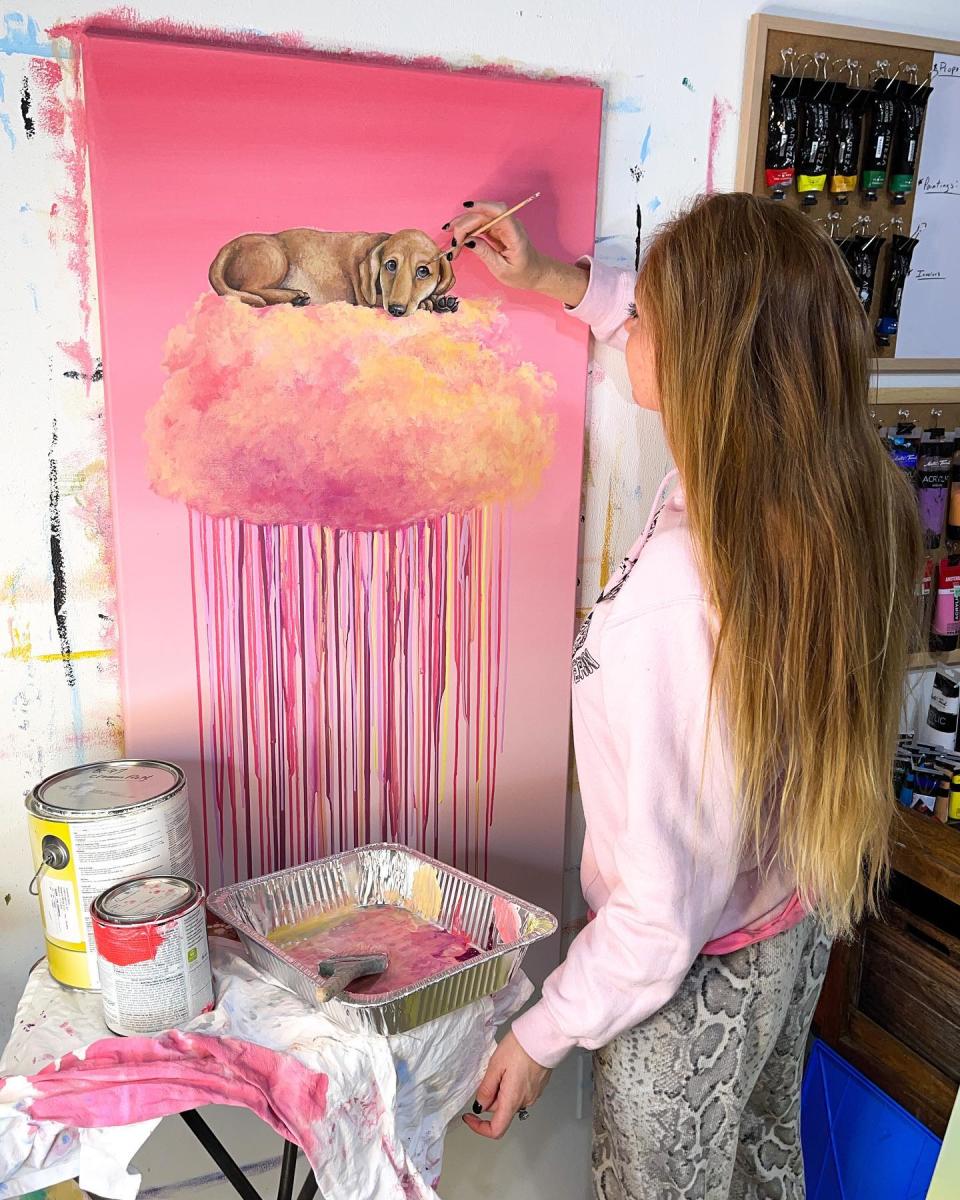 Andrea painting one of her famous glitter clouds, photo courtesy of Andrea Ehrhardt
As the group winded down to a close, Andrea started pulling some pieces from her stash to get ready to ship. She pulled out a stack of large flattened cardboard boxes and began to cut them to size. While she only had a handful of pieces to ship that day, she's mentioned that some days there are lots more.
"I had to hire someone to help me keep up with them. All day Monday we were shipping stuff. It was insane, but awesome."
As she moved to the second piece, she grabbed a paintbrush and a few more supplies. She'd noticed a piece of gold on one of her previous paintings had chipped off, and needed to be repaired before shipping.
"Sometimes pieces don't always turn out the way you want them to." She motioned to the gold foil on the artwork. "It's so pretty but so hard to work with sometimes. But I want it to look good for them." She spent the next few minutes tidying up the piece and set it aside to dry to ship on another day when it was perfect.

Painting Like Michelangelo
I'd like to say we live in a world where weather and painting magically don't collide, but they do. The weather came between the mural Andrea was going to paint later that day so we rescheduled. 
A week later, I found myself at a construction site in Hollister, Missouri, about an hour away from Springfield. Dodging construction workers and two by fours, Andrea was waiting for me topped with her pink construction hat.
She led me inside the building to what was soon to be a hotel pool. Above it, the ceiling was primed and ready to be painted. She'd be painting half a dozen flying geese over the pool on her back, Michelangelo style. 
"The funny thing about this is that I'm afraid of heights." She laughed, slowly climbing up a twelve-foot scaffold. The platform shook under every rung she climbed, and she laughed uneasily, but she made her way to the top. After a few minutes of mixing paint and settling into her spot, she got to work, pictures of geese taped next to her developing pieces, because "photos are everything."
Watching her paint, I couldn't help but wonder how and why she decided to stay in Springfield to continue her art.
"I grew up in a small town not far from Springfield. I always imagined myself living in a big city to continue my art. When my husband's job kept us here, it really worked out for the better. It's a lot easier to make a name for yourself in a smaller town. If I worked in a big city, I would've never been able to paint murals for Bass Pro or work with some incredible brands here. Plus, it's just the perfect size."
She's Easy To Find
Hanging out with Andrea Ehrhardt was incredibly fun and one of the biggest highlights from this job so far. I encourage anyone to check out her artwork and her Instagram and Tik Tok accounts to see some amazing art be created.