Nothing says fall quite like fresh apples. If you're looking to pick your own apples or buy them locally, check out these orchards, farmstands and events around the Ozarks for fresh apples. Did we miss one? Email myohn@springfieldmo.org and we may add it to the list. (Note: Apple varieties are based on the previous year's harvest and the latest orchard updates. Varieties may not be 100% accurate.)
U-Pick Apples
Gardener's Orchard & Bakery
Gardener's Orchard has over 5,000 trees with 13 apple varieties from August-September. Guests interested in you-pick will be provided with a fruit picker and bags for apples. Apples are paid by the pound! Afterward, head into the bakery for delicious apple cider and homemade donuts. Check their website or Instagram for picking days and times.
Apple Varieties: Red Delicious, Gala, Golden Delicious, Sun Crisp, Fugi, Grimes Golden, Granny Smith, Early Blaze, Braeburn, Arkansas Black, Rome, Jonathan and Cameo.
Address: 4455 W. Farm Road 2 Brighton
Purple Gate Farm
(Not Open For U-Pick in 2022)
Purple Gate's apples are 100% organic with no pesticides or herbicides used anywhere on the farm. Apples are $10 per every 5-gallon bucket. Buckets are provided for picking but make sure to bring a bag or your own bucket to take home with you! This farm is also cash or check only.
Apple Varieties: ​​Jonagold, Rome Beauty, Arkansas Black and Gala.
Address: 416 Poplar Drive, Highlandville
Sunshine Valley Farm
Sunshine Valley Farm has been providing delicious apples and more for 30 years. Grab a bag and pick them right off the trees. If you prefer pre-picked apples, they have those available for purchase along with other goodies at their adjacent farm stand. For an added experience, dine at the nearby Harvest Restaurant for dinner and a gorgeous sunset view of the orchard.
Apple Varieties: Lodi, Pristine, William's Pride, Gala, Ozarks Gold, Lura Red, Jonathan, Liberty, Empire, Honeycrisp, Jonagold, Mutsu, SunCrisp, Blushing Gold, Enterprise, Show Me Gold, GoldRush and Granny Smith.
Address: 8011 E. State Hwy. AD, Rogersville
Farm Stand Apples
Gordon's Orchard
If you're heading into Springfield from Kansas City, Gordon's Orchard is just on your way in. Stop in for a bag of freshly picked apples, nuts, pastries or an apple cider slush.
Apple Varieties: Jonagold, Jonathan, Granny Smith, Ruby Jon, Cameo, Red Delicious, and Fuji.
Address: Highway 13 SE 250 Road, Collins
Murphy Orchard
Murphy Orchard has been family-owned for over 40 years. While you're at the farmstand, check out the selection of preserves, apple butter, peanut brittle and award-winning apple cider.
Apple Varieties: Gala, Jonathan, Golden Delicious, Jonagolds, LudaCrisp, Evercrisp and Fuji.
Address: 255 N. Hwy. 60, Marionville
Farmers' Markets
Nearly every farmers' market in the Ozarks carries fresh apples to some capacity. If you can't make it to these local orchards or farmstands, check these farmers markets for fresh apples and produce.
Apple Events
Looking for delicious apple products? You'll probably find them at one of these local fall festivals or events.
Seymour Apple Festival
Come to the Seymour Apple Festival this year and celebrate its 50th anniversary. Enjoy 100+ vendors, live entertainment, 5K run, parade, Johnny Appleseed contest and much more. The best part? Admission is free!
When: Sept. 7-9, 2023
Where: 123 West Market St., Seymour
Marionville Apple Fest
Enjoy beautiful crafts, mouth-watering foods, musical entertainment, and a parade at 10 a.m. on Saturday at the Marionville Apple Fest. Enter the apple pie baking contest, attend the pie auction or pie eating contest, and take part in the karaoke contest, free kids carnival and more.
When: noon-8 p.m., Sept. 15, 9 a.m.-9 p.m., Sept.16, 2023
Where: 30 E. Washington Street, Marionville
Cider Days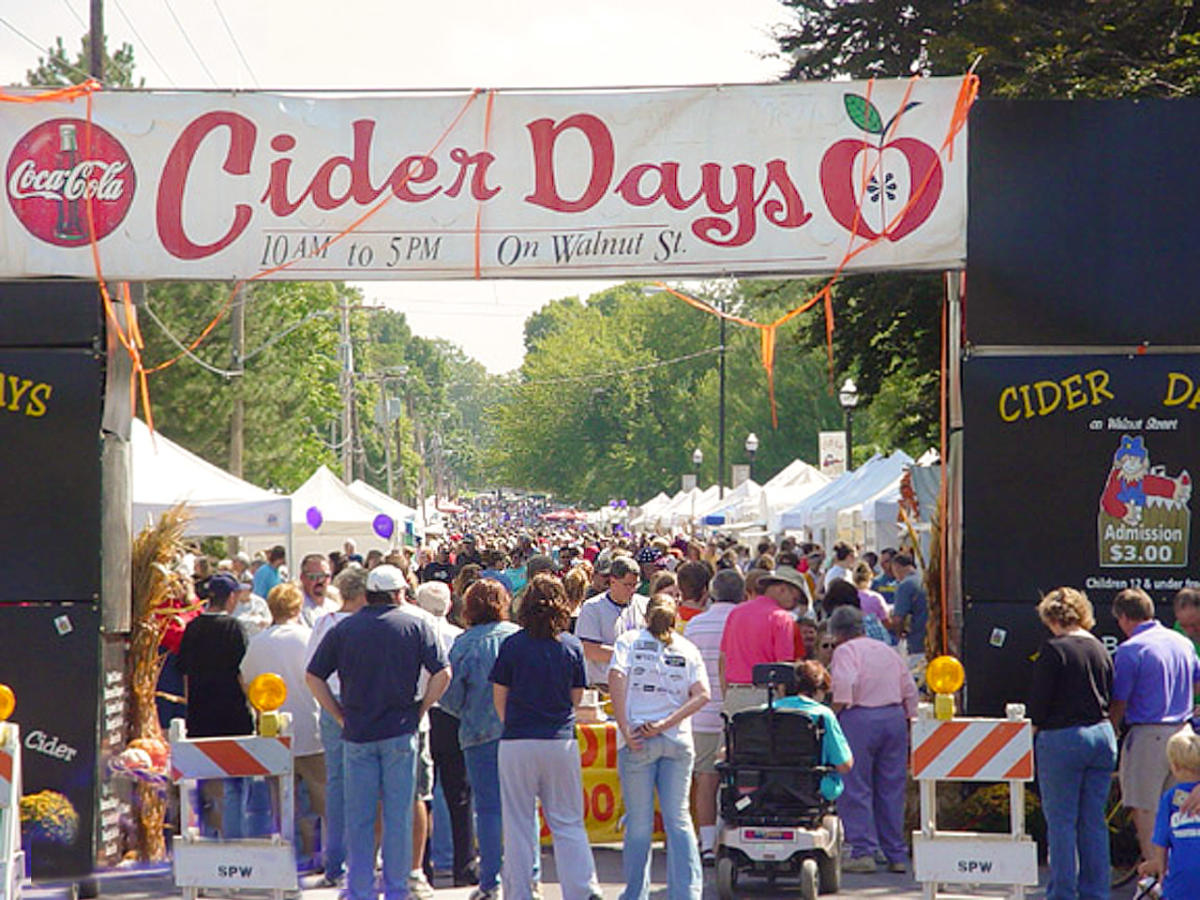 Head to Springfield's Historic Walnut Street to celebrate the fall season at Cider Days. The two-day festival features live performances, delicious food, arts and crafts, and of course, apple cider.
When: Sept. 16-17, 2023
Where: Walnut Street Historic District in Springfield
Apple Butter Makin' Days
Apple Butter Makin' Days, one of Missouri's most popular festivals, has been on the courthouse square in Mount Vernon each October since 1967. Join thousands of people ranging from serious mustache cultivators to competitive bubble gum bubble blowers and enjoy all the festival has to offer. Whether you're watching a wiener dog race, tasting local food or learning the secrets to excellent apple butter, you're guaranteed to have a good time. 
When: October 13-15, 2023