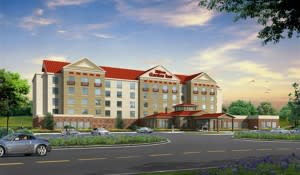 Hilton Garden Inn Springfield and O'Reilly Hospitality Management, LLC was awarded LEED® Gold certification established by the U.S. Green Building Council and verified by the Green Building Certification Institute (GBCI). LEED (Leadership in Energy and Environmental Design) is the nation's preeminent program for the design, construction and operation of high performance green buildings.
"We are extremely proud to receive this distinction because it acknowledges all of the hard work and planning that were poured into the sustainable aspects of the project by our design, construction and operations team" said Tim O'Reilly, one of Hilton Garden Inn Springfield's owners and CEO of O'Reilly Hospitality Management, LLC (OHM) which operates and manages the restaurant. "Our OHM team believes strongly that environmental responsibility and sustainability are critical values to embrace, and the operational cost savings from many LEED design elements go straight to the bottom line."
Hilton Garden Inn Springfield (HGI) achieved LEED certification by using "smart design" for energy use, lighting, water and material use as well as incorporating a variety of other sustainable strategies in construction and operations. By using less energy and water, HGI operates in a highly efficient manner that is both environmentally responsible and saves 30-40% on its utility bill when compared to other similar buildings that were constructed with traditional methods.  The facility uses solar panels on the roof, a solar wall which serves as a heat exchange, geo thermal hvac, high efficiency water and light fixtures, and many other state of the art technologies to achieve these efficiencies.  Additionally, the facility is built from local/regional materials which promotes less energy use in transportation, recycled wood and metal, and also uses material with low VOC content to promote the health and welfare of its guests.  HGI also composts all food waste for use as mulch in its flower beds, recycles most packaging for food and beverages, uses biodegradable to-go packaging, and attempts to purchase significant amounts of its food, wine and other food and beverage items from sources that use sustainable practices.  The hotel also offers guided tours for school and community groups interested in sustainable design, construction and operations.
"Hilton Garden Inn Springfield's LEED certification demonstrates tremendous green building leadership," said Rick Fedrizzi, President, CEO & Founding Chair, U.S. Green Building Council. "The urgency of USGBC's mission has challenged the industry to move faster and reach further than ever before, and O'Reilly Hospitality Management, LLC and Hilton Garden Inn Springfield serves as a prime example of just how much we can accomplish."