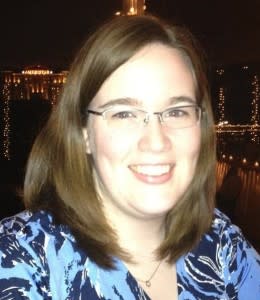 Leslie Forrester will join the Springfield Regional Arts Council December 2, 2013. She currently works for the Missouri Arts Council (MAC) in St. Louis where she has been a program specialist since October 2011. She has overseen the Community Arts Programs and managed MAC's touring programs to gain a strong statewide perspective of community arts organizations.
Forrester also worked previously at the SRAC as the Arts Education Outreach Coordinator from 2007-09. She helped develop and implement programs for public art, regional outreach, studio art tours, professional development for artists, gallery exhibits, and special events such as the annual Poetry Out Loud regional competition and Free Art Days.
She has a Master of Fine Arts degree from Southern Utah University, where she also served as associate director of the Braithwaite Fine Arts Gallery and worked with Zion National Park staff to implement an artist-in-residence program. Her undergraduate degree is from Culver-Stockton College in Canton, Mo.
"We are delighted to bring Leslie's energy and enthusiasm for the arts back to Springfield with her broad perspective for our region's role in the statewide community arts environment," said Louise Knauer, president of the SRAC Board of Directors.
As Executive Director, Forrester will oversee the SRAC's efforts to promote artists, Springfield's cultural organizations, educational programming, major community events such as Artsfest on Historic Walnut Street, and arts programming with the Springfield-Greene County Park Department, as well as fulfill the goals of the Springfield Cultural Plan and oversee The Creamery Arts Center as a headquarters for community arts activities. The SRAC also serves as a regional arts hub for a 27-county area of southwest Missouri.
"Since the day I graduated from college, SRAC has been a part of my life and career in one way or another," Forrester said. "After several years away, I am honored to once again be a part of your community."
Forrester succeeds Leah Hamilton, who left the SRAC to join Drury University this fall as the director of the Arts Administration program.
The SRAC, incorporated in 1978, connects people and the arts. It supports some of the most prominent visual, performing, literary and film/media arts organizations and artists within 27 counties, the largest outreach of any in the state of Missouri. The current mission of the SRAC is to transform lives and enrich our Community through the Arts. The SRAC also manages The Creamery Arts Center, which houses the offices of the SRAC, Springfield Symphony Orchestra, Springfield Ballet, Springfield Regional Opera, Springfield Community Center and Care to Learn, as well as a board room, classrooms, arts library, exhibition hall, film editing bays, shared costume and set design shops managed by the Springfield Little Theatre and instrument storage.