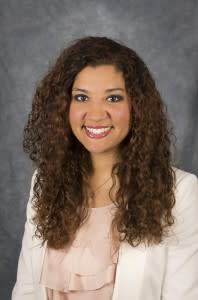 The Springfield Sports Commission announced it has hired a new assistant director.
Whitney White joined the Sports Commission staff in April. Her responsibilities include membership sales, organizing the 1 Awards, communications and other duties.
White has a bachelor's degree in public relations from Missouri State University and on May 17 will receive a master's degree in communication from Drury University.
Prior to joining the sports commission, White was a graduate assistant at Drury University Athletics where she worked on marketing, promotions and events.
White is a Kansas City native and graduate of North Kansas City High School.
She replaces Sheila Fish who left the bureau in April.
The Sports Commission is a nonprofit organization dedicated to growing the local economy through increases in overnight travel by bringing sports events to Springfield.
For more information, call 417-881-5300, 800-678-8767 or visit www.SpringfieldMoSports.com.