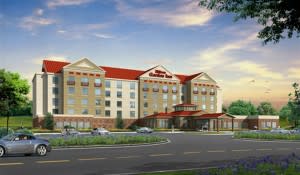 The newly opened Hilton Garden Inn® Springfield will host a grand opening June 23, 2011. The festivities will include a ribbon-cutting ceremony, local and organic food, wine and beer sampling, an "Ozarks Green Tour" and a concert provided by local favorite Big Smith.
The Hilton Garden Inn Springfield is owned by O'Reilly Hospitality II, LLC and managed by O'Reilly Hospitality Management, LLC of Springfield, Missouri.
"We are pleased to have the opportunity to showcase this beautiful property to our community members," said Tim O'Reilly, Chief Executive Officer of O'Reilly Hospitality Management, LLC. "The grand opening will allow the community to see and experience first-hand our hotel's unique design elements, sustainable operations, and modern interior and exterior finishes, while promoting a message of conservation and sustainability in the Ozarks with the help of some great local partners, in addition to some fantastic local music."
The self-guided Ozarks Green Tour highlights the unique features that qualify Hilton Garden Inn® as Missouri's first hotel designed to LEED Gold standards. The LEED system is a green building rating system which encompasses nationally accepted benchmarks for the design, construction and operation of high performance buildings. According to the U.S. Green Building Council, LEED certified projects are healthier and safer for occupants and are a physical demonstration of the values of the organizations that own and occupy them.
"We are very pleased with how this hotel turned out, and are excited to share it with the community," O'Reilly said. "Our belief is that today's hotel, meeting and event guests expect a modern, first class service experience combined with a commitment to energy conservation and responsible resource management, and we look forward to receiving input from the community on how our hotel meets those expectations."
Sustainable features of the hotel include a geothermal HVAC system in the Pavilion, meeting rooms and all common areas, a salt water swimming pool, solar panels to generate electricity, a solar reflective roof, a concrete parking lot with fly ash content, high efficiency electrical and water fixtures, full recycling and waste food composting system, native grasses and drought-resistant landscaping without permanent irrigation and more.
The schedule for the evening begins with a ribbon cutting ceremony at 4:00 p.m., followed by the Ozarks Green Tour and wine/beer sampling and hors d' oeuvres from 4:30 p.m. to 6:30 p.m., and is capped off with a concert by the ever-popular, high intensity band Big Smith. Their style is a one-of-a-kind, acoustic blend of bluegrass, rockabilly and Ozark-inspired lyrics. Local partners involved in the presentation of this event include: Killian Construction Co., USGBC- United States Green Building Council, Ozark Greenways, ONE- Ozarks New Energy, Springfield Grocer Company, Alternative Energy Co., Springfield Nature Center- Missouri Department of Conservation, O'Reilly Hospitality Management, LLC, Hilton Garden Inn Springfield, Major Brands, Mother's Brewing Company, and Wil Fischer Companies.