New winter menu items are starting to pop up all over the Ozarks. Everything from sweet treats and savory goodies to must-try coffee and eggnog-infused dishes. Throw on those coats and gloves, and head out into the Ozarks to try some mouthwatering delicacies at locally owned establishments.
Kingdom Coffee
When I first heard about Kingdom Coffee serving a coffee-infused eggnog, I knew I needed it. The O Holy Nog is their house-made creamy eggnog with cold brew, and then they add in a touch of spice, and you best believe it's everything nice! It's rich with coffee flavor, yet still retains that smooth and creaminess that comes with classic eggnog. Go grab a glass or even a take-home bottle! 
Address: 211 S. Market Ave., Springfield
Thicc Cakes
Cheesecakes are the name of the game when you visit Thicc Cakes in Nixa. You can walk in and purchase cheesecake by the slice, a mini-6-inch cheesecake or a 9-inch cheesecake, with a great assortment of flavors. This winter they are rolling out their new menu items for your enjoyment. White chocolate peppermint, chocolate mint chip, and even eggnog cheesecake. They also offer the classic New York-style cheesecake if you are a purist at heart.
Address: 554 W. Mt, Vernon St., Nixa
Swirly's Ice Cream & Waffles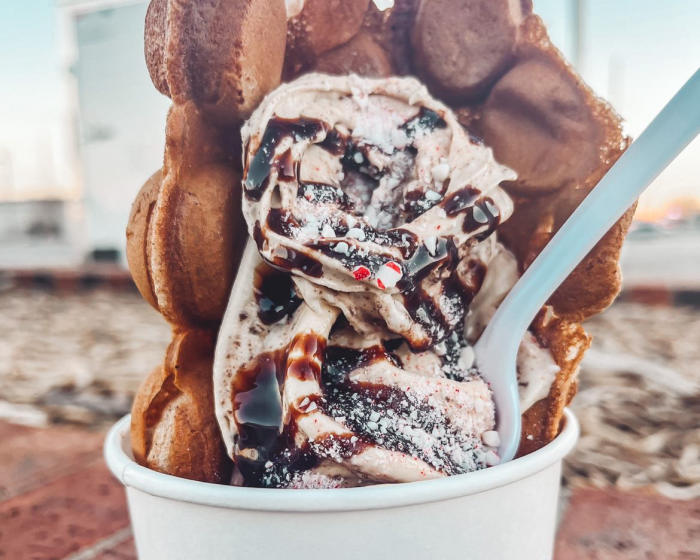 Photo courtesy of Swirly's Ice Cream & Waffles
We all know and love everything that the folks over at Swirly's continue to create. They continue to amaze me with the newest concoction! December's "Student of the Month" is the Peppermint Brownie Mocha. You can get either vanilla or chocolate ice cream; then they mix it up with brownie, coffee powder, and peppermint. Top it off with some chocolate syrup and peppermint bits, for a dessert fit for the season. Take it up a notch and have it wrapped up in a chocolate, chocolate chip waffle to make it even better.
Address: 3867 S. Campbell Ave., Springfield
The Sweet Deal
Who doesn't enjoy walking into a bakery and marveling over all the tasty treats you get to choose from? The Sweet Deal in Nixa, is creating delicious gluten-free items, as well as macarons! Tis' be the season for festive treats, and they have some real good ones for you lined up. Buche de Noel, which is the classic Yule log cake, an assortment of Christmas cookies and of course they would be making Snickerdoodle and hot fudge cheesecake bars. I love Snickerdoodles, so when I heard they were combining them with cheesecake, well I was sold immediately. Next time you are in Nixa, swing by The Sweet Deal and treat yourself to something delicious.
Address: 107 W. Aldersgate, Suite 10, Nixa
Chance of Sno & Coffee Co.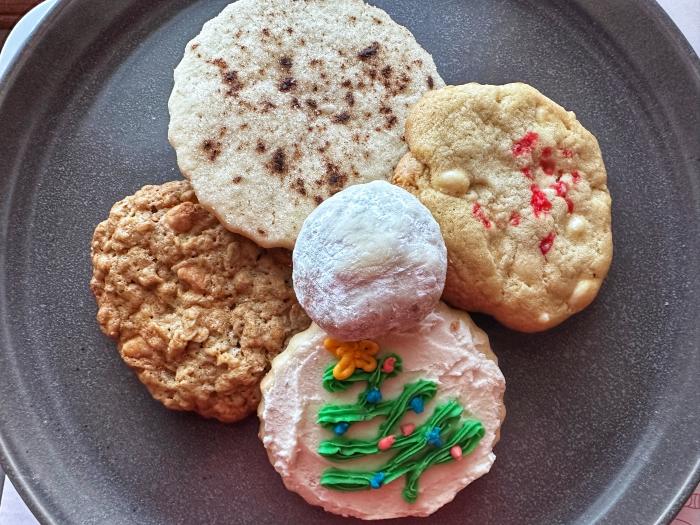 Everyone knows that cookies are a must-have for the holiday season, and Chance of Sno & Coffee Co. in Nixa has your back. They are offering their holiday cookie packs that come with a peppermint white mocha, oatmeal scotchie, snickerdoodle and frosted sugar cookies. There is one cookie that I want to highlight, and that's the Ukrainian snowball cookie. These snowball cookies are a butter cookie that is filled with chopped pecans and dusted with powdered sugar. Nixa has a thriving Ukrainian community, and Chance of Sno wanted to show love and support by serving one of their favorite holiday treats.
Address: 304 W. Mt. Vernon St. Nixa
Urban Grounds Coffee & Plant Lab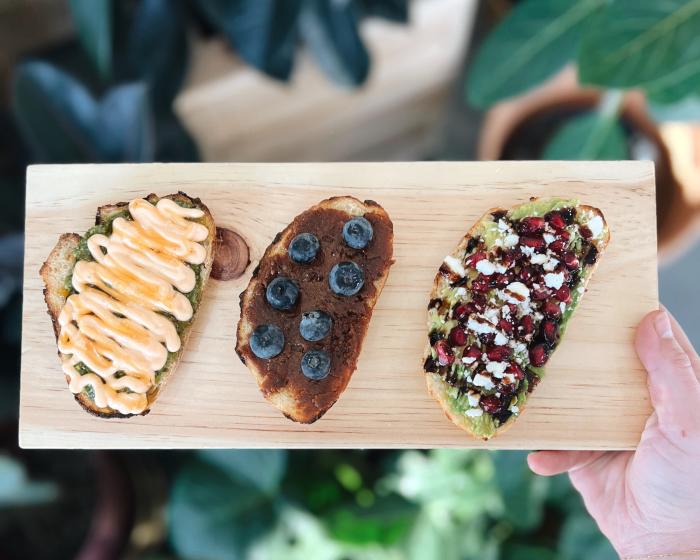 Photo courtesy of Urban Grounds Coffee & Plant Lab
One of Ozarks newest coffee shops, Urban Grounds is not only serving caffeinated beverages, but also some new seasonal toasts for your enjoyment. The toasties on their seasonal menu are some that you will not want to miss. They have the Christmas Cookie Butter toastie; a homemade cookie butter topped with your choice of banana, raspberry, blueberry, or cinnamon sugar walnut crumble. Maybe you want something more on the savory side of the flavor profile. Then the Red, White, and Green is for you. Sourdough topped with pesto, roasted red pepper whipped ricotta, flaky sea salt and your choice of hot honey or balsamic glaze drizzled on top. Grab some hot coffee and one of their toasties for the perfect holiday treat.
Address: 5557 N. 21st St., Ozark