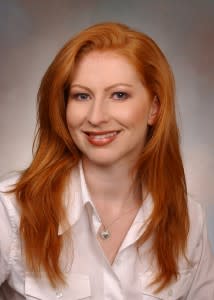 Every organization has a "go-to" person and when it comes to helping conventions and other group events be successful in Springfield, that person is Carrie Edinborough at the Convention & Visitors Bureau.
Carrie, event services manager, helps organize information tables at conventions and sporting events, organizes volunteers to staff those tables, coordinates information packets for groups that request them and much more.
Always positive and cheerful, Carrie enjoys working with people and gets satisfaction from helping them achieve their goals. She'll go the extra mile to do that but to really get Carrie motivated, walk in with coffee and chocolate!
She also is dedicated to her family - two boys ages 9 and 12, her husband Donald and Bullet, "the cutest" beagle-terrier mix that's in charge of the family. They enjoy camping, canoeing, traveling, fishing and other outdoor activities.
Another passion for Carrie is old muscle cars. That's right, Carrie is a "gearhead" who dreams of restoring an old Camaro some day. She, in fact, is more likely to diagnose a car problem than her husband who works in the computer field.
Along with her skill with cars, Carrie has a degree in business management from Missouri State University. She has worked at the CVB since 2001.