The Springfield Convention & Visitors Bureau is pleased to announce it is a recipient of a prestigious Readers' Choice Award from ConventionSouth, marking the third time the CVB has achieved this recognition since its inception in 2001.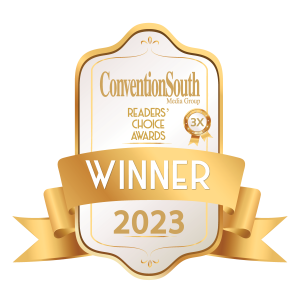 Mark Hecquet, President and CEO of the Springfield CVB, expressed his gratitude, saying, "We're honored to receive the award from ConventionSouth. We pride ourselves on providing the best service possible to the planners bringing events to Springfield. Receiving this award is recognition of our dedication and efforts."
The annual Readers' Choice Award, organized by ConventionSouth, spotlights the venues that have consistently demonstrated exemplary service and outstanding support for group events. Nominations are sourced from meeting professionals who have experienced exceptional service throughout the year. The nominations are then compiled into an online ballot, where meeting professionals cast their votes to honor the best in the industry.
ConventionSouth Associate Publisher Tiffany Burtnett remarked, "ConventionSouth readers and fans have once again voted to decide the best meeting sites in the South, and it is no surprise to us that the Springfield, Missouri, Convention & Visitors Bureau was selected to receive our annual Readers' Choice Award. This prestigious recognition comes from the United States' top meeting professionals who plan events in the South. These planners demand the highest level of customer service and quality facilities, and they have determined that the Springfield Convention & Visitors Bureau indeed displays the commitment to professionalism, creativity, and service that they require."
In celebration of the achievement, the CVB will be featured in the December 2023 Awards Issue of ConventionSouth magazine.
With 40 years of experience as a leading meeting planning resource for Southern destinations, ConventionSouth reaches over 18,000 meeting professionals across the country who play a pivotal role in booking events throughout the Southern region of the United States.
About the Springfield Convention & Visitors Bureau
The Springfield Convention & Visitors Bureau is the official destination marketing organization for Greene, Christian and Polk counties in southwest Missouri. Based in Springfield, the region's largest metro area, the CVB is dedicated to driving the local economy through marketing and sales initiatives that grow our convention, group, sports, meeting, and leisure tourism industry.  Learn more at SpringfieldMO.org.