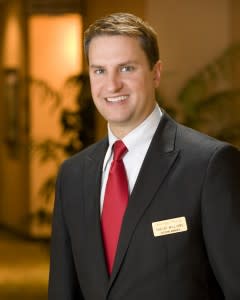 The Tower Club today announced Shelby William's new appointment as general manager of The Tower Club in the heart of downtown Springfield.  The 10-year hospitality veteran will be responsible for overseeing operation of the upscale private dining club and banquet facilities.
Most recently, Williams served as catering manager at University Plaza Hotel and Convention Center operated by John Q. Hammons Hotels & Resorts.  University Plaza Hotel and Convention Center and The Tower Club are in the same hospitality complex in the heart of the Downtown Springfield business and entertainment district.
Previously, Williams was sales and operations manager for 425 Downtown Events and Catering and prior to that he was director of sales and marketing for Ramada Oasis Hotel and Convention Center. He was recognized in Springfield Business Journal's "40 Under 40" in 2005 for personal accomplishments in civic and professional arenas and graduates with a Master of Business Administration degree in December from Missouri State University.
About The Tower Club The award-winning Tower Club is on the 21st and 22nd floors of The Hammons Tower in the heart of the downtown business and entertainment district. The Tower Club offers members and guests a remarkable view of the entire city of Springfield, seen through the floor-to-ceiling windows encompassing the club. In addition to the view, The Tower Club offers an exquisite culinary experience, a tenured service staff; impeccable private events and the member benefits are endless. Whether you need a quiet place for lunch, happy hour and dinner or you are hosting a wedding celebration or a business meeting The Tower Club guarantees a unique and unforgettable experience, please visit the company's website at www.towerclubspringfield.com or call or call (417) 866-4466.