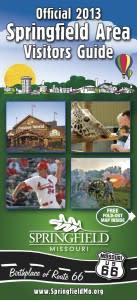 The 2013 Visitors Guide and Passport to Family Fun coupon books are now available.
The guide and coupon book are distributed at the Route 66 Information Center at 815 E. St. Louis St. and the Airport Tourist Information Center. They also are sent to thousands of people who request information about Springfield prior to their visits. The information found in the books also is on the bureau's website.
Businesses interested in being in the books or on the website should call Jane Rips at  881-5300, Ext. 105, or Ryan Allison at Ext. 121.