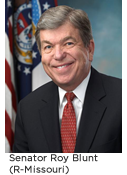 The U.S. Travel Association bestowed the first annual Distinguished Travel Champion Award on four members of the U.S. Congress, including U.S. Rep. Roy Blunt (R-Mo.).
The recipients, who also include Sen. Mark Begich (D-Alaska), Rep. Sam Farr (D-Calif.) and Rep. Joe Heck (R-Nev.), were honored for their exceptional leadership in advocating and enacting policies that strengthen travel to and across America.
U.S. Travel presented the awards Feb. 26 at the association's Destination Capitol Hill, the industry's fly-in event for promoting travel-friendly legislation to further boost the industry as one of America's strongest economic sectors.
"The remarkable health and dynamism of America's travel sector—particularly in a still-sluggish U.S. economy—would be impossible without the vision and fortitude of this year's 'Travel Champions,'" said U.S. Travel Association President and CEO Roger Dow. "The policymakers recognized today have a proven track record of advancing travel both regionally and nationally, and supporting policies that help make travel a major job creator and key driver of economic growth. We are privileged to honor Senators Begich and Blunt, and Representatives Farr and Heck, and hope others will follow their lead by helping to move pro-travel legislative initiatives toward passage this year."
Tracy Kimberlin, president/CEO of the Springfield Convention & Visitors Bureau said Sen. Blunt's efforts are appreciated across the nation.
"Senator Blunt has long been an advocate of travel promotion and understands the vital role the travel industry plays in our economy.  He is more than deserving of this award" Kimberlin said.
Sen. Roy Blunt, Missouri
Senator Blunt has led travel on issues across the board. He was an original co-sponsor of the bipartisan Travel Promotion Act, which, ultimately, created Brand USA – the proven private-public travel promotion program that is drawing international visitors and, as a result, greatly impacting the U.S. economy. He has been active on both the Senate Appropriations and Commerce Committees and, as a Senate Republican leader, was a pioneer in creating the Senate Travel and Tourism Caucus. Whether it is leading passage of the Jobs Originated through Launching Travel (JOLT) Act in the Senate immigration bill, working to reauthorize Brand USA, or calling on important travel security and infrastructure measures, Senator Blunt continues to only strengthen his leadership efforts for travel.
Sen. Mark Begich, Alaska
With a passion and vision for expanding travel and its attendant benefits for small businesses, tax revenues and job creation, Begich has played an active leadership role since being elected to the U.S. Senate in 2008. He is a member of the key Senate Appropriations and Commerce Committees as well as chair of the Democratic Steering Committee and co-chair of the Senate Travel and Tourism Caucus. Senator Begich continues to play a critical role in advancing travel's legislative priorities.
U.S. Rep. Sam Farr, California
Since day one as co-chair of the Congressional Travel and Tourism Caucus, Representative Farr has brought a results-driven focus to his leadership role – further expanding his nearly two decades of travel advocacy and work. Just this year, Farr was integral in securing a pilot project for videoconferencing technology in the visa process in the approved 2014 omnibus appropriations bill. Implementing videoconferencing technology in the visa process is a key travel industry objective.
U.S. Rep. Joe Heck, Nevada
In addition to his day-to-day efforts, Representative Heck's leadership today is especially noticeable through his JOLT Act, H.R. 1354—U.S. Travel's top legislative priority. His continuous advocacy and resolve has enabled the legislation to garner more than 125 bipartisan cosponsors and is steadily gaining momentum. JOLT is a model for bipartisan collaboration to create tens of thousands of new U.S. jobs, and it is a microcosm of Representative Heck's work in championing travel.
Click here for more information about the first annual Distinguished Travel Champion Award.
To learn more about Destination Capitol Hill, please visit: www.ustravel.org/events/destination-capitol-hill.