Sculpture Walk Springfield (SWS) provides Springfield with a museum without walls with access to all. Founded in 2014 and its first collection debuting in 2015, SWS places sculptures in Downtown Springfield, the Rountree Community and adjacent Jordan Valley Park on an annual rotating basis and also has permanent and community acquisitions. 
The sculptures, on loan from the artists, are on display for typically one year, but depending on the piece, they could be on display for up to three! When the time comes they are then replaced with a new collection each spring. Those pieces are decided by a special committee of both artists and members of the community in a juried process where each work is given a ranking of 1-5 in 3 categories: safety, community impact, and beauty. All sculptures are for sale through Sculpture Walk.
Without the support of the community, City of Springfield, and the Sculpture Walk Springfield donors SWS would not be able to continue to grow and provide public art to Springfield. Public art has been known to decrease crime, can help foster a sense of local pride, and strengthen a local economy among many other benefits!
You can go out on a self-guided tour by downloading a map online or picking up one of them at the Route 66 Visitors Center. If you would prefer to have an expert telling you docent guided tours are free and can be scheduled by emailing the team at admin@sculpturewalkspringfield.org. We hope to see you out in the streets taking in the current collection!
Below is a preview of what you can expect!
Aaron J. Alderman "When We Were Young"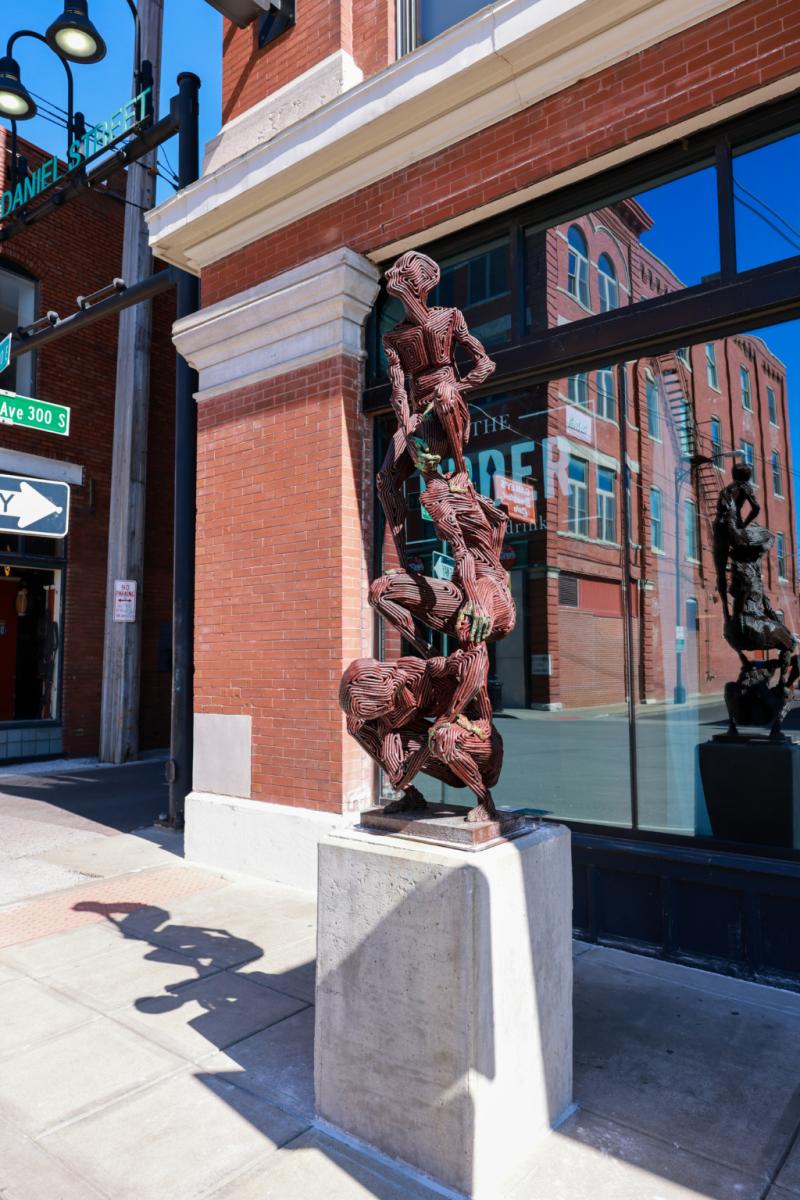 Location: Outside Hotel Vandivort at 305 E. Walnut St.
The concept of the sculpture is a play on balance, weight & form. There's a childlike aspect to these figures, lifting one another up in playful mischief. A more conceptual idea shows the growth & evolution of the self. But as an artist my work is not complete until it is viewed in public. I am removed from my work & I invite you to find your own voice in the work & see your own expression. What do you feel when you experience the piece?"
Sponsor: David & Stacey O'Reilly
Zachery Long "Smile?!"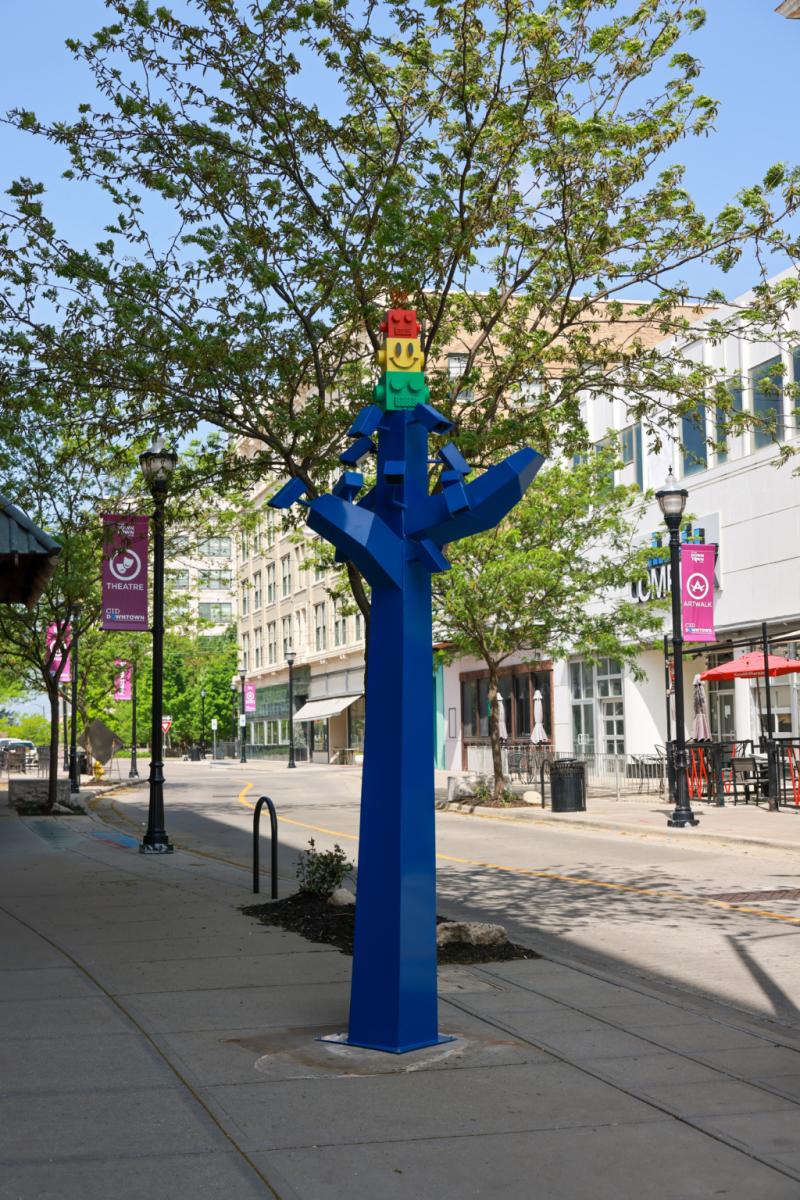 Location: Across from the Gillioz Theatre, 325 Park Central East
"THEY" …"Authority" "Rules" "Regulations" "Ordinance" "Policy" "STOP, GO" "Redlight, Greenlight," and the normalcy of "Surveillance" in our daily lives that didn't exist just a few decades ago. From the security cameras on every street corner, to the surveillance device we carry around in our pockets every day. Smile!?, you're on camera!
Sponsor: Hotel Vandivort
James Douglas Cox "Where's Waldo the Twisted Fly"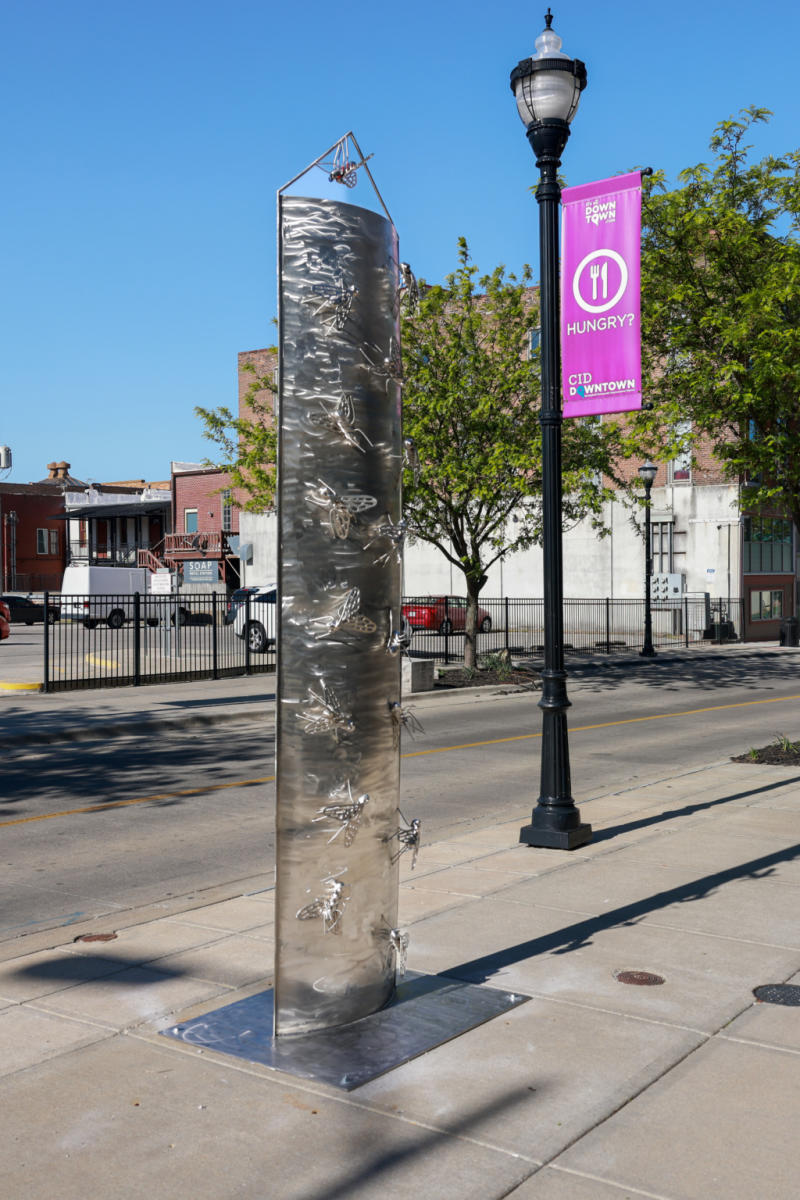 Location: 301 Park Central West
About a quarter of the way through this sculpture I got to wondering where I was going to place Waldo the Twisted Fly. I decided to place him out of harm's way. I'm placing him at the very top of the fly catcher, the little string that you hang it by. I figured Waldo is a part of the 1% of people that have the most of the money and all the perks that go along with that. Waldo will go on to live a long and fruit fly life.
Sponsor: Payne Stewart Family Foundation
New Adventures Sculptures "Beauty in the Broken"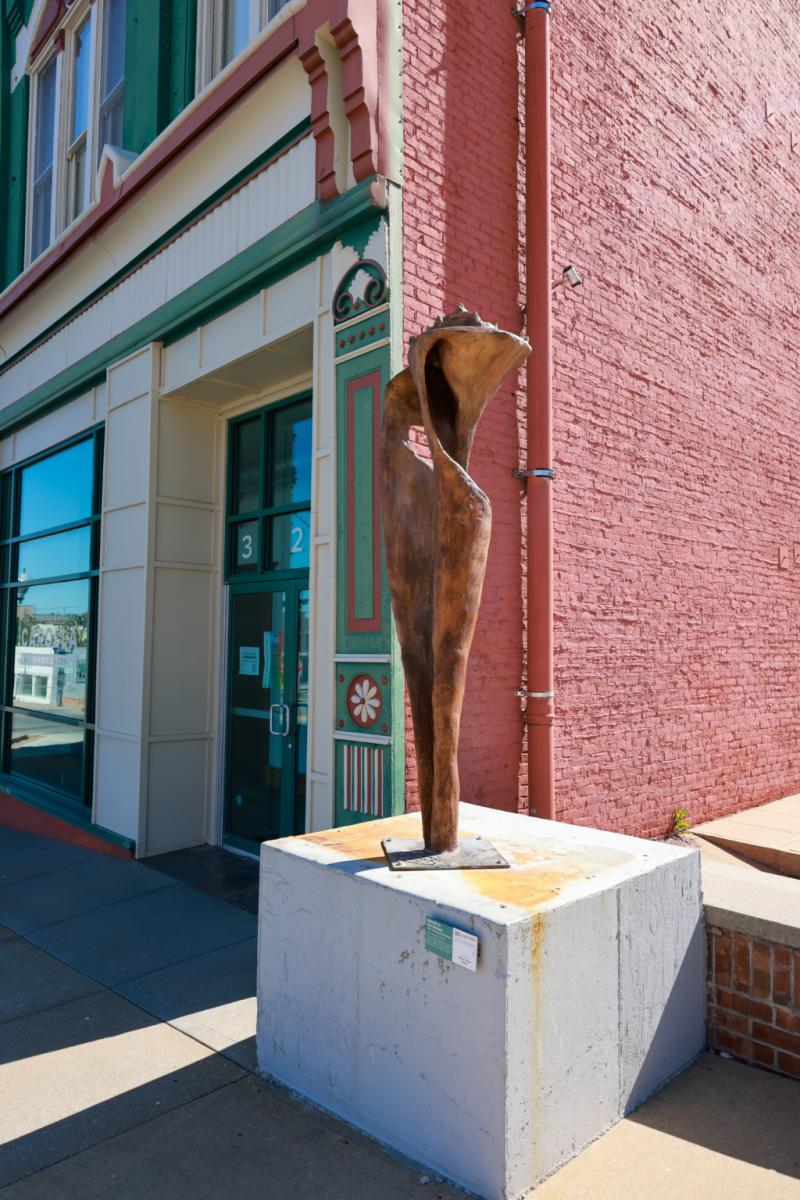 Location: 326 N. Boonville Ave.
Nature at its best, creation. The inspiration came from a found object, which was a beautiful, broken shell that we found on a Florida beach in the winter of 2022.
Sponsor: Alex & Cathy Primm